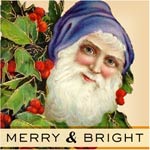 Christmas Products Roadmap.
We've put all the Christmas Scrapbook Papers (single sheets or sets) in their own section (this section).
- Scrapbook Paper: Single Sheets On Sale, too!
- Scrapbook Paper Sets On Sale, too!
Christmas Rubber Stamps are On Sale!
NOTE: the Christmas Collage Sheets have all moved to the new site!
Read about Santa Claus and Thomas Nast on the Victorian Illustrations History Page.