4th of July Sale: ALL Charms 25% Off + Free Gift Kit
Wow! I don't even know where to start... there are FOURTEEN sections of charms on the site, and they're ALL on sale now through Sunday, July 8th!
Here's a few of the links (but I think the easiest way to see all 14 categories is to go visit the Collage Supplies Overview Page):
- Birds (owls, birdhouses, bird nests, parrots, sparrows...)
- Household (scissors, tea sets, clocks, flatware...)
- Halloween (bats, skulls, skeletons, coffins...)
- Insects (bees, dragonflies, butterfies...)
- Sea/Beach (mermaids, seahorses, seashells...)
And before you run off and become mesmerized by all those charms, remember the beads sale (in honor of Rhea Freitag's Gypsy Charm Bracelet) ends TONIGHT... and check out that FREE Gift Kit below!


Free 1/2" Brass Pendants Gift Kit!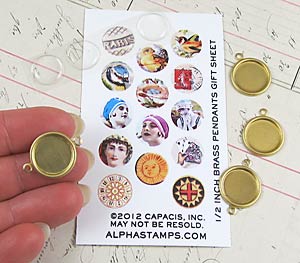 An exclusive Alpha Stamps' FREE mini kit of half-inch images, brass settings and clear epoxy dots to create little charms, earrings, or the beginnings of a bracelet (like the bathing beauties bracelet below)!
Free for all orders over $25! Sale items are eligible, too (toward meeting the $25 requirement, but shipping and taxes are not).
All of these settings, epoxy dots and collage sheet images are drawn from existing products. So you can buy more images in the same themes (already sized for small pendants) or more settings or epoxy dots.
There's nothing you need to do (no coupon to enter). Beginning today, and until the kits are gone, we'll include a free kit in all qualifying orders!