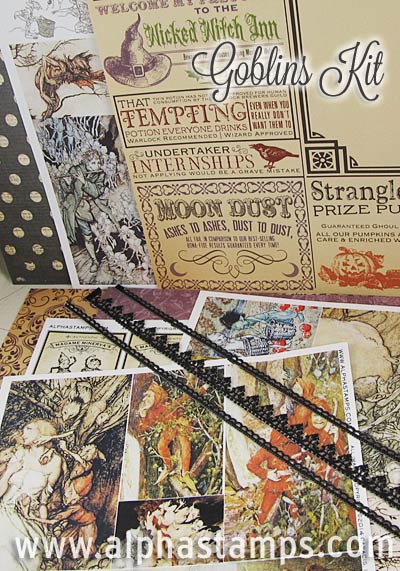 Updated October 5, 2014: Our October kit is Goblins! This kit took a bit of a detour from "ghosts and goblins" to (just) "goblins." I found lots of images, from cute (like the adorable Brownies) to more sinister (though those ghosts may be lurking around for a future project). There are some trolls and dwarves mixed in, too. Plus the Brimstone Bulletin Scrapbook Paper (just one of four papers included in the kit) has some fun faux-vintage labels like "Prize Pumpkins... grown with care & enriched with goblin spit."
If you're a subscriber, your kit is probably in transit or you may have already received your kit (more info on subscription timing is below).

General Information
The kits will be designed around a theme each month. And will be kept to a small group of essentials to keep the price within most budgets (but there will be related goodies available if you feel inspired).

Timing
Kits are announced the first weekend of each month. However, if you sign up for a subscription, your kit will have already been mailed to you (generally by the 20th of the previous month).
If you buy a subscription after the 15th of the month, your first kit will be for the following month (so if you subscribe on May 16th, the June kit will be your first kit).
A note on timing for subscribers: the kits don't ship till your automatic payment is made; the recurring payment date is based on the date you signed up for the subscription. If you'd like to make a 1-time "catch up" payment so that you'll be first in line to receive all future kits, contact Customer Service.
Kits from previous months will be available for purchasing until sold out.
So dive in and see what spooky things are on offer in the current month's kit!