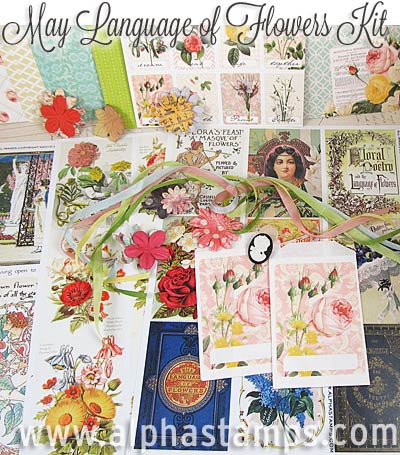 Updated April 28, 2013: It's almost the start of a new month and time to announce the next kit! If you're a subscriber, you've probably already received your kit.
So drum roll, please, for the May 2013 Kit - The Language of Flowers!

General Information
The kits will be designed around a theme each month. And will be kept to a small group of essentials to keep the price within most budgets (but there will be related goodies available if you feel inspired).
Also, if you'd like to join the monthly swap (also sharing the same themes), you'll have everything you'd need to create your swap art with one click!

Timing
Kits are announced the first weekend of each month. However, if you sign up for a subscription, your kit will have already been mailed to you (generally by the 20th of the previous month).
If you buy a subscription after the 15th of the month, your first kit will be for the following month (so if you subscribe on May 16th, the June kit will be your first kit).
Kits from previous months will be available for purchasing until sold out.
If you are participating in the monthly swap, swap art will be due by the last day of the month (so May 31st for the May swap). More info is in the Yahoo Group.
So dive in and see what whimsical things are on offer in the current month's kit!