A New Swap + More Halloween Supplies
We're hosting a Cabinet Card Curiosities Swap using your choice of 2 Cab Card Frame Sets!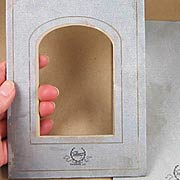 Cabinet Card Curiosities!! You could make your Cabinet Card a single family member, siblings, an entire family, pets or perhaps just of grandma, who has been locked away in the basement for years and years, or...?! The people may outwardly appear to be normal — but open up the Cabinet Card and there's a completely different side of them in their true colors!
This swap will be 1 for 1: create 1 Cabinet Card Curiosity and receive 1 in return from another artist! Artwork will be due October 15, 2012.
And there's a Cabinet Card Curiosities Swap Supplies Sale (including SIX fabulous NEW Collage Sheets designed specifically for this swap)!

Beside the wonderful samples from the Design Team on this page, view more artwork in the Cabinet Card Curiosities Swap Gallery!
The Lenore Card at right is by Laura Carson. And the sample at left is by Theresa Martin.
More info about the swap. (And lots more art samples!)
And don't forget to look below for even more new supplies for Laura Carson's Pretty Potions and Poisons Apothecary Event.