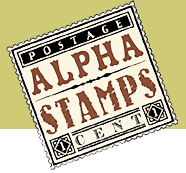 Design Team Member Laura Carson has concocted a brilliantly silly backstory for her Dr. Raven's Pandemonium (using 2 New and On Sale! items highlighted below):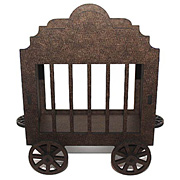 Dr. Raven's Pandemonium is one of the more popular attractions at the Halloween Carnival.
Mr. Yule B. Next, had an unfortunate accident at the Pandemonium this week. Dr. Raven thought that in light of the goulash condition of Mr. Next, perhaps he would fit right in at the "Dodge the Zombies" game.
I've only captured about a sixth of the full glory of Laura's creation in the photo at far right. Be sure to visit her blog (and, of course! a tutorial) for more photos and fantasy, including:
a coachman with a pet gargoyle, who is sort of a nasty fellow, so the coachman keeps him in a glass dome; it's the only way he can prevent him from biting people.
But don't forget to return, as there's a Dr. Raven's Halloween Giveaway, with a ton of goodies picked out from Laura's expansive Supply List.


Hooray! It's Dr. Raven's Halloween Giveaway!
With that HUGE group of goodies to choose from (in Laura's artwork… that's a link to photos of everything in her supply list) I picked out these:
- Black and White Chevron Striped Straws (New and On Sale!)
- Miniature Glass Domes (New and On Sale!)
- Plastic Skeletons
- Jack-o-Lantern Erasers
- Acrylic Top Hats – Large
- Brass Skull & Cross Bones Charm
- Spooky Ghost Buttons
- An Eerie Tale Run & Hide Scrapbook Paper

- Brass Owl Stampings (just put On Sale!)
- Plastic Tombstone Boxes
- Mini Ceramic Gargoyle Beads
- Small Resin Skull Beads
- Small Plastic Pumpkins
- Skeleton Hand Food Picks
- Plastic Skeleton Hand
- Antique Candelabra Charm ( On Sale!)
- White Turquoise Skull Beads
AND 4 On Sale Halloween Ribbons:
- Black & Orange Halloween Braid
- Black & Orange Mini Gingham Check Ribbon
- Halloween Spider Leg Ribbon
- Thin Orange/Black Stitched Ribbon
And, see the photo below on the left for the FIVE Collage Sheets included in the Giveaway (also from Laura's artwork):
- Dem Bones Collage Sheet
- Halloween Carnival Rides #1 Collage Sheet
- Halloween Carnival Games #4 Collage Sheet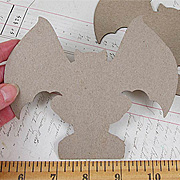 - Halloween Carnival #2 Collage Sheet
- Halloween Carnival Rides #2 Collage Sheet
A couple more things caught my eye (I know… gilding the lily with all those things from Laura's artwork already):
- Ceramic Gargoyle Bead
- Pewter Dancing Skeleton Charm
- Hanging Bat Charm On Sale!
- Pewter Spider & Web Charm On Sale!
(Those last 3 are also Back in Stock)
Plus, 3 items just put on Clearance Sale (that's 80% off!):
- Rayon Cording – Metallics
- Rayon Cording – Solids
- Cricket Rubber Stamp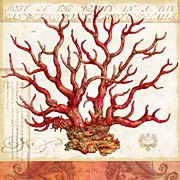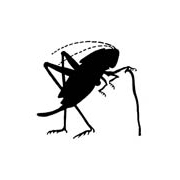 AND, these 4 that have just been put On Sale for 50% off:
- Gargoyle Front View Die-Cut Chipboard
- Gargoyle Side View Die-Cut Chipboard
- Engraved Garden Copper Foil Scrapbook Paper
- Travel Coral Foil Scrapbook Paper
(the 50% and 80% off things are shown in the photo below right)
To enter the Dr. Raven's Halloween Giveaway drawing all you have to do is leave a comment BELOW on this blog post TODAY OR TOMORROW (the deadline is 11:59 pm PST (that's Pacific Standard Time!!), MONDAY NIGHT, August 18, 2014).
Don't forget to leave your (hello! correct) email address, too, so I can contact the winner; your email address does not need to be made public. Note: I'm offering free shipping, too, but only within the USA. International shipping will still apply.
Please be patient! Spammers try to post crap here a lot so comments are moderated. So if you don't see your post in the comments section, be patient and check back in a few hours before re-posting it, please!
After midnight, I'll randomly pick the winners (via Random.org). So make sure to check back to see who won! And check your mailbox on Thursday morning for the next Giveaway and Newsletter!
Hey, who won the Big Bad Wolf House Giveaway? That would be Maree Natal! Please check your email for my message about getting your mailing address.

Posted by
Leslie
, August 17th, 2014