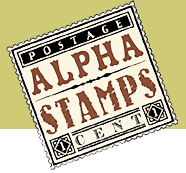 Just a couple quick announcements before Miz Bella (Kim Ayers) introduces Design Team Member Laura Carson's fantabulous Santa's Village (and then I get to tell you about Bella's adorable snowman ornaments).

First: NEXT Thursday (December 11th… where is this month getting to?) is last day to order if you need to receive your order by Christmas eve. (And we are working like busy bees! Due to your overwhelming response to the Black Friday Sale, we are working extra shifts to catch up.)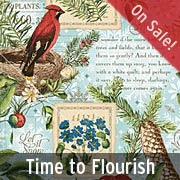 Second: a reminder that some Christmas sections are still On Sale — through December 21st:
ALL scrapbook paper is on sale! That includes the:
- Christmas Paper Section (pads and single sheets)
- Scrapbook Paper: Single Sheets
- Scrapbook Paper Sets
- The New Time to Flourish Collection (Single Sheets and Pads) On Sale, too!
ALL Christmas Collage Sheets are on sale! (that's a BIG section!)
ALL Christmas Rubber Stamps are on sale!
ALL Christmas Charms are on sale!


I am at a loss for words. Laura Carson has created a fantabulous Santa's Village Tutorial & New Collage Sheets! Seriously — the woman creates this amazing little village and collage sheets on top of it. I want whatever Laura is having — perhaps it's better than the tequila I'm partaking of at this moment.
There is so much to take in with the village, I'll have let Laura introduce it while I go for a refill.
"Ho! Ho! Ho! it's off to the ice and snow of the North Pole where Santa's Village awaits. I love presenting projects that have lots of options; you can start by making just one piece, or make them all. And this is the kind of project you can add to over time, perhaps making one special piece each year. I've started mine off with a Toy Workshop, Santa's House, Reindeer Barn, and the Sweets & Treats Factory. I used all kinds of things for bases and houses (a paper pattern, a masonite kit, a New! 5 Inch Chipboard House Kit and Small Paper Mache Houses). I've also create new collage sheets and digital image sets that fit with the project. I'll walk you through the details of how I made each piece and include a supply list that corresponds to the piece."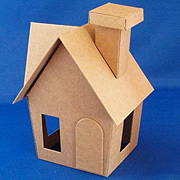 Oh she just throws it out there so casually, doesn't she? I will tell you that I am obsessed with the 5 Inch Chipboard House Kit. OBSESSED! The Evil Queen has only sent me one of these little houses (when I wanted 10) and I can't wait to get more; don't you think they'll make the most adorable glitter houses to go with the December 2014 – House Ornament Kit?
As Laura said, she has new collage sheets that go with her amazing Santa's Village. The Evil Queen (who is actually very generous, but don't tell her I told you!) has put together a Giveaway (details below) that includes tons of the goodies Laura used, like the Chalkboard Signposts and Laura's new collage sheets: Santa's Village and Winter Wonderland. By the way, both of those collage sheets are also available as digital downloads (with separate silhouetted .png files)!
Being the big-hearted artist that she is, Laura has put together a tutorial for you so that you can start creating your own village. Of course, my village will have to have a fully stocked liquor store (run by elves named Chris and Liza) but I digress! Grab your cup of hot chocolate (or two!) while you peruse Laura's Supply List; then head on over to her blog to be amazed by her latest creation and tutorial.

Aren't those snowman ornaments adorable?! Miz Bella used the template from the 3D House Ornament Kit (and the Powder Blue and Wild Berry Double Dot Chevron Papers) to create them!
And those retro '50s images from the Snowman Gift Tags Collage Sheet go perfectly with the writing style of the Mini Handwritten Holidays Cling Stamp Set — and both are On Sale!
View Miz Bella's Supply List; then head on over to her blog for more info.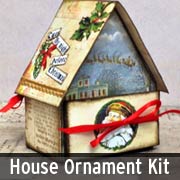 Thursday Newsletter Recap And the FREE gift kit inspired by Lora Mahaffey's Santa Stack



Don't Forget Thursday's Newsletter with artwork by TWO Design Team Members (And see below for who won that Santa Blocks & Filigree Giveaway)


Inspired by the zingy colors (and images of Santa) on Lora Mahaffey's Santa Stack, I've created a mini collage sheet with inchies and borders for trying your hand at decorating some wooden blocks just like those in Lora's artwork. And I'm including 5 narrow ribbons in coordinating colors.

Hooray for the Santa's Village Giveaway!
How colorful! And (believe it or not) I constrained myself to just two of the buildings in Laura's Village:
First, let's start with all of these items from Laura's Sweets & Treats Factory (note: that's a link to the supply list with links and photos):
- Santas Village Collage Sheet
- Winter Wonderland Collage Sheet
- Glitter House Template Collage Sheet
- Chalkboard Signposts
- 21mm Candy Canes
- Mini LED Light with Switch
- Medium Kraft Shadowbox
Next, these additional goodies from Santa's House:
- 22mm Smiling Snowman Cabochon
- 32mm Christmas Tree Cabochon
- Candy Cane Red Christmas Ribbon Set
- Christmas Collage 6×6 Paper Pad (1/3 of a pad, like the 12-sheet sets in the Glitter Houses Add-On Kit)
- LED Tea Light
- Santas Hat Buttons
- Santa is Outside Collage Sheet
Then, I added a couple more collage sheets that fit in with Laura's theme:
- Gnomes & Birds Collage Sheet
- Christmas Gnomes Collage Sheet
And a Santa Inchies Gift Kit!
To enter the Santa's Village Giveaway drawing all you have to do is leave a comment BELOW on this blog post TODAY or TOMORROW (the deadline is 11:59 pm PST, MONDAY NIGHT, December 8, 2014). AND tell me how close to Christmas do you usually finish making gifts.
Don't forget to leave your (hello! correct) email address, too, so I can contact the winner; your email address does not need to be made public. Note: I'm offering free shipping, too, but only within the USA. International shipping will still apply.
Please be patient! Spammers try to post crap here a lot so comments are moderated. So if you don't see your post in the comments section, be patient and check back in a few hours before re-posting it, please!
After midnight, I'll randomly pick the winner (via Random.org). So make sure to check back to see who won! And check your mailbox on Thursday morning for the next Giveaway and Newsletter!
Hey, who won the Santa Blocks & Filigree Giveaway? That would be Dennis Lawrence! Please check your email for my message about getting your mailing address.
Posted by
Leslie
, December 7th, 2014