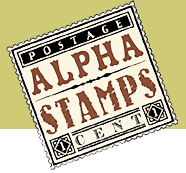 Design Team Member Nichola Battilana doesn't disappoint with her project using the January Kits.
"The theme over at Alpha Stamps this month is Star Crossed Lovers (which I love!) For my project I began by embellishing a Hinged Wood Chest with Clasp with Glitter, stars and adding wheels… then I altered a series of Blank Playing Cards with a romantic, lusty theme to fit inside.
"The cards themselves are distressed and then have fitting snippets from old books added."
Romantic, lusty and snippets from old books! Tell me, does it get any better than that?
Nichola used a fabulous technique with candle wax to embed Tiny Star Sequins and Matte Acrylic Heart Beads onto the cards. After using the candle wax, Nichola decided that using Beeswax Pellets would be more flexible and less likely to crack like the candle wax did.
The (new!) hinged wooden chest is so cute on wheels. We don't have the exact wheels that Nichola used but never fear! We have two different sizes of wooden wheels to choose from; the 3/4 Inch Wooden Wheels and the 1-1/4 Inch Wooden Wheels. Either would work and look quite spectacular!
Gaze upon Nichola's supply list, then roll yourself on over to her blog to see more pictures and advice in making your own cart of cards. (And don't forget to come back (or just scroll down) to enter today's Juliet Giveaway.)


Hooray for the Juliet Giveaway!
First, let's start with all of these items I gathered from Nichola's Lover's Box (note: that's a link to photos of all these supplies):
- Green Man Brass Stamping
- Hinged Wood Chest with Clasp
- Tiny Star Sequins
- Thin Fleur Dresden Borders – Gold
- Vaguely Valentine Collage Sheet
- Juliet Collage Sheet
- The Balcony Collage Sheet
- Blank Playing Cards
- Matte Acrylic Heart Bead Mix
- 18mm Matte Puffy Heart Beads
And, in case you'd like to add wheels to your little wood chest (like Nichola did), I added both sets of wooden wheels:
- 3/4 Inch Wooden Wheels
- 1-1/4 Inch Wooden Wheels
Then I added all three of these New and On Sale! goodies (keeping with the Juliet theme):
- Sonnet Scrapbook Paper
- Juliet Sonnet Die-Cut Embellishments
- Kraft with Pink Damask Scrapbook Paper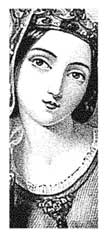 And, still sticking with the Shakespeare theme, I not only added a Shakespeare's Heroines Collage Sheet and Isabella Rubber Stamp (and put both On Sale!), but I also put these other rubber stamps from the theatre section On Sale at 50% off!:
- Anne of Bohemia Rubber Stamp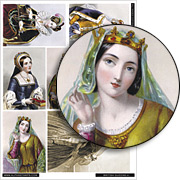 - Thisbe Listening for Pyramis Rubber Stamp
- Elizabeth of York Rubber Stamp
AND I also just put ALL Theatre Collage Sheets On Sale! (through this Wednesday, January 21st)!
To enter the Juliet Giveaway drawing all you have to do is leave a comment BELOW on this blog post TODAY or TOMORROW (the deadline is 11:59 pm PST, MONDAY NIGHT, January 19, 2015).
Don't forget to leave your (hello! correct) email address, too, so I can contact the winner; your email address does not need to be made public. Note: I'm offering free shipping, too, but only within the USA. International shipping will still apply.
Please be patient! Spammers try to post crap here a lot so comments are moderated. So if you don't see your post in the comments section, be patient and check back in a few hours before re-posting it, please!
After midnight, I'll randomly pick the winner (via Random.org). So make sure to check back to see who won! And check your mailbox on Thursday morning for the next Giveaway and Newsletter
Hey, who won the Death & Roses Giveaway? That would be Emily N! Please check your email for my message about getting your mailing address.
Posted by
Leslie
, January 18th, 2015