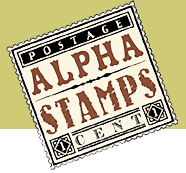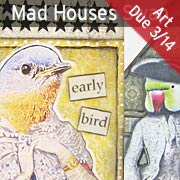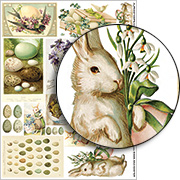 A couple quick reminders before getting to today's flower-filled newsletter: The 50% off Sale on Easter Collage Sheets ENDS TOMORROW NIGHT (Monday, February 29th)! (And a bonus: the new Eggs and Easter Collage Sheet (with a preview shown at left) is also included in the 50% off Sale!)
Hm… and why are those collage sheets on sale? See Thursday's newsletter for some adorable rabbit and fairy artwork!
Next: If you are participating in the Mad, Mad, Mad House Swap, artwork needs to be postmarked by Monday, March 14th.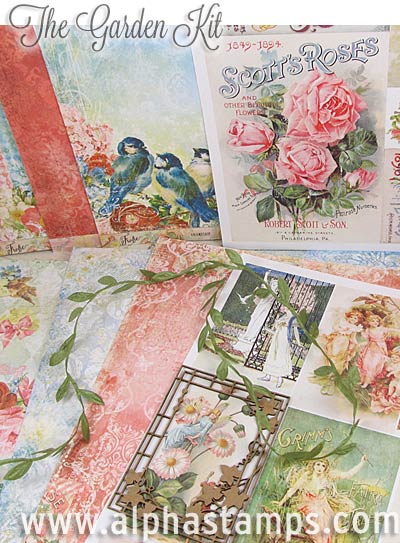 Are we all ready for spring? How about some roses, papers with zippy colors, a chipboard ivy frame (and a few fairies) to brighten your day? The theme for the March kit is The Garden!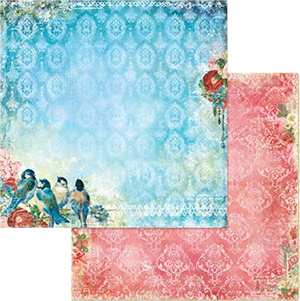 There is also a related Door Album Add-On Kit with images of fountains, columns and statuary to use in a garden. More info on the add-on kit is below. (Psst! There are a bunch of related new paper flowers and trims below, too — things not included in either kit.)
Back to what is in this kit, there are THREE 12″ x 12″ scrapbook papers: bright pinks and turquoise-to-sky-blue, plus patterns from shabby damasks to birds and florals. I'm showing the fronts & backs of the 3 sheets in the photo.
This kit also includes TWO collage sheets:
- New! Fairies in the Garden Collage Sheet (A nice selection of fairies (and a few gardeners) sized for ATCs (most are a bit larger — and more specifically, sized to fit behind the Ivy ATC Frame). A lovely cover from a vintage copy of Sleeping Beauty found its way in here, too.)
- Pink Roses Collage Sheet (Beautiful roses, mainly from vintage seed catalog covers).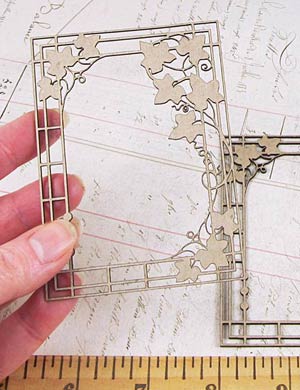 A bit of the ever-popular Stitched Leaf Ribbon – Moss Green to add some dimensional greenery to your projects.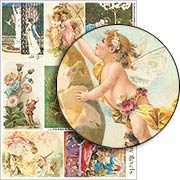 And finally, the Ivy ATC Frame! A pretty frame plus it is extra versatile! In addition to having a border like a stained glass window, if you snip off the outmost rectangular frame, it will perfecty fit an ATC (3-1/2″" x 2-1/2″") and so will also fit in a pocket of a pocket letter!
Otherwise it is a bit larger than an ATC on all sides, so the extra little bits of ivy, tendrils & frame will extend beyond the edges. It will make a garden scene extra festive!
More info, photos and artwork are on the The Garden Kit page.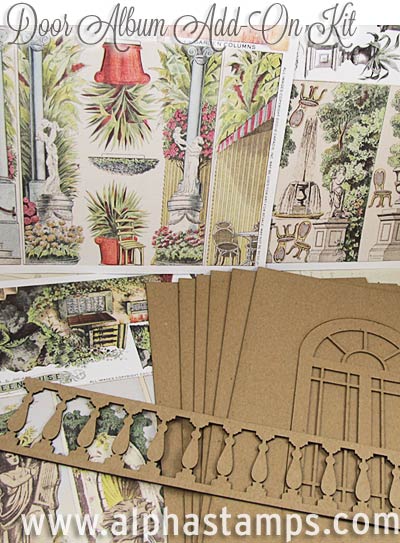 Next up, the Door Album Add-On Kit!
This kit contains:
New! Album with Arched Door (A chipboard album with 6 pages, 6-1/2″ wide x 9″ tall with a door cut out of the front cover.)
New! Balcony Balustrade (12″ length, designed to fit over the door on the cover of the Album with Arched Door. You can cut your balcony or railing to the length you need.)
AND 3 collage sheets designed to be used with the door on the album cover: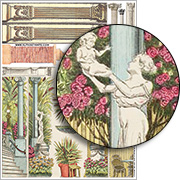 - New! Garden Columns Collage Sheet (Columns that could go on the front cover or on inside pages of your album; also, statues that could be in a garden, potted plants, a stairway…)
- New! Garden Urns Collage Sheet (More columns that could go on the front cover or on inside pages of your album; also, statues that could be in a garden, potted plants, urns; and a floral "Greenhouse" banner… )
- Balconies & Foliage Collage Sheet (A pretty balcony scene with a staircase that could go behind the door of your album; also, statues that could be in a garden, trees & plants, a fountain…)
More info, photos and artwork are on the Door Album Add-On Kit page. And beside those lovely photos of a Tunnel of Love Poetry Book by Design Team Member Caroline Ouzts-Hay below (using parts of both of today's kits), there's whole Gallery of photos of Caroline's album! Or read about Caroline's inspiration on her blog.




Highlights of Today's New Goodies - ALL on Sale! View All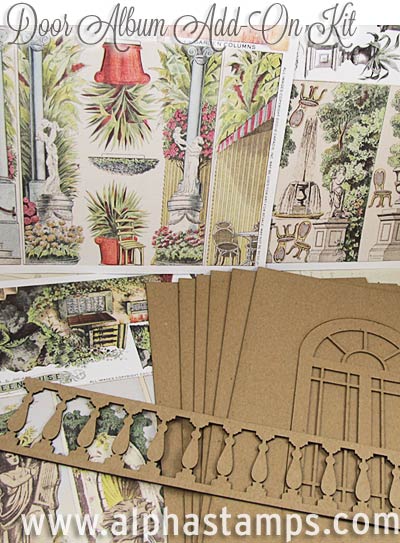 Hooray for the February Kits Giveaway!
No surprise here! Today's Giveaway is… BOTH NEW KITS!
- The Garden Kit
- Door Album Add-On Kit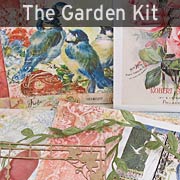 To enter the March Kits Giveaway drawing all you have to do is leave a comment BELOW on this blog post TODAY or TOMORROW (the deadline is 11:59 pm PST, MONDAY NIGHT, February 29, 2016).
AND TO ENTER THE DRAWING, please tell me: An album? An ATC? A faux stained glass piece to hang in your window? What would you make with this Giveaway?
Don't forget to leave your (hello! correct) email address, too, so I can contact the winner; your email address does not need to be made public. Note: I'm offering free shipping, too, but only within the USA. International shipping will still apply.
Please be patient! Spammers try to post crap here a lot so comments are moderated. So if you don't see your post in the comments section, be patient and check back in a few hours before re-posting it, please!
After midnight, I'll randomly pick the winner (via Random.org). So make sure to check back to see who won! And check your mailbox on Thursday morning for the next Giveaway and Newsletter!
Hey, who won the Cute as a Bunny Giveaway? That would be Lori D!
And she replied to my query "Tiny pull toys for Spring? A micro wheelbarrow full of carrots? What will you make with all these items?"
Omg, I'm dyin at the cuteness!!! Especially those little hedgehogs! I would love to make a mini enchanted forest! Thank you for the opportunity to win. I'm keeping my fingers crossed!.
Congratulations! Check your email for more info.
Posted by
Leslie
, February 28th, 2016