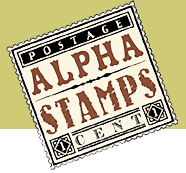 New art, new goodies, new FREE gift! And…
ALL Halloween Collage Sheets are 40% off — through TOMORROW night (September 30, 2016)! WOW! That's a huge section (148 sheets) so grab all those spooky witches, goblins and skeletons you need right now for Halloween projects! Includes popular items like the Witchy Little Labels & Ephemera and Spooky Windows Collage Sheets shown at right.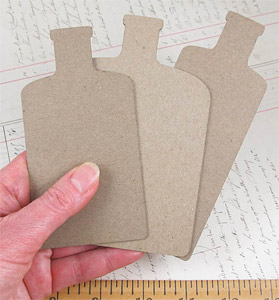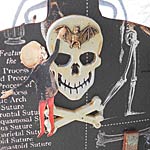 FREE Chipboard Potion Bottles! You may remember a swap we had using these cute chipboard potion bottles. And there's a big ole gallery with lots of ideas on how to decorate them (like that little imp from the Skeleton Slide Mailers Collage Sheet at left). These sets of three Chipboard Potion Bottles are FREE for ALL orders, now through SATURDAY NIGHT, October 1, 2016!
Though cabinets of curiosities were established far before the Victorian age (kind of pre-museum museums for the uber-rich), I think the Victorians were the last (perhaps best) group of humans foolhardy enough to think they could collect and categorize all the wonders of the world. My personal fave is 19th century architect Sir John Soane, for the oddities he collected (and turned his house into). At Soane's request, his house has been left untouched since his death — almost 180 years ago. Oh, if I could get back to England…

What am I babbling about? Well, Teri Calia has created The Naturalist's Curiosity Cabinet, in 1:12 scale using the new Millinery Cabinet — and it is wonderful!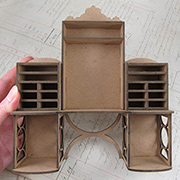 NEW Millinery Cabinet! This is a lovely reproduction of a vintage cabinet. Originally for a milliner (hat maker) but Teri has used this piece as the structure for her artwork (and also created a new Cabinet of Curiosities Collage Sheet, with tiny little natural history books and Riker boxes (with mounted butterfly specimen) sized for the cubbies in the Millinery Cabinet, but also useful for other 1:12 projects).
"The collage sheet has Riker Mount drawers to put together so that you can fill in the cubbies with drawers if you want (although you will need two collage sheets to make enough drawers to fill all 16 of the cubbies). I used Small Antique Brass Suitcase Handles on the drawers, for handles, and it was pretty easy to do. I took photos as I added the handles so I could show you just how I did it…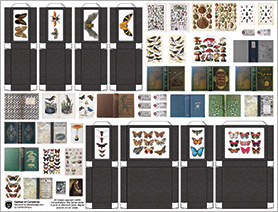 Teri has provided a tutorial on her blog post, with step-by-step instructions for creating the little boxes, including making the metal drawer handles!
Learn more in Teri's post and see all the goodies she used in her Supply List. (And check below for a larger photo (and more details about what items are hiding in that cabinet)… as lots of items from Teri's artwork are included in today's Giveaway!)

Next up is the first of two projects today by Design Team Member Tristan Robin Blakeman: Triptych Altered Reliquaries. (Did i mention: it's PINK!?)
Tristan explains how he built up the textured backgrounds in the little reliquary niches, colors the chipboard and the Relics & Artifacts Casts (plus adds metallic accents).
See everything Tristan used in his Supply List. And be sure to visit Tristan's blog for lots more info and photos.

Last up in our trio of inspiring artwork is another project by Tristan: Homage to Poe (see the photo at right and the wide photo below).
Wow! I love all the different parts and how they work together (though each would look great if used individually). Like the tree hung with "tell-tall" hearts. Or the "mausoleum, created from the shortest squat house in the die cut Cabana House Row Set."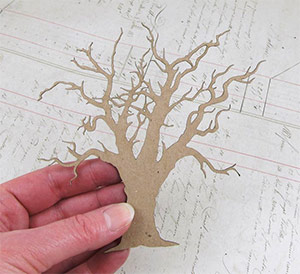 "I made a Tell-Tale Heart tree. I used a 5″ Creepy Tree die cut and gave both sides a coat of black gesso leaving a thick lumpy texture to resemble bark. Using some of the left over pieces from punching out the die cut, I fashioned a stand that would fit onto the tree, so it would support itself freely."
See everything Tristan used to create his Homage to Poe in his Supply List (and more photos and tips on creating the Poe piece are on the bottom of the same I've Got Those Dirty DIY Hands Blues blog post).
code>

Hooray for the Cabinet of Curiosities Giveaway!
Yes, I've zoomed in on the center section of Teri's artwork, with a bit of a bird's-eye view, to capture those items on the top shelf. I chose a big bunch of items from Teri's The Naturalist's Curiosity Cabinet Supply List to put in this Giveaway:
- Millinery Cabinet 1:12 Scale New!
- Cabinet of Curiosities Collage Sheet New!
- Tiny Glass Bell Dome
- Tiny Mossy Clay Pots - 7mm Tall (under the bell dome, with some handmade mushrooms)
- 1/4 Inch Wooden Mushroom Plugs (as feet for the cabinet)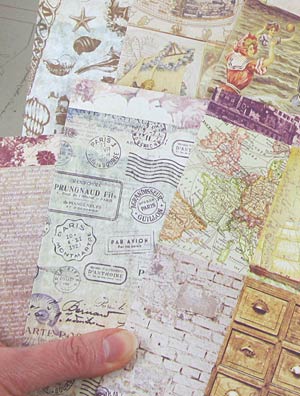 - French Riviera 8x8 Paper Pad (And just put on Clearance Sale!)
- Half Scale Antiqued Urn
- Mini Glass Domes - Bronze
- Miniature Magnifying Glass
- Resin Shell Applique (at the top of the cabinet, behind the bell dome, etc.)
- Small Antique Brass Suitcase Handles
- Tiny Cup of Black Coffee
- Tiny Vintage Letters & Postage Collage Sheet (that tiny tag in bottom left corner... plus some various papers laying about)
Whew!
Just click on this Supply List link for photos and links to everything in Teri's artwork, including all of the Giveaway items listed above!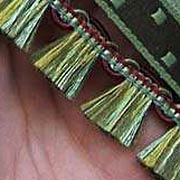 Bonus: Not in Teri's artwork, but Back in Stock: Christmasy Sweeper Fringe

To enter the Cabinet of Curiosities Giveaway drawing all you have to do is leave a comment BELOW on this blog post TODAY OR TOMORROW (the deadline is 11:59 pm PST, FRIDAY, September 30 2016)!
And tell me: What will you make with your Millinery Cabinet?
Don't forget to leave your (hello! correct) email address, too, so I can contact the winner; your email address does not need to be made public. Note: I'm offering free shipping, too, but only within the USA. International shipping will still apply.
Please be patient! Spammers try to post crap here a lot so comments are moderated. So if you don't see your post in the comments section, be patient and check back in a few hours before re-posting it, please!
After midnight, I'll randomly pick the winner (via Random.org). So check your mailbox on Sunday morning to see who won and for the next Giveaway and Newsletter!
Hey, who won The Charnel House Giveaway? That would be Laura! Congratulations! Check your email for more info.
Posted by
Leslie
, September 29th, 2016