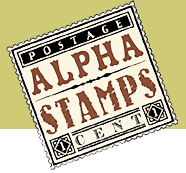 ALL Christmas Rubber Stamps are 30%-50% off! Today and Tomorrow ONLY! Sale ends Monday night, November 21!
Woohoo! Just in time for Christmas cards! And the sale includes the new Tim Holtz Doodle Greetings Cling Stamp Sets, like the Tim Holtz Doodle Greetings #1 Cling Stamp Set shown at left.
See the Christmas Rubber Stamps section.


I love this little Christmas scene Teri Calia has created! She used lots of new 1:12 scale pretties (some made specifically for her room box)… and I'm going to let her introduce them and her project:
This whole room box started because I begged Leslie to order this awesome Kraft Christmas Deer Scrapbook Paper. She wasn't crazy about it and didn't think it would sell so I said I'd make something cute with it so that people would see how very awesome it is :) I thought it would be the perfect wallpaper for a miniature cabin, especially if you had a Mini Deer Head Trophy hanging on the wall that the wallpaper was covering…
I really prefer a deer head trophy, miniature or not, with a festive wreath around it so I decided to go all out and make my cabin a Christmas cabin. Of course this necessitated the creation of a Miniature Advent Calendar, a Chipboard Sleigh – 1:12 Scale and multiple collage sheets. All the extra work paid off (at least the extra work I did… not sure how Leslie feels about the extra wok she did, lol) and I really adore how it all came together.
Look at that tiny little sleigh! (Note the closeup below.) It's so easy to put together with only seven little pieces. I used a metallic gold paint pen I purchased at Michael's to color all the pieces before I glued it together. Then I used a fine red glass glitter to add color to the sides. A few pieces of Mini Pine Fern and three cards from Christmas Wrap & Cards Collage Sheet and it's all done and looking super festive :)

The lovely advent calendar has a lot more than seven pieces but it is still pretty easy to put together. (Note the wide closeup below.) Just make sure to give it a dry run before gluing it together as the side cubby divider pieces are nearly but not exactly the same size as the top and bottom cubby pieces and are NOT interchangeable. If you get them mixed up you won't be able to put the outside edges on correctly. The Tiny Advent Calendar Collage Sheet makes finishing this miniature calendar a breeze!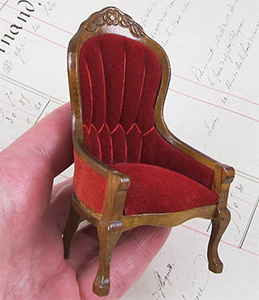 The sweet wrapped gifts under my tree are really just tiny blocks of wood wrapped up with the paper from my new Christmas Wrap & Cards Collage Sheet. I added a bit of Tim Holtz Pine Twine Garland around the neck of the smallest deer from a set of Tim Holtz White Resin Deer and added a slice from a Polymer Clay Red Swirl Peppermint Cane at the front. The wreath around my deer head trophy is made from pine twine and peppermint cane too.
My flooring is from the Tim Holtz Christmas Tidings 8×8 Paper Stash which has some lovely prints in it. That very realistic braided rug is from my new Rustic Dollhouse Rugs Collage Sheet that I printed out on White Suede Paper to give it some texture. If you were wondering why I added a baseboard to my room, it's not just for decoration, I accidentally tore some of the paper in that area and the baseboard covered my boo boo right up!
Read more (and see more photos) in Teri's blog. Here's her Supply List, too.




Highlights of Today's New Goodies – ALL on Sale! View All

Hooray for the Dollhouse Christmas Giveaway!
I picked out a fun group of supplies used in Teri's artwork to include in today's Giveaway:
- Chipboard Sleigh – 1:12 Scale – new!
- Christmas Wrap & Cards Collage Sheet – new!
- Kraft Christmas Deer Scrapbook Paper – new!
- Micro Mini White Kitten
- Miniature Advent Calendar – new!
- Mini Pine Fern – new!
- Polymer Clay Red Swirl Peppermint Cane – new!
- Small Decorated Green Christmas Tree
- Tiny Advent Calendar Collage Sheet – new!
Just click on this Supply List link for photos and links to everything in Teri's artwork, including all of the Giveaway items listed above!

To enter the Dollhouse Christmas Giveaway drawing all you have to do is leave a comment BELOW on this blog post TODAY OR TOMORROW (the deadline is 11:59 pm PST, MONDAY, November 21, 2016)! And tell me: How will you use the tiny Advent Calendar & Sleigh? Together in a little scene?
Don't forget to leave your (hello! correct) email address, too, so I can contact the winner; your email address does not need to be made public. Note: I'm offering free shipping, too, but only within the USA. International shipping will still apply.
Please be patient! Spammers try to post crap here a lot so comments are moderated. So if you don't see your post in the comments section, be patient and check back in a few hours before re-posting it, please!
After midnight, I'll randomly pick the winner (via Random.org). So check your mailbox on FRIDAY morning to see who won and for the THANKSGIVING WEEKEND SALE Newsletter!
Hey, who won the Kiss the Cook Giveaway? That would be Karen S! Congratulations! Check your email for more info.
Posted by
Leslie
, November 20th, 2016