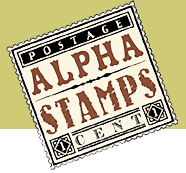 Hooray! It's day 3 of this holiday weekend sale! FREE shipping on orders over $50 (for orders shipping to USA) now through Monday, November 28th.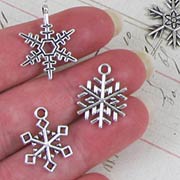 FLASH SALE! I was inspired by the cute ornaments below by Teri Calia, and how you could tie charms onto the ribbons so the ENTIRE Christmas & Winter Charms Section is On Sale at 25% to 50% off!
That Silver Snowflake Charm Set at right is also included in today's Giveaway! The sale ends Monday night, November 28th at midnight PST!

Yay! More Christmas ornaments! There are eight new designs of Round Chipboard Ornament Layers Sets — and 2 of my favorites are in this kit:
- Flying Sleigh Ornament Layers
- Hanging Stockings Ornament Layers (how cute it that? A cat is putting up his/her Christmas stocking!)
Each of the ornament sets includes 2 laser-cut chipboard shapes (and clear plastic low-profile domes) to make an ornament that you can put glitter, sequins, micro beads (slices of polymer canes?) inside!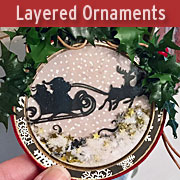 The set comes with 2 heavy chipboard outer rings, 2 clear plastic domes, and a die-cut (lighter weight chipboard) silhouetted insert to sandwich in the middle of your ornament.
Or you can put paper behind that silhouette (which allows you to use 2 silhouettes (one on each side of the ornament) or a different collage sheet image on the flipside).
Super easy to glue together (just be patient and let the glue dry overnight or your glitter may get stuck around the edges of the dome). Instructions included (short and sweet!)
And here's what Teri said after making those cute samples: "I love making them, it's easy and fun!"
PLUS this kit includes TWO new collage sheets! Both have 2-1/2″ diameter circles that fit the Chipboard Ornament Layer Sets.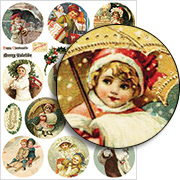 Snowy Winter Day Ornaments Collage Sheet
Aw… look at all those cuties! I chose images of kids (or Santa) outside in the snow. So you can add glitter as faux snow to shake around in your ornaments. Plus some phrases to layer overtop from vintage postcards (and that holly bow fits perfectly over the top edge of any of the circles, with a few bits of leaves overlapping onto the image).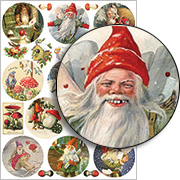 Gnome & Mushroom Ornaments Collage Sheet
A slightly different take on Christmas (and very cute)! Tons of images of gnomes getting ready for Christmas. I particularly like the ones with a tiny gnome pushing or rolling a mushroom almost as big as he is.
(And remember: all the collage sheets are on sale for 15% off (and the digital downloads are on sale for 40% off!), so those new collage sheets are on sale, too!)
More info, photos and artwork are on the Round Layered Ornaments Kit page.
Learn more in Teri's post and don't forget to come back as tons of items from Teri's Supply List are included in today's Giveaway!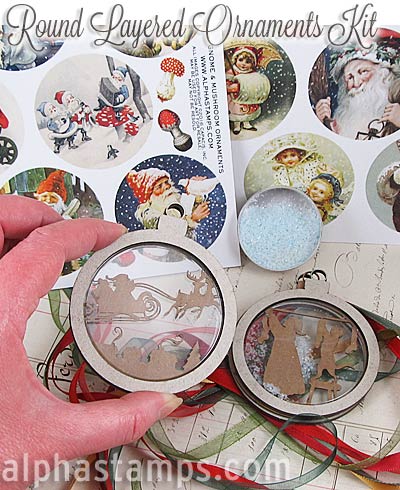 Hooray for the Christmas Ornaments Giveaway!
Let's start with THE NEW KIT! That includes 2 collage sheets, 2 sets of ornaments, ribbons & glitter!
Next: that Silver Snowflake Charm Set I mentioned above.
Then, these items from Teri's Christmas Shaker Ornaments Supply List:
- Holly Berry Garland
- Lacquered Holly & Berry Picks
- Large Snowflake Sequin Mix
- Mushrooms – Red
- Polymer Clay Red Swirl Peppermint Cane
- 5mm Star Sequins
- Dimensional Snow Writer (I love the way it looks just piled onto that gnome ornament!)

To enter the Christmas Ornaments Giveaway drawing all you have to do is leave a comment BELOW on this blog post TODAY OR TOMORROW (the deadline is 11:59 pm PST, MONDAY, November 28, 2016)! AND tell me: Which one of the new ornaments is your favorite?
Don't forget to leave your (hello! correct) email address, too, so I can contact the winner; your email address does not need to be made public. Note: I'm offering free shipping, too, but only within the USA. International shipping will still apply.
Please be patient! Spammers try to post crap here a lot so comments are moderated. So if you don't see your post in the comments section, be patient and check back in a few hours before re-posting it, please!
After midnight, I'll randomly pick the winner (via Random.org). So check your mailbox on Thursday morning to see who won and for the next Newsletter & Giveaway!
Hey, who won the Dollhouse Christmas Giveaway? That would be Lindy! Congrats! Check your email for more info.
Posted by
Leslie
, November 27th, 2016