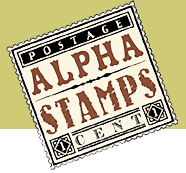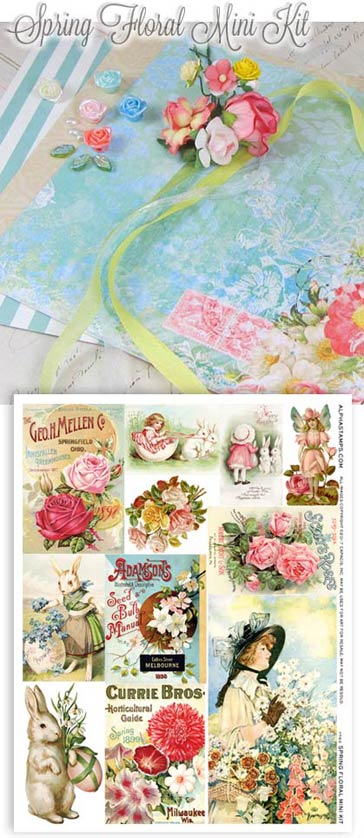 Yay for color! It's been raining for days… weeks here in California. What good timing that a big shipment of handmade flowers has arrived from Thailand.
Today's newsletter is filled with so much sweetness and colorful posies, you won't know what to do with yourself (maybe you won't need caffeine for the rest of the day!):
FIRST: A new FREE Spring Floral Mini Kit! This mini kit includes a new exclusive collage sheet with flowers, fairies, and a few bunny rabbits, all chosen to complement the colors of the beautiful new mulberry paper flower included in the kit! One each of 7 pretty posies to give you a taste of how lovely these handmade paper flowers are.
Plus THREE 6″ x 6″ cuts from coordinating scrapbook papers, resin flowers, teardrop pearl cabochons, olivine glass leaf beads, AND a couple feet each of 3 silky ribbons.
PLUS (and this is ONLY on offer today (February 23rd) through Saturday night, February 25th (2017), one of these kits is FREE for all orders of $25!
Read more about it on the Spring Floral Mini Kit page.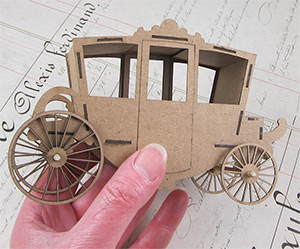 SECOND: An embarrassment of riches: artwork from THREE Design Team Members using 2 sizes of the new 3D Cinderella Coach! (More info below)

THIRD: A new SALE: ALL Die-Cut Shrines & 3D Items are on sale for 25% off! The sale ends MONDAY night, February 27th. NOTE: this includes the 2 new 3D Cinderella Coaches, too!!

FOURTH: A new Giveaway: A Springy Floral 3D Coach Giveaway Kit!

On to the artwork! I love the Design Team! They are all so creative and I love to see what they make from the same materials. Case in point:
Shannon Cooper made the sweetest Miniature Cinderella Wedding Coach from the mini size of the 3D Cinderella Coach. It is so simple and elegant… it would be the perfect centerpiece for a wedding dinner… or since it's only 3-1/2″ tall, it could be the decor on top of a wedding cake.
AND Shannon's blog post includes a tutorial on how to add the seats and curved floor shown through the open door in that photo!
Next: Nichola Battilana lost her mind and made BOTH sizes of the coach. Her TWO Sparkly Cinderella Coaches are both covered in glitter! As she admits: "Because I'm as lazy as one can possibly be… and, let's face it, I have an extreme glitter fetish… my immediate impulse was to bathe these beauties in the sparkly stuff. And because I have low impulse control, that's just what I did."
I will have to object: someone who spends the time to construct 2 coaches and then glitter and decorate them is NOT lazy! Read more and see more photos of her glittering artwork in Nichola's blog post.
Laura Carson created a beautiful and functional item from the larger 3D Cinderella Coach: A Perfume Bottle Caddy. Laura has a drool-worthy collection of glass perfume bottles and has made a Cinderella coach (complete with a lace and pearl crown on top) to convey them.
Learn how she put the coach together (and painted and decorated it) in Laura's blog post.
Don't forget to come back (whether from 3 lovely blog posts or from getting swept away by the new flowers below) to enter the Giveaway!


Hooray for the Springy Floral 3D Coach Giveaway Kit!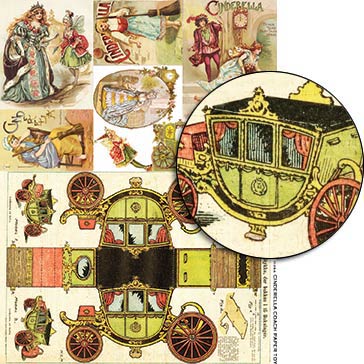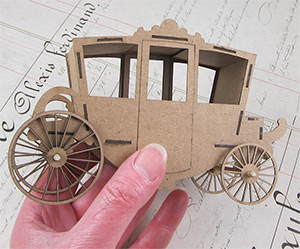 I bet you can figure out what will be in this Giveaway package!
Starting with the new 3D Cinderella Coach – Mini Size! This is so sweet! A chipboard kit to build a 3D coach! Complete with dowels for the wheel axles (and the wheels, too).
I'm also including one of the new Spring Floral Mini Kits!
And one of the new Cinderella Coach Paper Toy Collage Sheets! Beside a beautiful, vintage paper toy that makes a 3D coach approx. 2-1/2″ tall, this sheet includes images from illustrations of Cinderella sized a maximum of 3″ tall (a size that can be used in the Half Scale Room Boxes).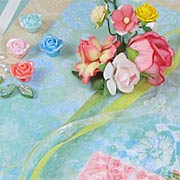 To enter the Springy Floral 3D Coach Giveaway Kit drawing all you have to do is leave a comment BELOW on this blog post TODAY OR TOMORROW (the deadline is 11:59 pm PST, FRIDAY, February 24, 2017)!
And tell me: How will you decorate your coach?
Don't forget to leave your (hello! correct) email address, too, so I can contact the winner; your email address does not need to be made public. Note: I'm offering free shipping, too, but only within the USA. International shipping will still apply.
Please be patient! Spammers try to post crap here a lot so comments are moderated. So if you don't see your post in the comments section, be patient and check back in a few hours before re-posting it, please!
After midnight, I'll randomly pick the winner (via Random.org). So check your mailbox on Sunday morning to see who won and for the next Giveaway and Newsletter!
Hey, who won the Wild Bruised Pink Giveaway? That would be Daylan! Congratulations! Check your email for more info.
Posted by
Leslie
, February 23rd, 2017