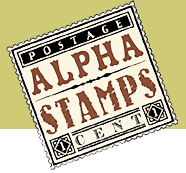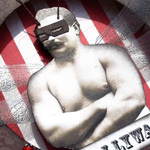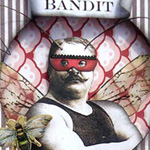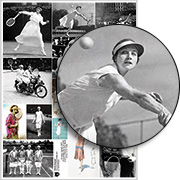 Ok… not really! But there are less girly colors than our recent Spring selections in today's new Tim Holtz items (20% off) and new collage sheets in the Sports section! Speaking of "manly men," remember these silly bandits Design Team Member Nichola Battilana
made with The Big Boys Collage Sheet? That sheet is in the new sale, too!

A NEW SALE: The new Sports section (including three new collage sheets, like the Tennis Anyone Collage Sheet at left) are on sale for 50% off! The sale ends Saturday night, March 11th at midnight PST (March 11, 2017). Go see 'em all!
On to some artwork! Guest Designer Jessica Armstrong made a Little Slugger Bedroom using her new and on sale Dollhouse Baseball Card Collection Collage Sheet.
More info in Jessica's blog.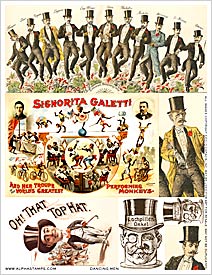 Hooray for the Manly Men Giveaway!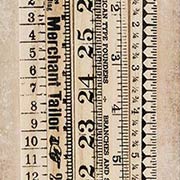 All 9 of these items are in the Giveaway package:
From new (and older) Tim Holtz (all 20% off!):
- Tim Holtz Wooden Ruler Pieces - New!
- Tim Holtz Sepia Vintage Paper Dolls - New!
- Tim Holtz Monocles
From Jessica's artwork:
- Baseball with Bat and Glove - New!
- Dollhouse Baseball Card Collection Collage Sheet - New and 50% off
- 1:12 Bed Mission Style - Back in Stock!
Just for fun:
- The Big Boys Collage Sheet – 50% off
- Vintage Gents Collage Sheet – 50% off
- Dancing Men Collage Sheet


To enter the Manly Men Giveaway drawing all you have to do is leave a comment BELOW on this blog post TODAY OR TOMORROW (the deadline is 11:59 pm PST, FRIDAY, March 10, 2017)!
And tell me: Which item in the Giveaway will you use first? On what project?
Don't forget to leave your (hello! correct) email address, too, so I can contact the winner; your email address does not need to be made public. Note: I'm offering free shipping, too, but only within the USA. International shipping will still apply.
Please be patient! Spammers try to post crap here a lot so comments are moderated. So if you don't see your post in the comments section, be patient and check back in a few hours before re-posting it, please!
After midnight, I'll randomly pick the winner (via Random.org). So check your mailbox on Sunday morning to see who won and for the next Giveaway and Newsletter!
Hey, who won the Beauty & the Beast Kit Plus Extras Giveaway? That would be Janet T! Congratulations! Check your email for more info.
Posted by
Leslie
, March 9th, 2017