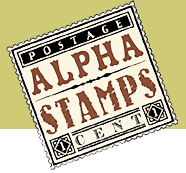 What? 1/2 off shipping! YES! Now through Friday night (March 24, 2017) shipping will only cost $2.95 for orders over $50! Plus shipping is always free on orders over $100! (Both prices for orders only in the USA.)
Continuing from Thursday: Carnival Iridescent Glass FREE Bead Mix! These kits are FREE for ALL orders, now through MONDAY night, March 20th, 2017 (or until the kits are gone)! Beautiful beads including Czech glass leaves and flowers! Lots of blues, purples, greens… see the wide photo below!
A BIG SALE: Inspired by all the bling in Laura's artwork (also from Thursday): ALL Misc Beads and Flower/Leaves Beads are 50% off! Tons of pretty things: glass Czech beads! Over 150 items! The sale ends MONDAY night, March 20th at midnight PST (March 20, 2017). See below for a few highlights!

I know… I'm bad. Here I am talking about Easter Baskets and Spring, but first: look at the beautiful starry night sky Design Team Member Lora Mahaffey has created in The Seraglio or Thinking about Mary Stewart! I love the glaze painted over the harlequin diamond patterned paper (and Lora gives tips in her blog post, so be sure to check it out).
There might be one or two of you out there who made the leap after you read the above title. Mary, Lady Stewart, was once (and still is in my opinion) the queen of the romantic suspense novel.
She wrote many, many books including the famous Merlin series and some children's books as well, but my favorites were always the lyrical tales of mystery and suspense she wove around an adventurous woman who found herself in peculiar circumstances who never ran for the hills unless that was where the trouble was.
Curious and lively, smart and humble, she was well bred and polite, but never a snob. Those books were always good reads and I still pick them up from time to time and feel as if I'm with an old friend.
One of them called, "The Gabriel Hounds" was set quite a bit in an old, nearly empty palace that contained within it's walls a seraglio, or harem. That novel and the seraglio was the inspiration for this piece.

Ok… really this time: A NEW Easter Basket Kit!!
Isn't this adorable! An exclusive kit with tiny, 1:12 scale items to make a miniature Easter basket! Many are handmade and there are a limited number of these kits.
Note: the kit includes instructions on wrapping the silk ribbons to make the pretty basket handle (and the pink & blue silk ribbons are included, too).
Some of the items are available separately (like the Chocolate Bunny and Tiny Yellow Duckling shown below) but many like the tiny bag of candies, chocolate birdnest, wicker basket, colored eggs and bunny sucker are only in the kit.
More info on the kit page.


Hooray for The Seraglio plus a Spring Frame Giveaway!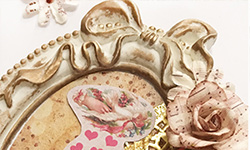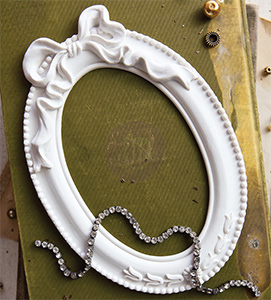 I know… I just skated over the fabulous new resin frames shown above. And look how pretty and vintage one looks with a bit of gold paint? So, that Papillon Blanc Oval Frame is included in today's Giveaway! (Note: just a white one… you'll need to add your own paint and/or embellishments.)
And I'm also including these items from Lora's The Seraglio supply list:
- Taj Mahal Triptych
– 6×6 Quatrefoil Texture Sheet
– Vaguely Valentine Collage Sheet (yes, that star-struck girl is from this collage sheet; note that Lora beefed up the colors of her dress with some Copic markers)
– Midnight Masquerade Romantic Rendezvous Scrapbook Paper

To enter The Seraglio plus a Spring Frame Giveaway drawing all you have to do is leave a comment BELOW on this blog post TODAY OR TOMORROW (the deadline is 11:59 pm PST, MONDAY, March 20, 2017)!
AND tell me: What inspires you most today? An Easter Basket? The Seraglio? The new resin frames?
Don't forget to leave your (hello! correct) email address, too, so I can contact the winner; your email address does not need to be made public. Note: I'm offering free shipping, too, but only within the USA. International shipping will still apply.
Please be patient! Spammers try to post crap here a lot so comments are moderated. So if you don't see your post in the comments section, be patient and check back in a few hours before re-posting it, please!
After midnight, I'll randomly pick the winner (via Random.org). So check your mailbox on Thursday morning to see who won and for the next Giveaway and Newsletter
Hey, who won the Girls Just Want To Have Fun Giveaway? That would be Randi! Congrats! Check your email for info.
Posted by
Leslie
, March 19th, 2017