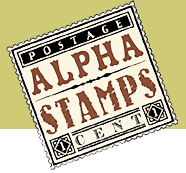 A NEW SALE: Inspired by the homey setting in Teri's artwork (see below): ALL Household Charms are 40% off! Tons of useful little props: teapots, silverware, clocks, scissors! 60 items! The sale ends MONDAY night, March 27th at midnight PST (March 27, 2017). See below for a few highlights or go check 'em out now!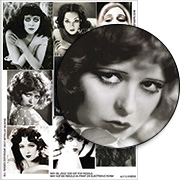 Continuing from Thursday: Inspired by the Art Deco babes in Laura Carson's artwork, ALL Art Deco Collage Sheets are 50% off! Over 50 sheets — and the sale includes the new Vixens Collage Sheet by Laura! The sale ends MONDAY night, March 27th at midnight PST (March 27, 2017)!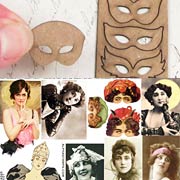 Also continuing from Thursday and ENDS TONIGHT: Mini Masks FREE Gift Kit! In honor of the new Tiny Mask Set (and artwork from 2 Design Team Members using the larger masks from the same designs) I put together a mini mask set AND a collage sheet with ladies sized to fit the masks!
ALL ORDERS on Thursday through Sunday, March 23rd through 26th (2017) will receive one of these collage sheets and the mini set of 4 laser-cut masks FREE! More info
What's that? A Guest Designer Call? Yes! See more info in the blog!


We have 2 beautiful projects for early Spring! Let's start with Teri Calia's The Memory Keeper's Room!
I love what Teri has made, all starting with the new Petite Garden Shelves over on the right side (with the addition of Slender Cabriole Table Legs, and with all the shelves filled with treasures). The whole room grew around that shelf unit and the matching Park Bench.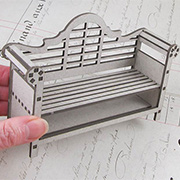 This little shabby chic roombox is a tribute to all of you out there who collect vintage ephemera and photographs. I started collecting when I was a child because I spent a lot of time with my Great Grandmother, who was a collector. I still get a thrill when I find a particularly interesting old postcard or well worn love letter. The memories attached to these treasures may not be my own, but they still speak to me and inspire me to imagine a long past world so different from my own.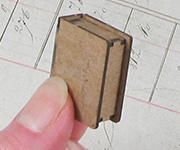 As you can see, the focus of this room is the tray filled with old letters, postcards and photographs. There is even a magnifying glass for closer inspection. Below the tray is an open faux book box, with more photos and ephemera, waiting patiently for perusal. A couple more faux book boxes on the shelf await their turn as well.
See below for close-ups of the tray of photos and postcards, and the new tiny size faux book box.
More info in Teri's blog and/or see her supply list. And check out the Giveaway below to win supplies to make a project like Teri's!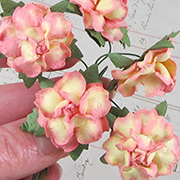 On to more artwork! Nichola Battilana's luscious trio of Magical Masquerade ATCs!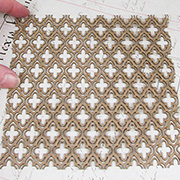 See the wide photo below… I LOVE what Nichola did with the Midnight Masquerade papers and Art Deco images from the The Secret and Art Deco Party #2 Collage Sheets! AND adding an extra layer of texture, using thick acrylic medium with texture sheets (see the center one in the photo for the texture added with the Quatrefoil Texture Sheet shown at left).
Plus the addition of loads of mulberry paper roses and iridescent stars make them rich and dreamy! Read more about the project, and see more photos (including additional ATCs) in Nichola's blog post.


Hooray for A Sweet Shabby Chic Giveaway!
So many wonderful details to choose from! I'm including these items from Teri's The Memory Keeper's Room (highlighted in the wide photos at right and below):
- Love Clippings 8×8 Collection Kit (that wonderfully shabby wallpaper!)
- Tiny Bird House (looks great with that red roof)
- Miniature Potted Red Roses
- Petite Garden Shelves – new!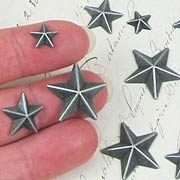 - Tim Holtz Adornments – Metal Stars (did you recognize them, with a rusty patina? look below!)
- Set of 3 Shabby Round or Oval Mirrors – new!
- Tiny Labels for Crates, Jars, & Cans Collage Sheet (that bunny poster at far right on the shelves!)
See photos of everything from Teri's project (including the subset in this Giveaway) in her supply list.
As noted above, I'm also including these 4 items that were highlighted in the Household Charms 40% off sale section:
- Tiny 3D Bronze Sewing Machine
- Small Brass Scissors Charms

- Small Bronze Hand Mirror
- Openwork Silver 3D Teapot Charm
AND a wood mounted Crest or Shield Rubber Stamp – just put on clearance

To enter A Sweet Shabby Chic Giveaway drawing all you have to do is leave a comment BELOW on this blog post TODAY OR TOMORROW (the deadline is 11:59 pm PST, MONDAY, March 27, 2017)!
AND tell me: What inspires you most today? Teri's shabby chic room? Something specific like the tiny postcards in the faux book box? Or painting the inside of that book box antique gold? Or maybe the texture on the beautiful ATCs by Nichola?
Don't forget to leave your (hello! correct) email address, too, so I can contact the winner; your email address does not need to be made public. Note: I'm offering free shipping, too, but only within the USA. International shipping will still apply.
Please be patient! Spammers try to post crap here a lot so comments are moderated. So if you don't see your post in the comments section, be patient and check back in a few hours before re-posting it, please!
After midnight, I'll randomly pick the winner (via Random.org). So check your mailbox on Thursday morning to see who won and for the next Giveaway and Newsletter
Hey, who won the Masked Beauties Giveaway? That would be Rhonda Sihocky! Congrats! Check your email for info.
Posted by
Leslie
, March 26th, 2017