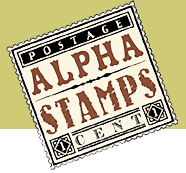 Note: as this is a holiday weekend here in the US: FREE shipping on orders over $50 (for orders shipping to USA) now through Tuesday night, July 4th!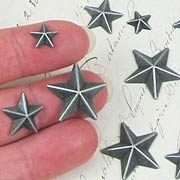 A new sale! EVERYTHING in the Decorative Metal section is on sale for 25% off!
The sale ends TUESDAY night, July 4th!
75 to choose from! Like the Tim Holtz Adornments – Metal Stars shown (and quite a few more Tim Holtz items, too).
And the sale also includes all the gears, including 2 new rustic sets announced today!
Some are being discontinued, so get 'em while you can, and while on sale! View all


I love, love, love the shrine that Design Team Member Lora Mahaffey made for her Mermaid Kit artwork!
But before I quote from Lora's (always witty) blog: the new Wrought Iron Gate for Arched Shrine Shadowbox! Designed to fit the Arched Shrine Shadowbox (but such a pretty piece, I'm sure you'll find other projects for it, too). And it looks smashing painted black as part of the Victorian "cage" for The Captured Mermaid.
From Lora's blog post:
She was found tangled in a fisherman's net, her arm badly broken. That day there happened to be a journalist at the harbor photographing the boats when the fisherman came in with his odd catch. Before anyone could say 'Fish and Chips' she was whisked away to London, her arm repaired with the most advanced technology of the Victorian era, placed in a large, specially made tank and hauled to the British Museum where she was the talk of the nation as folks came in droves to see her.
Intrigued now, aren't you? But before you run off and read more about the mermaid's plight, stay here a bit to see some new items (like the new rustic gears Lora used atop her shrine), and the items from Lora's project you can win in the drawing!
Without delay, here are the items from Lora's supply list included in today's Giveaway:
- Mermaid Paper Doll Kit
- Arched Shrine Shadowbox
- Wrought Iron Gate for Arched Shrine Shadowbox
- Stairstep Shrine Base
- Mini Steampunk Seahorse – Set of 2
- Spanish Crowns Collage Sheet
- Seashells in Plastic Tin
- Seashell Sequin Mix
Here's a link to Lora's supply list (including photos of all those Giveaway items I just mentioned).
Read more of Lora's story for her mermaid, and see lots more photos (including her tutorial).


Mermaid Accessories & Shiny Bits FREE Gift Kit!!
Now through Saturday night, July 1st! For ALL orders: either a chipboard shell handbag or tiny fan set PLUS either a bag of mixed color/shape iridescent beads or blue sky (with gold) glitter in a tiny glass vial with cork. So 2 items for all orders! (One tiny chipboard set plus one shiny bead or glitter item.)
Orders over $50 will get ALL FOUR options! These are similar to the popular chipboard parasol & etched shell mirror from a few weeks ago.


Hooray for the Captured Mermaid Shrine Giveaway!
Yep, I've already mentioned what's is in the Giveaway (see the list of the items up by the photos of Lora's artwork, or click here to see photos of her entire supply list).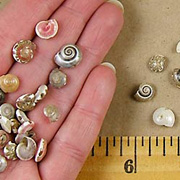 Plus, see the row of 4 items (below) that were just put on clearance sale (and are also included in the Giveaway)! Those big filigree pieces would be fun to use at the top of your shrine… as a base to layer items on, for a variation of what Lora made.
To enter the Captured Mermaid Shrine Giveaway drawing all you have to do is leave a comment BELOW on this blog post TODAY OR TOMORROW (the deadline is 11:59 pm PST, FRIDAY, June 30, 2017)!
And tell me: A Captured Mermaid? Another scene in your shrine? Something with gears?
Don't forget to leave your (hello! correct) email address, too, so I can contact the winner; your email address does not need to be made public. Note: I'm offering free shipping, too, but only within the USA. International shipping will still apply.
Please be patient! Spammers try to post crap here a lot so comments are moderated. So if you don't see your post in the comments section, be patient and check back in a few hours before re-posting it, please!
After midnight, I'll randomly pick the winner (via Random.org). So check your mailbox on Sunday morning to see who won and for the next Giveaway and Newsletter!
Hey, who won the Mermaid with Attitude Giveaway? Bonnie Hayes! Congratulations! Check your email for more info.

Posted by
Leslie
, June 29th, 2017