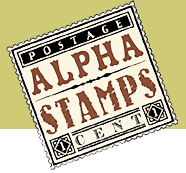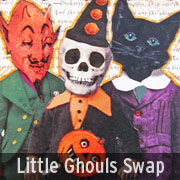 Eek! Halloween is coming and we have so many cool art samples, new products, SALE items and FREE goodies that I can barely keep it all organized!
Dresden Sale! In addition to the Color Dresden sale announced in the last newsletter (on sale for 40% off!) I've just added ALL BLACK DRESDEN – 25% off! Both sections are on sale through TOMORROW night, 9/18/17!
Little Ghouls ATC Swap – Sign-ups close TONIGHT.
FREE Chipboard Potion Bottles Set! Free with ALL orders through Monday night, 9/18. More info in Thursday's newsletter.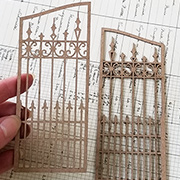 Forsaken Cemetery by Laura Carson
Wow! This is such a great Halloween project! Laura started with the new Wrought Iron Cemetery Gate (also shown at left), Arch for Cemetery Gate (with the word CEMETERY spelled out), and 4.5 Inch Tall Wrought Iron Fence — and the project grew (and grew)! I've zoomed in on the photo (below), so you can see the new gate and arch in use (and I highlighted a piece of the gate on the far right so you can see how Laura painted it — and secured it with chains and a padlock).
It's a very good thing that Laura has provided a video tutorial. I've picked out a couple examples of how she made parts of the cemetery in photos below. More photos in the Gallery or on Laura's blog post. And here's a link to the extensive Supply List and/or check the Giveaway below for another highlighted section that you could win!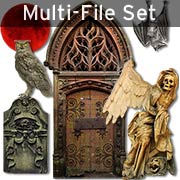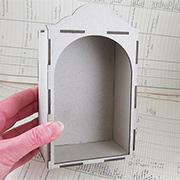 I love this little angel shrine, in the top left corner of the cemetery. Laura used the Arched Shrine Shadowbox as the building (with the Wrought Iron Gate for Arched Shrine Shadowbox in disarray), and see the preview pics from Laura's tutorial on how she mounted the angel from her NEW Forsaken Cemetery Digital Images Download Set (mounted on chipboard for strength and on a painted tea light as a base, so you can remove the whole unit to turn the light on & off). That particular image is not in the related (and new) Forsaken Cemetery Collage Sheet, but a ton of tombstones and statuary are included.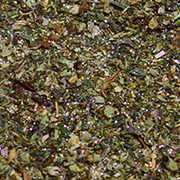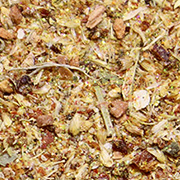 Finally in my mini preview are all the colors of the new Elements Art Glitter! All 7 of the color options are fun, woodsy/lumpy mixes (just a bit glittery). Perfect for adding texture to landscaping or trees. And as they include botanicals, they smell wonderful! (Each is different, from cumin to cloves to lavender). I love how Laura used them as textures on the chipboard trees, and as soil in the grave (in the center of the wide photo below)… that would be the grave of "Anita Shovel". Yes, many puns are in evidence… check out the whole project in Laura's blog post.





Hooray for the Forsaken Cemetery Giveaway!

With so many fab options, I decided to zoom in on the left corner with the angel shrine. I picked out some supplies used in Laura's artwork (and in that photo at right) to include in today's Giveaway:
- 4.5 Inch Tall Wrought Iron Fence – New! (over at far left of the angel shrine, and all around the circumference of the cemetery)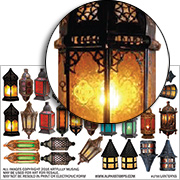 - Forsaken Cemetery Collage Sheet – New! (Anita's headstone, and that buzzard, too)
- Brick Wall Scrapbook Paper
- Arched Shrine Shadowbox
- Wrought Iron Gate for Arched Shrine Shadowbox
- Lanterns Half Collage Sheet (for the lanterns hanging on either side of the top of the shrine)
- Half Scale Widows Walk Fencing (lower right of my photo, around the shrine with a gargoyle on top)
- LED Tea Light (there is one behind/at the base of the angel).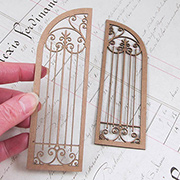 Just click on this Supply List link for photos and links to everything in Laura's artwork, including all of the Giveaway items listed above!

To enter the Forsaken Cemetery Giveaway drawing all you have to do is leave a comment BELOW on this blog post TODAY or TOMORROW (the deadline is 11:59 pm PST, Monday Night, September 18, 2017).

AND tell me: Are you brave enough to tackle the entire cemetery? OR: What will you make with all of these goodies? OR: What is your favorite technique from Laura's Video Tutorial? There are so many options I have not highlighted, from using mini leaf punches for the vellum Autumn leaves, to using the leftover pieces from the wrought iron fences to make multiple items, like gate hinges and a tiny coffin stand.

Don't forget to leave your (hello! correct) email address, too, so I can contact the winner; your email address does not need to be made public. Note: I'm offering free shipping, too, but only within the USA. International shipping will still apply.

Please be patient! Spammers try to post crap here a lot so comments are moderated. So if you don't see your post in the comments section, be patient and check back in a few hours before re-posting it, please!

After midnight, I'll randomly pick the winner (via Random.org). So check your mailbox on Thursday morning to see who won and for the next Giveaway and Newsletter!

Hey, who won the Sugar Skull Pinata Giveaway from Thursday's newsletter? That would be Kitty T! Congrats! Check your email for info.

Posted by

Leslie

, September 17th, 2017