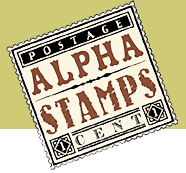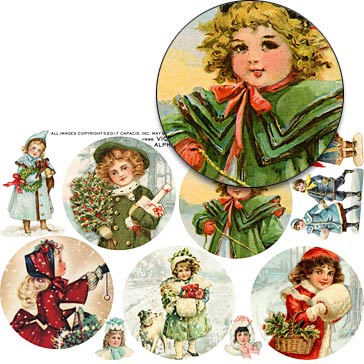 Before we see FIVE lovely Christmas ornaments: a new FREE gift and a NEW sale!
FREE GIFT! Inspired by Laura Carson's nostalgic Christmas Ornaments, ALL ORDERS on Thursday through Monday, November 2-6 (2017) will receive one of the new Victorian Children Ornaments Collage Sheet FREE!
5 round images sized to fit the Chipboard Ornament Layers or Ornament Frame Sets (2-1/2″ diameter circles).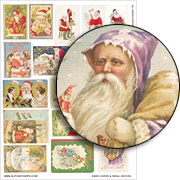 Free for ALL orders — through Monday night, November 6th! Note: all-digital orders will receive the collage sheet as a pdf file!
Bonus: If you place an order AND enter the Giveaway (below), I'll also include a custom set of coordinating ribbons!
Related Sale: EVERYTHING in the Victorian Collage Sheets section is on sale for 50% off! BIG section to peruse: over 90 collage sheets and that section includes lots of Christmas options! The sale also ends Monday night, November 6th! Go check 'em out.

Christmas Ornaments by Laura Carson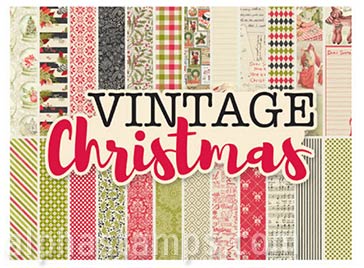 Wait… I thought you said Laura made FIVE ornaments?! It's true. Though I've used a fair amount of space to show off 4 ornaments below, the 5th is shown down in the Giveaway section.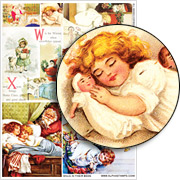 I love mixing patterns (and apparently, so does Laura!) And using the Vintage Christmas 6×6 Paper Pad makes it easy to mix and match, and still keep everything coordinating.
Plus Laura had fun with layers and layers of berries, ribbons, snowflakes, trees, holly, glitter… these ornament sets are fast to make and easy to play around with.
Here's a link to Laura's supply list for quick links to the supplies for all 5 ornaments. And you'll want to visit Laura's blog post for instructions and more photos. Be sure to come back though, 'cause beside the cute new Christmas trims below, the Giveaway includes EVERYTHING in Laura's supply list!


Hooray for the Good Wishes Ornaments Giveaway!
I had a hard time picking a favorite from Laura's ornaments, but I decided on Good Wishes for Christmas and the New Year shown at left.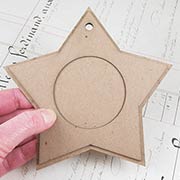 Though lucky you (one of you!), you don't need to pick just one. As I mentioned above: EVERYTHING in Laura's supply list is included in this Giveaway!
I'll just highlight a couple here:
- Ornament Frame Set – Star
- White Iridescent Snowflake Garland (yes! chop it up! you can use the snowflakes as separate items!)
- Winter Kids Collage Sheet (the girls in the center)
- Vintage Christmas 6×6 Paper Pad (the background papers for ALL of the ornaments)
Note: as there's a Ornament Frame Set Kit included in the supply list, if something is listed that's already included in the kit, I'll just include one set/item.
Bonus #1: I'm including the new Victorian Children Ornaments Collage Sheet (see above for info about all orders receiving it FREE) AND the custom ribbon set (ditto about more info above) and a reminder: enter the Giveaway to get the 2nd FREE gift with your order!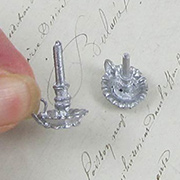 Bonus #2: I'm including the one of the Candle Holder w Fluted Base — and a note: I've just put a bunch of the cast metal miniatures on clearance (making room for some new ones on order!) so check the sale page to see what's on sale.
Bonus #3 (!): I'm including one of the new Mixed Matte Red, White & Burgundy Berry Sprigs as I think they're prefect for decorating an ornament!
To enter the Good Wishes Ornaments Giveaway drawing all you have to do is leave a comment BELOW on this blog post TODAY OR TOMORROW (the deadline is 11:59 pm PST, FRIDAY, November 3, 2017)!
And tell me: Which ornament of Laura's inspires you most? (Or which of the Ornament Frame Sets do you have plans for first?)
Don't forget to leave your (hello! correct) email address, too, so I can contact the winner; your email address does not need to be made public. Note: I'm offering free shipping, too, but only within the USA. International shipping will still apply.
Please be patient! Spammers try to post crap here a lot so comments are moderated. So if you don't see your post in the comments section, be patient and check back in a few hours before re-posting it, please!
After midnight, I'll randomly pick the winner (via Random.org). So check your mailbox on Sunday morning to see who won and for the next Giveaway and Newsletter!
Hey, who won the Ornament Frame Set Kit Giveaway? Linda Brun! Congratulations! Check your email for more info.
Posted by
Leslie
, November 2nd, 2017