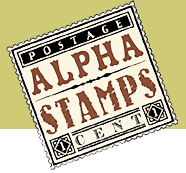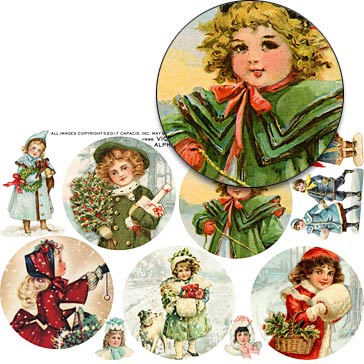 Before the beautiful new project by Design Team Member Shannon Cooper, a reminder of the current sale and FREE gift — both ending TOMORROW night, November 6th:
Inspired by Laura Carson's nostalgic Christmas Ornaments, ALL ORDERS through Monday, November 6 (2017) will receive one of the new Victorian Children Ornaments Collage Sheet FREE!
5 round images sized to fit the Chipboard Ornament Layers or Ornament Frame Sets (2-1/2″ diameter circles).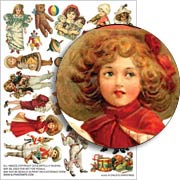 Free for ALL orders — through Monday night, November 6th! Note: all-digital orders will receive the collage sheet as a pdf file!
Bonus: If you place an order AND enter the Giveaway (below), I'll also include a custom set of coordinating ribbons!
Related Sale: EVERYTHING in the Victorian Collage Sheets section is on sale for 50% off! BIG section: over 90 collage sheets and that section includes lots of Christmas options! The sale also ends Monday night, November 6th! Go check 'em out.

Autumn Harvest Buffet
by Shannon Cooper
Wow! I love the pretty fall buffet that Shannon made! From the "give thanks" banner to all the woodland creatures (stashing their food in bowls?) it's so colorful and warm. (And it has turned cold here suddenly so the warmth is perfect.)
Shannon started with the new Unfinished Buffet with Scalloped Top Trim A great piece for displaying trinkets. And with the space under the 4 drawers (that open) you could put baskets of goodies. Maybe use this as a display piece in a mini antique store? But here's what Shannon thinks:
The buffet has four functioning drawers to hold bits and pieces. I'd like to think that is where the squirrels have stashed their bounty (after they tossed the silverware, of course).
Under the buffet hides a hedgehog and a gnome in an acorn cap bowl. There's also a rustic metal bucket filled with golden apples, a couple pumpkins, and polymer clay squash in a wire basket. The squash were shaped and a hole was poked in the top so after baking I could add a tiny length of toothpick for the stem. They are odd squash but that's what they look like in my head.
That Shannon is soooo talented! Check out the cornucopia she made (!). From her blog: "I followed a really great tutorial on how to weave a miniature cornucopia, and even though it came out a little wonky, I was pleasantly surprised with the results."
Hm… I see no wonkiness, just a really cute, little cornucopia!

I love the vase of flowers Shannon made (see the close-up in the large photo at left — and check out her blog post for a tutorial on the flowers). That little metal vase is from her stash. I went looking for a similar one and remembered Teri Calia's earlier Marie's Boudoir project using a glass pitcher as a vase… and a found a new Glass Pitcher that's a good match for both.
Hey, in that same photo… did you recognize the bowl on the shelf above the vase? I didn't at first, it's one of the planters from the Set of Miscellaneous Flower Pots that Shannon repainted!
Another note about that photo… sadly, the orange pumpkin teapot shown is no longer available. But they have other vegetable or fruit teapots… a few options are at right… please let me know in your comments on the Giveaway if any of those would be useful as a replacement.
Read more about Shannon's buffet in her blog post and/or see everything from Shannon's supply list. Be sure to come back and enter the Giveaway, to win lots of supplies from Shannon's project!

Hooray for the Autumn Harvest Buffet Giveaway!
There's so much to take in… I zoomed in on another section (under the table) for the photo at right, but the Giveaway items are from the whole project:
- Unfinished Buffet with Scalloped Top Trim
- S for the Squirrel Collage Sheet
- Into the Woods Collage Sheet
- Set of Miscellaneous Flower Pots
- Clump Foliage – Fall Mix
- Fall Burlap Fiber Set
- Glass Maple Leaves
- Mini Ceramic Garden Gnome Beads
- Mushrooms – Red
- Small Pine Cones
- Acorn Caps
Here's a repeat of Shannon's supply list (psst! that link shows photos and links to all of the goodies Shannon used, including the list from above of what's included in the Giveaway).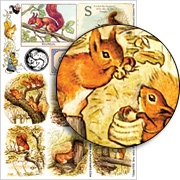 To enter the Autumn Harvest Buffet Giveaway drawing all you have to do is leave a comment BELOW on this blog post TODAY or TOMORROW (the deadline is 11:59 pm PST, Monday Night, November 6, 2017).
AND tell me: What will you make with all these items? Also, repeating my request from above: vegetable or fruit teapots? (btw, those are a pear, orange, purple bell pepper, and watermelon).
Don't forget to leave your (hello! correct) email address, too, so I can contact the winner; your email address does not need to be made public. Note: I'm offering free shipping, too, but only within the USA. International shipping will still apply.
Please be patient! Spammers try to post crap here a lot so comments are moderated. So if you don't see your post in the comments section, be patient and check back in a few hours before re-posting it, please!
After midnight, I'll randomly pick the winner (via Random.org). So check your mailbox on Thursday morning to see who won and for the next Giveaway and Newsletter!
Hey, who won the Good Wishes Ornaments Giveaway from Thursday's newsletter? That would be Debbie Stine! Congrats! Check your email for info.
Posted by
Leslie
, November 5th, 2017