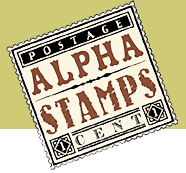 See below for info on the FREE gift ending tomorrow night, but first…
Oh my! Look at those fabulous ATCs by prize winner Laurie Davis! What lucky ducks will get one of those in the swaps (that have just mailed out, so keep a look out for your package). See all the artwork in the Gallery. Or learn more about what this swap was about.

Tinsel Rain Christmas by Kristin Batsel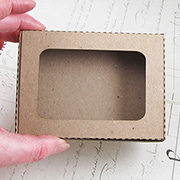 Kristin made an adorable shadowbox, using the new Tiny Diorama Box: A flat, laser-cut chipboard shape (with folds pre-scored) to fold together a miniature vintage ornament box. Finished size is approx. 3-1/4″ x 4-1/2″ (scaled down from an actual box). 1″ deep.
It looks perfect, sitting with 2 vintage boxes in the photo below.
You may not have access to a vintage ornament box, but here's how you can get the the same look of one with some supplies from Alpha Stamps: a Tiny Diorama Box and A Very Merry Christmas 6×6 Paper Pad. I used paper from the pad for both the inside and outside of the box, fussy cutting elements of some of the paper to create logos and box design. In the photo below, the two boxes in back are vintage; the one in the front is a fake.
Read more in Kristin's blog post (including a mini tutorial on how she replicated the vintage look) and/or see everything from her supply list.

TWO Diorama Box Ornaments by Teri Calia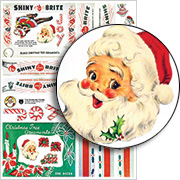 Aw… how cute it this?! Not only did Teri make a new collage sheet (with miniatures of 2 different vintage ornament boxes, resized to fit the front (and sides) of the Tiny Diorama Box) but she also made 2 ornaments!
A BIG THANKS goes to Kristin Batsel who was kind enough to photograph her vintage ornament boxes for me! After getting my hands on a hard copy of said collage sheet, I proceeded to craft my heart out and produced two little ornament box ornaments. They are decorated both front and back. I think they are pretty darn cute and will look adorable hanging on a Christmas tree!
Read more (and see all the supplies) in Teri's blog post. Be sure to come back and enter the Giveaway, to see ANOTHER ornament using this tiny box!


Hooray for the Tiny Diorama Box Giveaway!
Wow! ANOTHER ornament made with the Tiny Diorama Box! This one by Design Team Member Nichola Battilana!
The box is quite sturdy and it's a fun size to work with. It's not itty bitty so those who don't work in miniature will undoutedly find it relatively easy to work with
Some Wired Pine Needle Stem accents the opening of the frame. For some added chilly winter effect I applied some Twinklets Diamond Dust to these berries.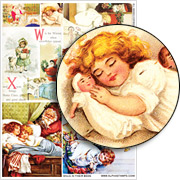 The paper used on the box is Vintage Christmas Snowglobes Scrapbook Paper and the Santa image is from the Snug In Their Beds Collage Sheet.
A tiny bit of organza ribbon and addtional glitter to finish it off, and I'm ready to tackle winter (not really… but lets just pretend I've got it together).
See more photos in Nichola's blog post.
EVERYTHING in Nichola's Supply List is included in today's Giveaway!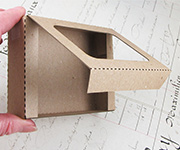 To enter the Tiny Diorama Box Giveaway drawing all you have to do is leave a comment BELOW on this blog post TODAY or TOMORROW (the deadline is 11:59 pm PST, Monday Night, November 13, 2017).
AND tell me: What will you make with your Tiny Diorama Box?
Don't forget to leave your (hello! correct) email address, too, so I can contact the winner; your email address does not need to be made public. Note: I'm offering free shipping, too, but only within the USA. International shipping will still apply.
Please be patient! Spammers try to post crap here a lot so comments are moderated. So if you don't see your post in the comments section, be patient and check back in a few hours before re-posting it, please!
After midnight, I'll randomly pick the winner (via Random.org). So check your mailbox on Thursday morning to see who won and for the next Giveaway and Newsletter!
Hey, who won the Snowglobe Giveaway from Thursday's newsletter? That would be Barb A! Congrats! Check your email for info.
Posted by
Leslie
, November 12th, 2017