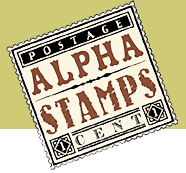 Before we see Christmas artwork by 2 artists: a new FREE gift kit!
Xmas Tags FREE Gift Kit!
With all the cute gift bags and ornaments today, I thought some little gift tags to attach to your prezzies were in order! There are 3 variations shown at left, each set includes:
- 5 custom tags
- 1 tag from A Very Merry Christmas Cardstock Frames & Tags
- one of these extra embellishments:
- New Red Poinsettias Button
- 21mm Candy Cane
- 25mm Laughing Snowman Cabochon
ALL ORDERS on Thursday through Monday, November 9-13 (2017) will receive one of the Xmas Tags Gift Kits FREE!

Let's start off today's pretties with FOUR adorable (small) gift bags by Design Team Coordinator Miz Bella (Kimberly Ayers)! I know those clear snowflake are less than an inch wide, so I'm guessing that little bag is about 4″ wide…
Feeling pretty bah-humbug this year for the upcoming great money exchange, I decided that I am giving out gift cards, black licorice and lumps of coal. So whose been naughty and whose been nice?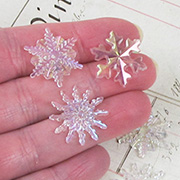 Since these items are small, I'll need small gift/treat bags so I decided to make my own after finding these cute little white bags from Michaels.
Basically it takes just about no time at all to make the bags. I loved the Vintage Christmas 6×6 Paper Pad as well as the retro gift tags that were printed on one of the pages. The reindeer bag was made by cutting out two strips of paper from the paper pad glued down so that it would look like a present. The edges of the image are inked in black since I didn't have a red or green stamp pad, but black does match coal quite nicely so I went with it. Glued the image down, then added the Flat Back Clear Iridescent Snowflakes and bow with a hot glue gun. The Santa image came from the Retro Xmas Round Ornaments Collage Sheet and since the image by itself was too flimsy, I backed it with some of the chipboard that Alpha Stamps uses to keep your collage sheets from getting bent in the mail. (Reduce, Reuse, Recycle!) The Santa bag took a few minutes longer since I had to wait for the Stickles to dry on Santa's beard, but no matter what, waiting for glue to dry is a lot better than fighting the crowds just to buy decorated gift bags.
In case you're wondering why I decided to make a Halloween treat bags as well since it has already passed, it's because I love the images from the The Witching Hour Images from the Past Ephemera Sheet. Well that, and everyday is Halloween around here for our family! I think the Halloween references in the images are subtle, so they could also be used for New Years Eve and/or Carnaval gift/treat bags.
Here's a link to Bella's supply list for quick links to the supplies for all 4 bags.


Manly Plaid Ornaments by Design Team Member Rhonda Secrist Thomas!
I love these new ornaments by Rhonda! They are bright and cheery, yet the plaid papers make them feel nostalgic. Here's a bit about those plaid choices from Rhonda's blog post:
You may have notice my "Manly Plaid" papers. They are from the Tim Holtz Christmas 8×8 Paper Stash. I fell in love with them as soon as I saw them and really wanted to create ornaments that seemed more "husband friendly" as well as not so "over the top" which I usually like to do.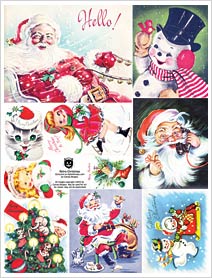 Rhonda used all 3 of the chipboard ornament frame sets we announced earlier this month. And the ever-popular snowman is making another appearance: He just seems the perfect size (and adorable expression) to be popping out of the round window in these ornaments.
Here's a link to Rhonda's supply list for quick links to the supplies for all 3 ornaments.
And be sure to visit her blog post, for lots more photos and tips, like creating a hanger from seam binding and using the back layer from the ornament set to help secure the hanger.


Hooray for the Snowglobe Giveaway!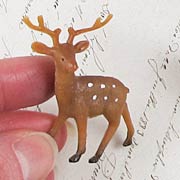 I just couldn't let that photo of a plain, empty snowglobe (above) be the last image. So I was looking for little items that fit the snowglobe and my poking around turned into this Giveaway set!
All of these items are in the Giveaway (and shown at left and/or below in that big giant photo!):
- New DIY Snowglobe
- Miniature Reindeer
- Woodland Tree Lot – 5 Small Trees – Back in Stock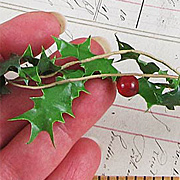 - New Fluffy Winter Snow
- 1/4 Inch Red Holly Berry Stems
- A flurry of greenery (short ends from some sold out items, plus Holly Berry Garland, Mini Pine & Berry Garland and a Wired Pine Needle Stem)
- And one of the new Xmas Tags Gift Kits! (This tag set includes one of the new Red Poinsettias Buttons.)


To enter the Snowglobe Giveaway drawing all you have to do is leave a comment BELOW on this blog post TODAY OR TOMORROW (the deadline is 11:59 pm PST, FRIDAY, November 10, 2017)!
And tell me: What will you make with this group of goodies? That's a lot of trees for one snowglobe… do you have other plans for them?
Don't forget to leave your (hello! correct) email address, too, so I can contact the winner; your email address does not need to be made public. Note: I'm offering free shipping, too, but only within the USA. International shipping will still apply.
Please be patient! Spammers try to post crap here a lot so comments are moderated. So if you don't see your post in the comments section, be patient and check back in a few hours before re-posting it, please!
After midnight, I'll randomly pick the winner (via Random.org). So check your mailbox on Sunday morning to see who won and for the next Giveaway and Newsletter!
Hey, who won the Autumn Harvest Buffet Giveaway? Susan! Congratulations! Check your email for more info.
Posted by
Leslie
, November 9th, 2017