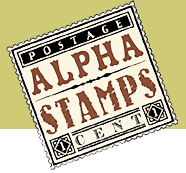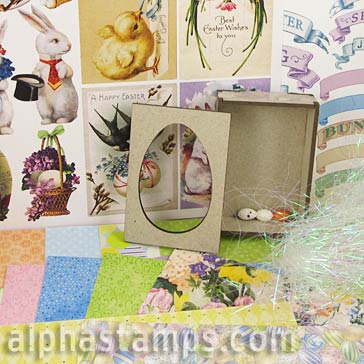 Almost Spring! Well… it was feeling like Spring a couple weeks ago. All the trees started to bud and now we're having a hail storm so I don't think there'll be many flowers on those trees this year.
But… Spring! And bulbs, chicks, rabbits, baby ducks… sounds like time for a new kit!
See that photo below of me holding one of FOUR new covers for the Mini Shadowboxes? That one I'm holding (the smallest one) is in the Easter Egg Shadowbox Kit!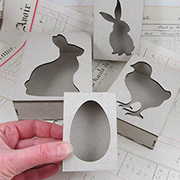 That's a little box (just 2″ x 3″) but perfect for a tiny shrine to a fuzzy Spring chick. (Note: there are some new fuzzy chicks below, but not included in the kit.)
The kit does includes some new 12mm eggs (cute), and tons of 6×6 papers in patterns (and florals and egg designs) — "tons" in this instance means 15. 12 of the sheets are from the new Cottontail 6×6 Paper Pad, so you'll get all of the designs from that pad.

And new collage sheets! Teri Calia designed one called Happy Easter (with lots of options, from bunnies holding a banner (in 2 sizes) to baskets of violets for decorating your tiny shadowbox). And there are many photos below of ALL FOUR of the new shadowbox lids decorated by Teri (note: the same Easter-themed windows are cut from lids (box tops with sides… scalloped edges on the sides, too!) and covers (heavy, flat chipboard without sides).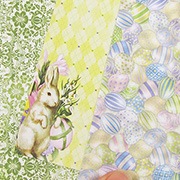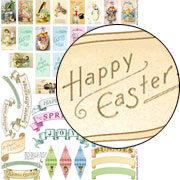 Back to collage sheets: I designed one called Easter Banners, with banners to fit all four sizes of Mini Shadowboxes. Some banners have Easter greetings, some are left blank for your own text. It also includes tiny postcards that can be used as flags (or pennants) for making a hanging banner.
More info about the new kit is on the Easter Egg Shadowbox Kit page. And remember to scroll down to the Giveaway on this page for a chance to win a kit plus lots of extras! Plus between here and there, a big bunch of pretty coordinating trims!

Artwork! Wow! Teri must love Spring… she made FIVE shadowboxes! (Scroll down just a bit to see a wide photo of Teri's Easter Celebration Boxes… she made 2 of the Small Bunny design, so she made 5 boxes).
One of the Small Bunny lids is also shown at left (and fits perfectly with those shutters)! That little chick pulling a ribbon, and the 2 bunnies on top are from the Happy Easter Collage Sheet. And the brown bunny, eggs, and basket are new today.
I love the sweet, little pennant banner. It looks appropriately casual, with the ends of the baker's twine left hanging. The little flags are cut from a mix of the papers in the kit, and the new Jubilee 6×6 Paper Pad.
More info and photos in Teri's blog post, and here's a link to see all her supplies.


Ending TOMORROW: Slide Glass & Mailer FREE Gift Kit and Game Pieces/Misc. Sale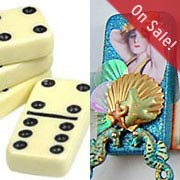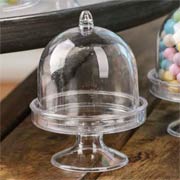 Everything in the Game Pieces and Miscellaneous Section is on sale for 25% off — the sale ends MONDAY night, March 5th. (That includes the glass slides and the slide mailers, plus tons of odds and ends from jingle bells to alphabet beads. Over 100 items!)
And a Slide Glass & Mailer FREE Gift Kit!! All orders over $20.00 (before tax or shipping) now through Monday night (March 5, 2018) will receive this special gift:
- one of the Slide Mailers – for 1 Slide (a single slide mailer — the sets for sale include 2 per package), plus:
- a Glass Microscope Slide (just one… shipped in the little niche in the slide mailer)
AND a special mini collage sheet (with 7 images that fit the glass slides). There are lots of collage sheets with images sized for the microscope slides and I've picked out a few for this free sheet!
Enough goodies to make a little slide mailer project like the Cinderella one featured on the Slide Mailers page! And check out Thursday's newsletter for what all these slides & slide mailers are about!

Hooray for the Easter Egg Shadowbox Kit Giveaway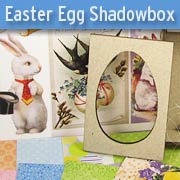 Before I explain what's in today's Giveaway... I must point out the ridiculously cute tree Teri put inside that Chocolate Bunny Shadowbox at right! Not only is that one of the new Silly Pink Bunny Rabbits peeking out from behind the tree, but Teri made a tiny Easter basket complete with tiny grass and colored eggs to put on top of the tree!

Ok... back to this Giveaway: Beside one of the Easter Egg Shadowbox Kits (that includes TEN items all by itself!), this Giveaway also includes:

- ALL FOUR of the Easter Covers for Mini Shadowboxes (so you'll get 3 more, beside the 1 that's in the kit)
- ALL FOUR of the Mini Shadowboxes! (Ditto about getting 3 more sizes, beside the 1 already coming in the kit.)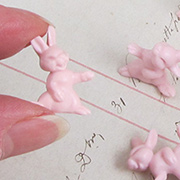 A few more items from Teri's supply list:
- A set of the Silly Pink Bunny Rabbits
- A Miniature Brown Bunny Rabbit
- A Miniature Wicker Basket
- A White Dresden Border Sampler Set

To enter the Easter Egg Shadowbox Kit Giveaway drawing all you have to do is leave a comment BELOW on this blog post TODAY or TOMORROW (the deadline is 11:59 pm PST, Monday Night, March 5, 2018).

AND tell me: How will you decorate your Mini Shadowboxes? (all FOUR of them)

Don't forget to leave your (hello! correct) email address, too, so I can contact the winner; your email address does not need to be made public. Note: I'm offering free shipping, too, but only within the USA. International shipping will still apply.

Please be patient! Spammers try to post crap here a lot so comments are moderated. So if you don't see your post in the comments section, be patient and check back in a few hours before re-posting it, please!

After midnight, I'll randomly pick the winner (via Random.org).

Hey, who won the Tiny Accordion Fold Book Giveaway from Thursday's newsletter? That would be Vera Collier! Congrats! Check your email for info.

AND, who won Laura's Fancy Pastry Display Case Giveaway also announced in Thursday's newsletter? That would be Vickie Trancho! Congrats! And thanks again to Laura Carson for offering one of her glass cases!


Posted by

Leslie

, March 4th, 2018