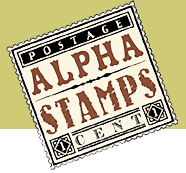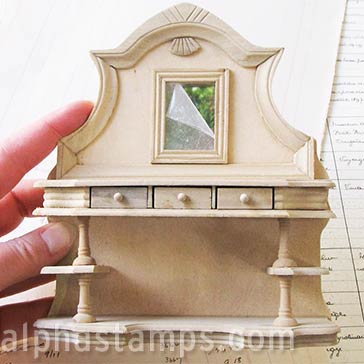 What a charming, unique miniature buffet Design Team Member Lora Mahaffey
has made out of an unfinished wooden piece of dollhouse furniture!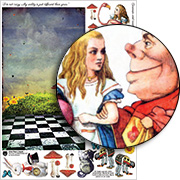 If I were Alice, I'd probably have rather interesting tastes in furniture. Definitely things with character and charm.
Quirky and unique.
Maybe some hand-painted things that are one-of-a-kind. Like this fun little number, the Large Wooden Buffet…
Lora has posted tons of photos showing how to prep an unfinished wood buffet, and how to paint a floral scene, so be sure to visit her blog post.
And there's a chance to win one of the buffets (and a bunch of related mushroom items) below in the Giveaway. (And don't forget the Fairy-Themed Sale and FREE Gift! Scroll down for a reminder with photos.)
AND between here and there, there are a bunch of new cats & kittens… and new (and back in stock) alphabet rubber stamp sets!


Ending TOMORROW: New Sale and New FREE Gift — All About Fairies!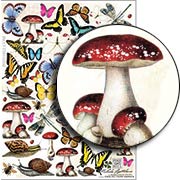 Everything in the Fairies Collage Sheets section is on sale at 50% off — the sale ends MONDAY night, April 9th.
30 options, including the English Fairy Garden Collage Sheet at right (also used in Nichola's project in Thursday's newsletter).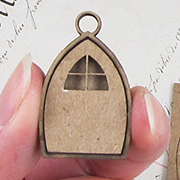 And there's a new Fairy Charm Mini Gift Kit!! You'll receive ONE of the new Chipboard Fairy Door Charms (normally sold in sets of 2) AND a custom mini collage sheet (shown at left) with tiny fairies that could be used inside! Note: the images are 1″ x 1″ size, so could also work with 25mm diameter settings or cabs, too.
FREE with ALL orders, now through Monday night, April 9 (2018)! More info

Hooray for the Mushrooms for Your Buffet Giveaway!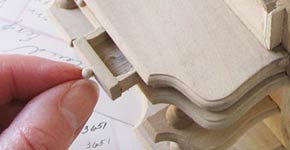 Lora is so talented! She includes a mini tutorial on how to paint mushrooms and flowers in her blog post, like that close-up at left.
So in addition to a Large Wooden Buffet (!), I decided to pick out some mushrooms for this Giveaway:
- First, that English Fairy Garden Collage Sheet shown above from the sale reminder
- Then the Alice Plays Croquet Collage Sheet that Lora used in the center spot where the mirror would normally be (the collage sheet has some single mushrooms on it, too)
- A Ceramic Red Amanita Mushroom Bead (on clearance!)
- Some smaller 3D Resin Mushrooms
- Some red spun-cotton mushrooms
- And not a mushroom at all, but a Mini Ceramic Garden Gnome Bead!

To enter the Mushrooms for Your Buffet Giveaway drawing all you have to do is leave a comment BELOW on this blog post TODAY or TOMORROW (the deadline is 11:59 pm PST, Monday Night, April 9, 2018).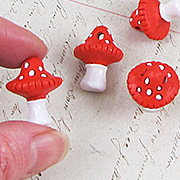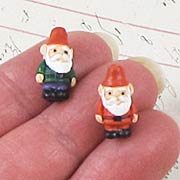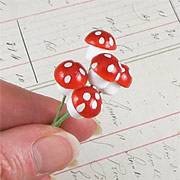 AND tell me: Painted mushrooms? Paper mushrooms from a collage sheet? 3D mushrooms? What would you put in a buffet garden scene?
Don't forget to leave your (hello!) correct email address, too, so I can contact the winner; your email address does not need to be made public. Note: I'm offering free shipping, too, but only within the USA. International shipping will still apply.
Please be patient! Spammers try to post crap here a lot so comments are moderated. So if you don't see your post in the comments section, be patient and check back in a few hours before re-posting it, please!
After midnight, I'll randomly pick the winner (via Random.org).
Hey, who won the Winged Fairy Giveaway from Thursday's newsletter? That would be Angela C! Congrats! Check your email for info.
Posted by
Leslie
, April 8th, 2018