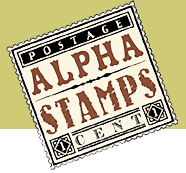 The following are adhesives that are currently carried by Alpha Stamps for Jewelry Making. Know of a really good adhesive for jewelry design? Then please, let me know!
An acrylic sealant that's thick and gives a nice clear finish to small artwork. No special tools needed (but a little patience while waiting for it to dry). Use for glazing photos, collage sheets, scrapbook papers, fabrics, inclusions (beads & other elements).
You can mix dyes into the glaze to create faux stained glass. More info and how-to tips are here. Avoid shaking bottle to minimize bubbles. Watersoluble, but permanent when dry. Dries in 2-4 hours and comes in a 2 ounce bottle.
PROS
Easy, easy, easy to use!
Non-toxic, but please don't drink it.
Self-leveling.
Dries to a crystal clear and smooth permanent finish.
Add color with dye-based inks, watercolor, pearlescent pigments, and pastel chalks.
CONS
Can have a REALLY strong reaction to copper, creating a dark/blue tint where the glaze comes in contact with the metal. (However sometimes this can look cool!)
It is NOT waterproof.
G-S Hypo Cement
Works for all types of non-porous bonding such as setting cabochons into a bezel, setting rhinestones on glass or metal, or gluing glass beads together. This glue was originally made for watchmakers. The tube has a pinpoint applicator that makes it possible to do precision gluing.
PROS
Fine point application.
Dries quickly.
CONS
You must use in a well ventilated area.
Tip can seep.
Glossy Accents
Glossy Accents is a dimensional, water-based, clear gloss medium. It's perfect for adding dimension and magnifying distinct areas on any scrapbook page, album cover, rubber stamp or paper craft project.
PROS
Glossy Accents dries to a hard, clear glossy finish.
Used under embellishments it makes them stick.
The very thin tip allows for precise placement and it is fast drying.
Can be used to fill in bezels, pendants, cabochons and small charms.
CONS
Can be prone to having air bubbles, so watch carefully and don't shake product.