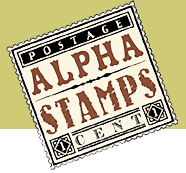 New and On Sale! How sweet is that?
Lavender/Blue Ribbon Set
A pretty set for Spring. 8 yards total:
1 yard of 1/8″ pink ribbon w/center stitching

2 yards of a tinsel-y, furry cord in shades of lavender, light yellow and blue.

1 yard of 7/16″ dusty lavender grosgrain (also available by the yard)

1 yard of 1-1/2″ wide, wired, dusty pink (mauve?) satin with a moire pattern down the center.

1 yard of 9/16″ grey blue rayon seam binding (also available separately)

1 yard of 3/8″ iridescent lavender/aqua ribbon (also available separately)

1 yard of 3/16″ lavender w/gold edge (also available by the yard)
Three Valentine's Day Collage Sheets:

Two Stickles (antique linen and milled lavender),

Two yards of beaded fringe (pearl and purple)

and a sheet of scrapbook paper from the Tattoo Heart 2-Sheet Paper Set…
… all with a lavender hue. Click the photo for a more complete picture.
Here's a recap of the Giveaway:

"When the Cat's Away…" Daily Giveaways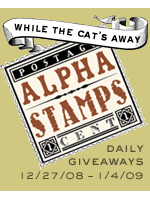 Starting on Saturday, December 27, 2008 (through Sunday, January 4th, 2009), I'll post a Giveaway on the blog every morning, and you'll have until 11:59pm PST to enter.
To enter all you'll have to do is leave a comment on that day's blog post.
After midnight I'll randomly pick the previous day's winner. I'll contact the winner via email to get their address info — and I'll even pay the postage.*
To get entered twice, post about the Giveaways on your blog and include this badge. Then come back and link to your post in a comment. Please link the badge to http://www.alphastamps.com/blog/.
*(Sorry, but I'm only offering free shipping domestically. International shipping will still apply.)
Remember, the shipping staff are on vacation till January 5th. But for sale pricing on new ribbons and/or a free Valentine's kit, I think you'll be able to wait.
So leave me a comment and tell your friends.
Posted by
Leslie
, December 27th, 2008