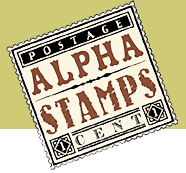 Starting on Monday, December 26, 2011 (through Sunday, January 1st, 2012(!)), I'll post a new Giveaway on the blog every morning, and you'll have until 11:59pm PST to enter.
To enter all you'll have to do is leave a comment on that day's blog post (don't forget to leave your email address, too, so I can contact the winners!)*
After midnight I'll randomly pick the previous day's winner.
To get entered twice — daily — post about the Giveaways on your blog (or Facebook status) and include the badge at right (with a link back to the blog). Then come back and link to your post in a comment.
*(Sorry, but I'm only offering free shipping domestically. International shipping will still apply.)
Remember, the shipping staff are on vacation till January 2nd. But for sale pricing and/or free kits, I think you'll be able to wait.**
So leave me a comment and tell your friends. (Leave comments starting on 12/26… and leave them on the daily posts starting that day — not on this page!)
Plus (new this year) if you'd like to be on the special mailing list (to be notified when each new freebie is announced), click here (if you already receive the newsletter, after you enter your email address you'll get instructions on updating your profile).

**Our offices will be closed from December 23, 2011 through January 1, 2012. We will re-open January 2nd, at which time we will begin to respond to any orders or inquiries submitted while the office was closed. Note: If anything sells out, refunds will be sent as orders are shipped (starting the week of 1/2/12).
Posted by
Leslie
, December 23rd, 2011