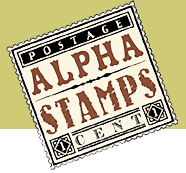 It's that time again and we are excited to announce that we are looking for new Design Team Members and Guest Designers for Alpha Stamps!
Can you meet deadlines without stressing yourself (or us) out?
Are you confident and able to work on your own initiative?
Do you know how to showcase products effectively?
Do you know how to take good quality photographs of your work and upload them to a Web site, online gallery or blog?
Rewards and Benefits
Design Team Members will receive a package of Alpha Stamps products ("Design Team Kit") approximately every 4 weeks, including new products before they are released!
Design Team Members will receive prominent exposure on the Web site, blog, gallery and weekly newsletters.
Design Team Members will have access to the private Alpha Stamps Design Team Yahoo Group for previews of future exclusive products and the exchange of information, ideas, and creative development between the Design Team Members.
Design Team Members will receive a generous discount on purchasing additional products.
Requirements
Alpha Stamps requires the following from all of its permanent team members:
Design Team Members will be offered a non-exclusive 1-year contract with Alpha Stamps.
Design Team Members are expected to complete at least 3 pieces of artwork every month with products received in monthly Design Team Kits.
Designer Team Members will also be expected to

Participate in 4 Alpha Stamps swaps per year.
Create 3 tutorials (with step-by-step photos) per year to appear on the Alpha Stamps blog.
Occasionally, additional work may be required for special activities and holidays.
Participate in the Alpha Stamps gallery, Yahoo Group and blog hops.
Participate in social networking (sharing your projects on your blog, Facebook and/or Twitter).
Social sharing (share or retweet our news and updates at least twice a month or as requested).
Bring creative design and fresh ideas!
Submissions Deadline: February 25, 2012
Please submit via email to designteam@alphastamps.com:
3 jpegs of your best projects (minimum 800 pixels wide, maximum 2000 pixels wide)*
We are looking for a wide variety of designers, if you are card maker, altered artist, scrapbooker and/or multi media designer and want to only submit items that showcase your specialty that's fine. We want to showcase different styles.
We would prefer if at least two projects use our products so we know that you are familiar using our materials.
Links to online galleries, blog(s).
Questionnaire (see below).
*Please name each jpeg with your full name (i.e. YourName1.jpg, YourName2.jpg, YourName3.jpg) Please send image attachments and not links to images on Flickr or online galleries.
Questionnaire
Name, email address, mailing address, telephone number, and 3 optional items: blog URL, Facebook ID, Twitter ID.
Have you been published in the past 12 months? And, if so, where?
Are you on any other design teams? Please include the name of each team.
Do you belong to any online forums, message boards or online galleries? If so, please list the site address and your user name for each.
What do you enjoy creating the most?
What do you love about our products?
We will announce the Alpha Stamps Design Team on March 18, 2012.
Posted by
Leslie
, February 5th, 2012