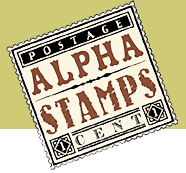 Design Team Member Caroline Ouzts Hay has come up with a fun little Beaded Wire Spider for you to to create! Not only does Caroline have the tutorial on her blog, but she also created a fabulous video tutorial for you to watch as well.
Couldn't you see hanging several of these in a window or from the ceiling with fishing wire? Oohh scary! Or make a pendant out of one, or even a bracelet? How very crepeldah, my Poppets! With the wide array of Beads and Craft Wire for this project that Alpha Stamps carries, the possibilities are endless!
We'd love to see your spider creations that are inspired by Caroline's tutorial. Just drop me an email and send me a picture of what you come up with. You could see your creations on the Alpha Stamps Blog!
Ready? It's time to head on over to Caroline's Beaded Wire Spider Tutorial!
And check out just a few of the new Craft Wire and Bead options below and at right.