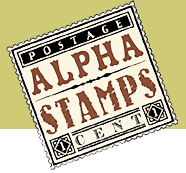 Hey, it's Day 3 of the While the Cat's Away… Giveaways! And today's theme is Hearts & Cherubs.
So, a little birdie told me some of you are needing some Valentine's Day goodies. Not a problem! In addition to the ENTIRE Valentines & Romance Collage Sheets and Charms – Hearts & Cherubs sections both being on sale today, I've just added a New! Resin Cherub Set (and put it on sale, too)!
If you're wondering which of those On Sale! Collage Sheets I included in the kit, here's the list:
Souhaits Sinceres (Sincere Wishes)
Mischievous Cupid
Love Letters #1
Winged Cupid
Cupid Postcards #2
Dapper Dudes
Here's how these While the Cat's Away DAILY Sales and Giveaways will work: I've gathered items around a theme (related to whatever's on sale today) and put together a Giveaway Kit that will be awarded to one lucky person (click on the photos at right to see even more of the Hearts & Cherubs Giveaway Kit).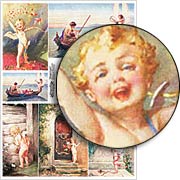 To enter the Hearts & Cherubs Giveaway drawing all you have to do is leave a comment on this blog post (don't forget to leave your email address, too, so I can contact the winner; note, your email address does not need to be made public). Please be patient! Spammers try to post crap here a lot so comments are moderated. So if you don't see your post in the comments section, be patient and check back in a few hours before re-posting it, please!
And I have a special request… when you leave a comment (to enter the drawing for today's fab package), please tell me which of the Dresden Scraps below you like best (let's just call them 'left', 'middle' and 'right' — that's vaguely 'birds and pillows', 'numerals', and 'large cherubs' from left to right). And why you like them, if you would (color? size? usefulness all year 'round? something else?) They're also included in the Giveaway Kit but I haven't decided if I'm buying more for the site. (Again, click on each photo to see the whole sheet.)
After midnight I'll randomly pick the previous day's winner (via Random.org). So make sure to check back tomorrow to see who won and to see what's on offer for Day 4 of the Sales & Giveaways!
More info on the Holiday Closure & Giveaway Rules (including how you can get entered twice in each day's drawing).
And please remember: Our offices are now closed. The whole "While the Cat's Away" theme is 'cause I'm the only one here! For more info about shipping (which will start when the staff are all back on 1/2/13) and the sale in general, please see the While the Cat's Away…" Daily Giveaways: Year 5! overview page.
A final note: Even though our offices are closed, DIGITAL Collage Sheet orders are still fulfilled in real time!

Posted by
Leslie
, December 28th, 2012