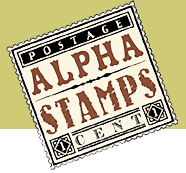 How cute are those! New and On Sale! Halloween charms in eight new shapes and three finishes (all double-sided and made in the USA). Click on any of the photos to see larger pics on the blog (or here to order any/all of them)!
(The new charms are all on sale as they're part of the HUGE Halloween Theme Sale going on in honor of the Halloween Mini Hutch Swap!)
And there's another treat in store today! Design Team Member Nichola Battilana created the lovely Cubby Fairy Box, shown below, using the New! Garden Insects Cut-Outs (and a whole bunch of other goodies, too)! I love how she painted and then bent up the wings of the cut-outs so the butterflies look like they've just landed on the shadowbox.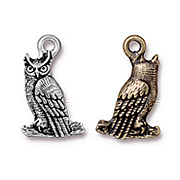 Hey, since everybody's in the Halloween mood… how about taking Nichola's idea and turning it into a HALLOWEEN Cubby Box? Miss Meghan picked out a fabulous set of Halloween (and fairy/insect) items so you could make a shrine box like Nichola's or a Halloween version (or mix the two! who knows!)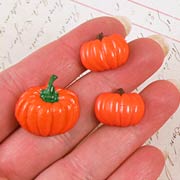 Meghan included 2 of the New! Halloween Charms in case you want to add a little owl or grave stone on a shelf of your own shrine.
And Meghan also included 2 more New and On Sale! items in the Giveaway:
- Martha Stewart Halloween Glittered Bats and Moon Stickers (maybe you'd like some bats alighting on your shrine instead of butterflies)
- a Pumpkins Button Set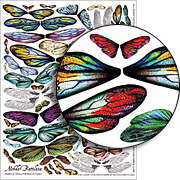 Hooray for the Cubby Box Giveaway! Beside the New! Garden Insects Cut-Outs, charms, bat stickers and pumpkin buttons, also included are:
FIVE Collage Sheets:
- Little Darlings Collage Sheet
- Just Wings Collage Sheet
- Something Witchy Collage Sheet On Sale!
- Skeleton Slides Collage Sheet On Sale!
- Vintage Oddities Collage Sheet On Sale!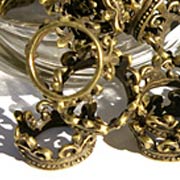 A Hocus Pocus 6×6 Paper Pad On Sale!
(which would make an adorable mini pennant banner like the tiny one hung across the top of Nichola's shrine)
One of the Antique 3D Gold Crowns
(which, by the way, fits the On Sale! Resin Skull Beads, also included)
And a White Dresden Border Sampler Set (so you can make your Dresden trims any color you'd like)
Here's a list of all the 27 (!) goodies included in the Giveaway.
To enter the Cubby Box Giveaway drawing all you have to do is leave a comment (below) on this blog post by midnight, August 23, 2013 (Friday night PST). (Don't forget to leave your (hello! correct) email address, too, so I can contact the winner; your email address does not need to be made public. Note: I'm offering free shipping, too, but only within the USA. International shipping will still apply.)
Please be patient! Spammers try to post crap here a lot so comments are moderated. So if you don't see your post in the comments section, be patient and check back in a few hours before re-posting it, please!
By Sunday morning's newsletter, I'll randomly pick the winner (via Random.org). So make sure to check back Sunday to see who won!
Posted by
Leslie
, August 22nd, 2013