Scrapbook Papers & Stickers
Curio Scrapbook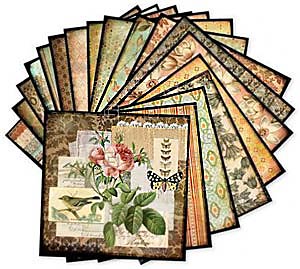 Papers, Stickers & 6x6 Paper Pad
Sweet, double-sided 12" x 12" papers with a wonderful collection of items you would expect to find on a lady's dressing table; postcards/letters, butterflies, lace and roses, all in beautiful, soft colors. The 'Feather Your Nest' swap sample page, at right, using one of these papers is by Design Team Member Lynda Roddy Ozzauto.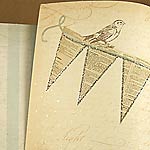 3 Glittered Scrapbook Papers
Beautiful, double-sided 12" x 12" cream-colored scrapbook paper with love birds, postage stamps and markings, and a "Celebrate" banner. All are accented with fine silver glitter.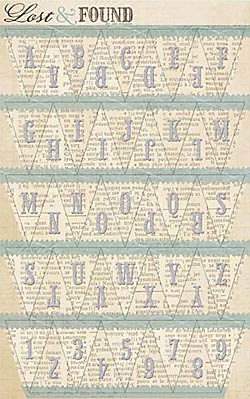 Glittered Alphabet Banner Sticker
Charming sheet of 45 die-cut alphabet banner stickers on cardstock. Each sheet has 2 of A, B, E, I, J, M, N, O, S, and Y, 1 each of the remaining letters, and 1 each of numerals 1-9. Each sticker measures approx. 1" x 1-1/2". The background features a lovely bookprint.
Love Letters Scrapbook Paper
Lovely single-sided print of... love letters (and roses).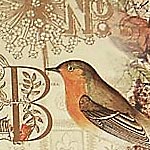 Birds & Blossoms Scraps
8" x 19" sheet (folded in half for shipping) double-sided scrap sheet with beautiful images of a variety birds, flowers, and words. Very soft and romantic, perfect for Valentine's Day or Spring projects.

Reverie Birds & Bees Scrapbook Papers
Doubled-sided 12" x 12" papers with a collage of song birds (or bumble bees) in sepiatone (over a ledger paper print or calligraphy, respectively).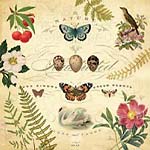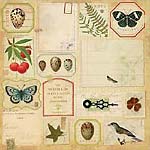 3 Flora & Fauna Scrapbook Papers
All 3 are single-sided 12" x 12" papers. One is printed with beautiful copper foiling.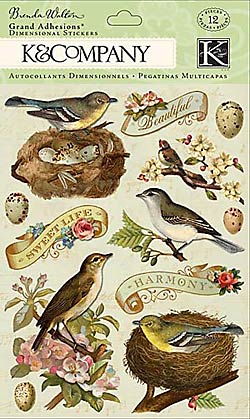 Flora & Fauna Grand Adhesions (Birds/Nests)
Die-cut, copper foiled stickers on little foam risers to make them look like they float a bit above your artwork (embellished with a few tiny rhinestones in the centers of the flowers or on the banners).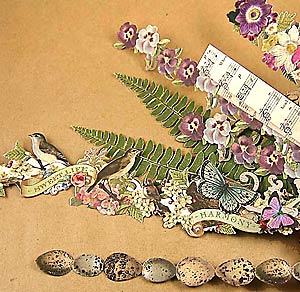 2 Flora & Fauna Die-Cuts
Die-cut, self-adhesive cardstock borders with iridescent glitter (12" wide). Just peel off the backing paper and stick onto your project.
and

A set of 40 die-cut (mostly cardstock) ephemera reproductions, but also includes real feathers and velvet leaves.