Halloween Giveaway Challenge
So much news around here! From the recent launch of the new site (and if you're having any problems validating your account, email Teri) to our new Alpha Stamps Facebook Page (please take a minute and visit... and upload something you've made using Alpha Stamps' products to our wall) and now... a big fat Giveaway!
Win the fabulous Hocus Pocus Halloween Kit shown at right and have your art featured on the Alpha Stampsí blog! Enter up to 3 of your original designs into our Halloween Giveaway Challenge!
For all the info on how to enter (and a special freebie for spreading the word), visit the blog post.
What a great kit... lots of components (and different types of components) and at a great price. Just what you'll need to get you through the upcoming Halloween swaps (hint, hint).
3 collage sheets, 4 scrapbook papers, 2 designs of black dresden, 5 black chipboard tags, a set of color rub-ons, a bound "flip book", 7 yards of ribbons & tinsels (including some of the fabulous new orange & black tinsel shown below), 2 rubber stamps... whew. For more details (and more photos) of all the components (and links in case you want to buy portions separately), visit the kit page.
Yes, this entire kit is the prize (for not one, but two winners) in the Halloween Giveaway Challenge!


New things included in the kit...
2 Sheets from "The Magic of Oz" Scrapbook Papers
(more details on the whole collection are below)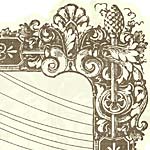 The Magic of Oz
Journey to Oz
Halloween-y patterns like ghosts and spider webs. Plus a purple version of the wicked witch.
Spider's Lair Scrapbook Paper

Single-sided 12" x 12" paper with ornate die-cut edges. And an ornate Renaissance frame pattern around the large spider web central image.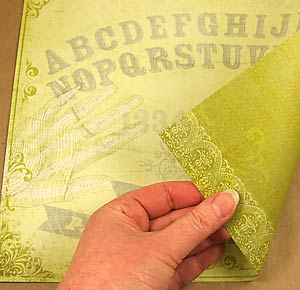 Good Fortune Scrapbook Paper not new but newly

A nice acid green (lighter... more like faded lime on the front) with a Ouiji board design (and a delicate lace border on the edges of the back).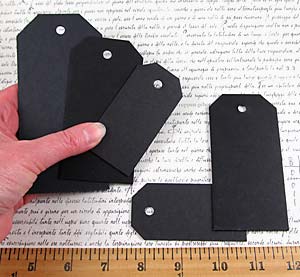 Black Chipboard Mixed Tags
(more sets are below)
1 large (5-1/4" x 2-1/2"), 2 medium (4-1/4" x 2-1/8") and 2 small (3-1/4" x 1-5/8"). 5 pieces total.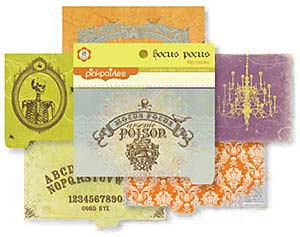 Hocus Pocus Flip Notes

Spiral bound 3" x 5" cards with tabs. Also has a clear acrylic cover. I'd keep them bound as a little book to decorate but you could unbind them and use them in another mixed-shape book or other project. 18 pages, 3 each of 6 designs.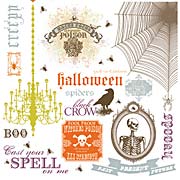 Hocus Pocus Rub-Ons

(related 'Hocus Pocus' items are also below)
Nicely done, spooky images. 6" x 6" sheet of color rub-ons.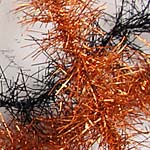 Halloween Tinsel

I love this stuff! The black is a bit thinner than the orange (wrap it around twice if you'd like the same density as the orange).
Shown at near left wrapped around a cat tin (what else?) by Design Team Member Teri Calia.