More Pretty Potions and Poisons Apothecary Event Supplies
I just love the little apothecary-cabinet-in-a-book (made from an Altoids Tin) that Laura Carson created! (An inside photo shown at right; more photos of the spine and front cover... and lots more photos and info once the tutorials begin.) As Laura says, "This is one of my favorite projects. I can see someone who doesn't want to make a huge apothecary making one of these."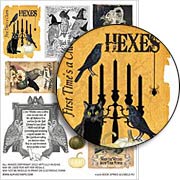 It's a little over 1 week till Laura posts her first (of three) tutorials, so that gives you time to get your supplies in hand (whether you're planning on diving in and making the full-size apothecary cabinet, or just a few little bottles).

Book Spines and Labels #2 Collage Sheet
Another new collage sheet for the project has just been added! Spooky labels and other Halloween ephemera to decorate bottles, boxes, tins and more.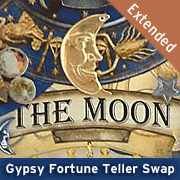 Project recap: I've created a short intro about the Pretty Potions and Poisons Apothecary Event on the blog. More detailed info about the project and timeline are on Laura's blog. Highlights of (more/new) artwork for the project are below. And all the products for the project have been gathered together in a new Pretty Potions and Poisons Apothecary Event Supplies Section.
If you're participating in the Gypsy Fortune Teller Swap, we've extended the artwork due date till September 11, 2012. And don't forget to read the recap (below) of Caroline Ouzts-Hay's Alice in Wonderland-themed tutorial from last Thursday's newsletter!