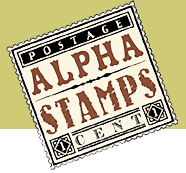 Before Design Team Coordinator Miz Bella (Kim Ayers) introduces a sweet project by Katie Zoey Ho, a reminder that we are again having TWO Giveaway drawings! More info below.
And I'm continuing the FREE Gift with Order announced on Sunday: Double Dot Vintage Color Swatchbook (in honor of the new papers Lora used in her Disastrous Tea Party).
AND… the Collage Sheet Sale and FREE Collage Sheet offer is still going strong! For every $20 you spend, you can pick out a FREE Collage Sheet! The "pick out a free collage sheet" offer has expired BUT check the current newsletter for a NEW FREE collage sheet promo!
Reminder: FINAL SALE DAY! Since almost all the new items announced last Sunday (and today!) are by Tim Holtz… the ENTIRE Tim Holtz Products Section is On Sale! Over 400 products! Catch 'em quick 'cause the sale ends TONIGHT (March 26h at midnight PST)!


Design Team Member Katie Zoey Ho has put together a sweet, (and quick!) Cupcake Stand Topper using the Marie in Wonderland Kit.
To create the base, Katie stacked 2 of the Tiny Paper Mache Boxes and put a Marie over the Die-Cut Chipboard Panniers Dress from the Marie Takes Tea Collage Sheet.
Using Creative Paperclay, the whimsical teapots and teacups were cast from the 3D Tea Party Silicone Mold and the little bow on Marie's dress and use as design elements around the base were cast from the Mini Bows Silicone Mold.
A couple of tips from Katie when using the 3D Tea Party Silicone Mold to aid in easy release, is to add talcum powder to the mold before putting your clay in. Also, you'll want to prime your pieces after they've dried with a layer of gesso before painting. About the design of her piece, Katie said:
"I wanted to keep it simple and straightforward for the sake of easy display and keeping."
It is a scrumptious little piece, don't you think?
You'll find Katie's supply list here!


Hooray for the Lots of Ovals Giveaway!
Wow… one thing really led to another for this one! I started out thinking about the Marie Antoinette (and related French) collage sheets that have not been featured this month. And while I was taking a photo of the Tim Holtz Foundry Frames ('cause, frankly, they are so much prettier than my original photo)… I started playing around with what collage sheet images would look good in that size frame. Then it got out of hand…
Not just Marie-themed, I picked out these collage sheets:
- 25×18 French Ovals Collage Sheet
- 40x30mm French Ovals Collage Sheet
- Wistful Collage Sheet
- Tracy's Beauties Collage Sheet
- Oval Cameo & Mirror Frames Collage Sheet
- Tintypes Collage Sheet (Note: those last two got cropped out of the photo, so see pics below.)
Then this mini avalanche of oval-shaped frames
- Jeweled Oval Pendant Frame
- Tim Holtz Foundry Frames
- Wood Flourish Frames
- 40x30mm Cupid Cameos
- Large Antique Silver Oval Setting
- 30x22mm Flat Lace Edge Setting
- 18x13mm Oval Settings
- 18x13mm Resin Cameo Sets – Skeleton Women
- Virgin of Guadalupe Cameo
- 47x35mm Black Resin Settings
- 25x18mm Oval Setting & Cabochon
Note: click on this custom search to see all 17 items (you'll get a few more oval things in those search results, so only (!?) the 17 items listed above will be included in the Giveaway).

To enter the Lots of Ovals Giveaway Drawings (yes, plural, as I pulled two of these prize packages!):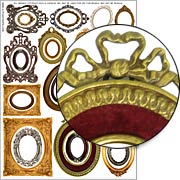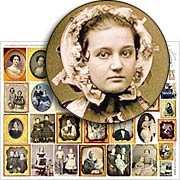 1. you can leave a comment BELOW on this blog post TODAY OR TOMORROW
and/or
2. you can place an order TODAY OR TOMORROW (all orders will be in the drawing for the 2nd prize package)
The deadline for both drawings is 11:59 pm PST, FRIDAY NIGHT, March 27, 2015)!
Don't forget to leave your (hello! correct) email address, too, so I can contact the winner; your email address does not need to be made public. Note: I'm offering free shipping, too, but only within the USA. International shipping will still apply.
Please be patient! Spammers try to post crap here a lot so comments are moderated. So if you don't see your post in the comments section, be patient and check back in a few hours before re-posting it, please!
After midnight, I'll randomly pick the winners (via Random.org). So check your mailbox on Sunday morning to see who won and for the next Giveaway and Newsletter!
Hey, who won the TWO Disastrous Tea Party Giveaways? That would be Jan Korzenaskie AND Betsy Lute! (Note: the second Giveaway was a random drawing from orders placed during the contest.)
Posted by
Leslie
, March 26th, 2015