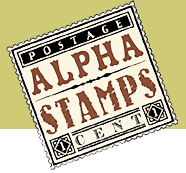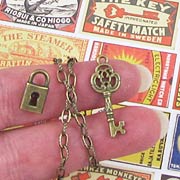 Before I let Miz Bella tell you about Rhonda's amazing tribute to Harry Houdini… there's a new Matchbox Labels & Keys FREE Gift Kit! I've made a little Match Labels Collage Sheet, with colorful, miniature (vintage) matchbox labels! The kit includes the new mini collage sheet printed on cardstock, AND a treat: 3 metal embellishments, including a new one just announced today! This mini kit is FREE for all orders over $20! AND the cute little Match Labels Gift Sheet, exclusive to this Gift Kit, is FREE for all orders, regardless of order size! If you place an all-digital order, I'll send you the Match Labels Gift Sheet as a pdf file. More info and photos.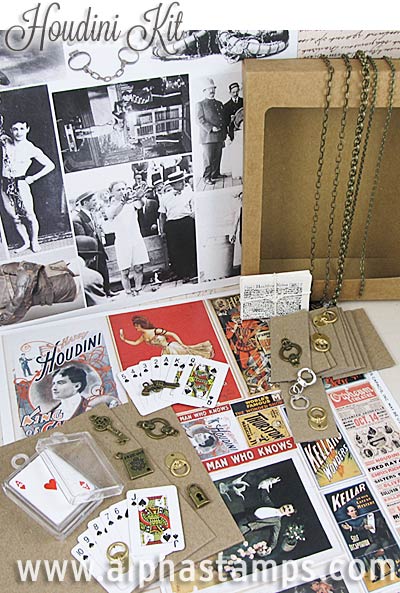 Design Team Member Rhonda Secrist Thomas has been locked up in her studio creating an amazing homage to the master magician himself, with The Great Harry Houdini Museum.
See the photo of Rhonda's artwork below, but a quick aside: Leslie has made a new Houdini Kit, based on a few (quite a few!) of the items Rhonda chose for her artwork! See the photo at left and/or get more info on the kit page.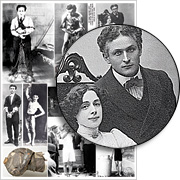 Any Houdini afficianado would love to receive (or make) one of these and then hope that it doesn't disappear! There's certainly quite a bit to admire in the museum; Magic Show Posters, Cable Chain and Padlocks used in Houdini's famous escape tricks and a fabulous Steamer Trunk. I like the tiny details as you know, such as the deck of (tiny 1 inch!) Playing Cards and Houdini standing cut-outs, especially the one where he is holding chains and padlocks.
To make Houdini's trunk, Rhonda used a Steamer Trunk Mini Kit. To get the embossed metal-like effect she used Metallic Foil and then ran it through a Big Shot Die-Cutting Machine, on a Long Texture Plate – Wrought Iron Pattern. Pretty cool looking, hmm?
Also very cool is the Water Torture Cell that Rhonda built, based on the real one that took Houdini two years that he built himself. Thankfully, it didn't take Rhonda two years to build hers (and she shows you how to do it!) Houdini is even all chained up, secured with a Tiny Bronze Pad Lock and has his Handcuffs on. Oh no, will he escape or die trying?!
Check out Rhonda's supply list and then jump into your magic hat to pop out at Rhonda's blog to find out!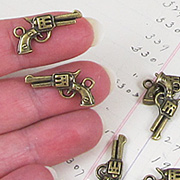 Hooray for the Houdini Kit Giveaway!
Yes, you've already had a preview of the new kit so I'm not repeating the photos here, but the Giveaway today is one of the new Houdini Kits!
To enter the Houdini Kit Giveaway drawing all you have to do is leave a comment BELOW on this blog post TODAY OR TOMORROW (the deadline is 11:59 pm PST, FRIDAY, July 17, 2015)! AND tell me what you'd make with all those chains and locks and keys… or give me a request for something else you'd like me to source for a Houdini project.
Don't forget to leave your (hello! correct) email address, too, so I can contact the winner; your email address does not need to be made public. Note: I'm offering free shipping, too, but only within the USA. International shipping will still apply.
Please be patient! Spammers try to post crap here a lot so comments are moderated. So if you don't see your post in the comments section, be patient and check back in a few hours before re-posting it, please!
After midnight, I'll randomly pick the winner (via Random.org). So check your mailbox on Sunday morning to see who won and for the next Giveaway and Newsletter!
Hey, who won the Magic Potions, Pumpkins & Bats Giveaway? That would be Sue! (And she commented: "This is so cute I always wanted to try the small tins have a few I been saving, I think a Kit would be the best way to go for a beginner, then once done the imagination takes over to do more. I really love the little potions bottles I think I would add more of them and an open book so it looks like someone is working on the potions and spells. Love it!!!") Please check your email for my message about getting your mailing address.
Posted by
Leslie
, July 16th, 2015