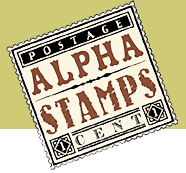 It's almost officially summer and Teri Calia has made a lovely little (really little!) Brocante Summer Cottage! And not only is the Collage Sheet Sale that started on Thursday continuing, but there's a new FREE Gift Kit!
ALL Bathing Beauties, Beach & Mermaids Collage Sheets are 50% off — extended through TUESDAY night (June 21, 2016), to coincide with the final day of the FREE Gift Kit, inspired by Teri's artwork!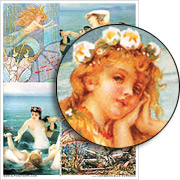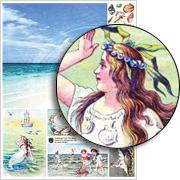 NEW Shabby Chic Chair FREE Gift Kit! These kits are FREE for ALL orders, now through TUESDAY NIGHT, June 21, 2016 (or until the kits are gone)! Papers, fibers, a card (in a sleeve) to make an ATC, some wooden picture frames… and look at that cute die-cut chipboard chair! That's available exclusively in this kit!! Learn more.


Teri Calia's A Brocante Summer Cottage is a delightful little project for summer, built in 1/2″ scale (1:24). I am fond of this scale, as a 6″ tall room is so much easier to display on my crowded shelves than a 10″ or 12″ tall room.
"Brocante is the French version of a flea market and an awesome place to find loads of sweet and unique items to furnish a summer cottage. Like most people, I don't own a summer cottage but I really wanted to decorate one with finds from the brocante, soooo… I created a 1:24 scale cottage using the new Half Scale Room Box with Slanted Roof, a Half Scale Bay Window and a Cottage Base – 9x9x1."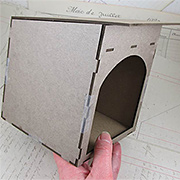 Oh, that Half Scale Room Box with Slanted Roof! This little half-scale room box is related to the Half Scale Arch Front Room Box, but this one is much deeper, has no apron in front, and has a hidden "attic" (perfect for hiding wiring if you're adding lighting).
You could sit a couple (or 3) side by side and have a little street of storefronts. Plus that overhang on the roof would be fun to attach some hanging plants or a banner from. 5″ wide, 6″ tall including the facade (and 5″ deep).
"I furnished my cottage with (new and awesome!) Half Scale Princess Love Seat, Table & Chairs Set that I painted with pink and white chalk paint then antiqued it a bit with some brown acrylic paint to give it shabby chic style. The adorable Half Scale Metal Tea Set sitting on the coffee table was painted with Vintaj Metal Patinas. I used Marble from the Painted Barn Set and Onyx from the Retro Highway Set.
"Here's an easy way to paint tiny things without making a mess: I use long toothpicks, Loctite Mounting Putty (bought in the hardware section of Walmart) and a floral Styrofoam form to hold everything until dry and ready to use in my miniature scene. "
Many more photos and tips are on Teri's blog post. And see everything Teri used in her decorating in the A Brocante Summer Cottage Supply List.
There are so many beautiful details to choose from in Teri's project, but I decided to just focus (below) on the view into the cottage from the side window. (And check below 'cause many of these items are also featured in today's Giveaway!)




Highlights of Today's New Goodies - ALL on Sale! View All (lots more to see!)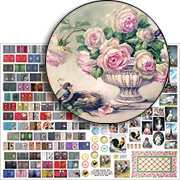 Hooray for A View into a Summer Cottage Giveaway!
In addition to FOUR items highlighted above (in the "view in the window to see a cake stand" close-up from Teri's A Brocante Summer Cottage:
- 20mm Antique Gold Filigree
- 6mm Filigree Beads
- 9mm Antiqued Swirl Bead Cap
- Glass Pitcher
… There are 4 more items in the Giveaway:
- New Half Scale Books & Things Collage Sheet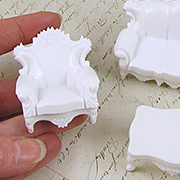 - New Half Scale Princess Love Seat, Table & Chairs Set
- Half Scale Bay Window, AND
- The Half Scale Room Box with Slanted Roof itself!
All of these items are from Teri's Supply List.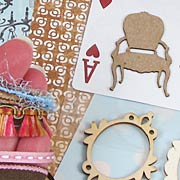 Bonus: One of Shabby Chic Chair FREE Gift Kits.

To enter A View into a Summer Cottage Giveaway drawing all you have to do is leave a comment BELOW on this blog post TODAY or TOMORROW (the deadline is 11:59 pm PST, MONDAY NIGHT, June 20, 2016). And tell me: Do you want half-scale dogs and cats?
Don't forget to leave your (hello! correct) email address, too, so I can contact the winner; your email address does not need to be made public. Note: I'm offering free shipping, too, but only within the USA. International shipping will still apply.
Please be patient! Spammers try to post crap here a lot so comments are moderated. So if you don't see your post in the comments section, be patient and check back in a few hours before re-posting it, please!
After midnight, I'll randomly pick the winner (via Random.org). So check your mailbox on Thursday morning to see who won and for the next Giveaway and Newsletter!
Hey, who won Mermaid's Treasure Giveaway? That would be Kathlene Ford-Walters! Congratulations!
Posted by
Leslie
, June 19th, 2016