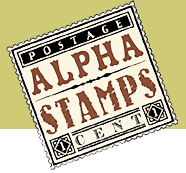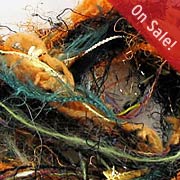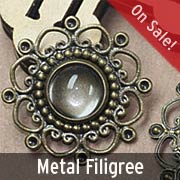 A couple announcements before the fun Haunted artwork (and a bonus Vintage Drink Coasters project): not only is the BIG Sale on FOUR categories continuing through tomorrow night (all related to Laura Carson's artwork from Thursday's newsletter), but there's a new FREE Gift Kit!
ALL Metal Filigree, Silk Ribbons, Fringes/Fibers, AND Solid-Color Ribbons are 50% off — NOW through Monday night, July 25th! That's a BIG sale… over 200 products!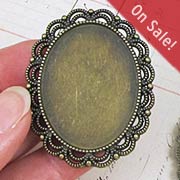 NEW Haunted Skull Frame FREE Gift Kit! Inspired by Teri Calia's oval frame on the wall of her Rose Ella's Reading Room or a Witch's Grimoire…, these kits are FREE for ALL orders, now through TUESDAY NIGHT, July 26, 2016 (or until the kits are gone)! Learn more.
AND (bonus sale!) because you could use Teri's technique for layering charms (or skulls) over all sizes and shapes of settings, I've just put the Pendant Bezels & Settings on sale too! Catch it quick, as this 50% off sale also ends TOMORROW night, Monday night, July 25th!


Do I dare say it… This is beginning to look like HALLOWEEN artwork?!
Teri Calia Rose Ella's Reading Room or a Witch's Grimoire… is so clever! A reading room inside a book! Plus clever use of Dresden trims to add texture to a wooden bookcase (and more on that below).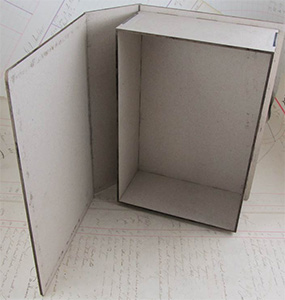 The project is built inside the new Large Faux Book Box, which is a larger size of the ATC Sized Faux Book Box. It's a faux book to put together with a wrap-around cover and a box area inside for building a little shrine or a book on a shelf with a secret compartment inside.
Note: the spine and front cover are separate pieces that you'll need to hinge together with paper tape (or you can use metal hinges as Teri did).
The overall size when the book is closed is 6″x 9″ (and 2-7/8″ deep… the useable space inside is a bit over 2-1/2″: deep enough to accommodate most 1:12 scale tables or desks). Speaking of which: Teri used the new Corner Bookcase with 3 Shelves inside the book, and she made it look wonderfully witchy! I love the new Candleholder Set and Row of Old Books shown in that close-up photo at left… plus that new Chesterfield Chair!!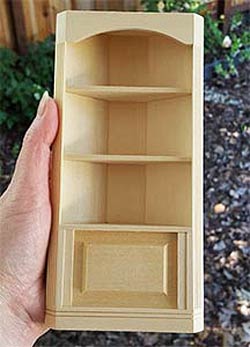 As Teri's favorite part is the corner bookcase, I've used her texture technique as the focus of the Giveaway below (with some before-and-after photos, too).
More info and photos of the project are in Teri's blog post.
See everything Teri used to make her Rose Ella's Reading Room or a Witch's Grimoire… in the Supply List. (And check below because many of these items are also featured in today's Giveaway!)


Vintage Coasters for Summertime Drinks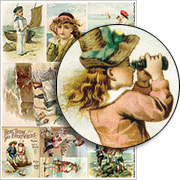 These are so pretty! And a perfect match of imagery with a technique that emphasizes the vintage, nostalgic feel. Design Team Member Betsy Skagen created these functional drink coasters by inkjet printing images from the Seaside Victorian Children Collage Sheet onto Lazertran Waterslide Decals.
"After printing, cut the paper into 4″ x 4″ squares. Soak the squares for a few minutes in a bowl of water.
"While the images are soaking, use a clean rag to rub turpentine over the top of the tiles. Remove one image from the water and carefully the protective back off the image, while sliding the image onto the tile. Repeat for each of the images.
"Soak your clean rag with more turpentine and dab — do not rub — over the top of the images. Repeat this process a few times as the image dries. This will fuse the image to the tile and make the white parts of the decal disappear into the stone.
"After the tiles fully dry, spray them with three to four coats of spray matte polyurethane sealer.
"That's it. All you have to do now is adhere felt feet to the bottom of the coasters to prevent the tiles from scratching other surfaces. Make a bunch ahead of time and you will always have last-minute hostess gifts on hand."
Good idea about hostess gifts! Visit Betsy's blog post for more photos.


Hooray for the Building Texture on a Bookcase Giveaway!
I decided to focus on Teri's tutorial for adding texture (and skulls!) to a wooden dollhouse bookcase. This would be a fun way to add texture (with an overlay of gesso or paint to unify the items) to other styles of artwork, too (idea: use white paint of gesso for a shabby chic finish).
See the raw wooden bookcase (behind the first layer of Dresden) at top right? The next step is adding Gesso (or black paint) to get a base color (that grey skull was added after the paint… and he gets some paint added, too, to tone down the light grey). At the bottom of the photos is the finished bookcase!
All of the items in this Giveaway are from Teri's Rose Ella's Reading Room or a Witch's Grimoire… Supply List (and I'm trying to constrain myself to only items shown in these photos — not terribly successfully! But that is to your benefit!):
- Black Ornate Leaf Dresden Scrolls
- Mini Floral Dresden Borders – Antique Gold
- Thin Fleur Dresden Borders – Black
- Tiny Resin Skull Mix
- New Large Faux Book Box
- Saucy Witches Collage Sheet
- Spell Book Box Covers Collage Sheet (for those tiny book covers shown in the bottom of the photo at right)
- Large Bronze Fancy Filigree Set (used all over the front cover of Teri's book… plus part of the 50% off Filigree Sale!)
Just click on this Supply List link for photos and links to all of the items in the Giveaway!
Bonus: One of Haunted Skull Frame FREE Gift Kits!

To enter the Building Texture on a Bookcase Giveaway drawing all you have to do is leave a comment BELOW on this blog post TODAY OR TOMORROW (the deadline is 11:59 pm PST, MONDAY NIGHT, July 25, 2016). And tell me: What items wil you try adding texture to via layering Dresden or charms? A dollhouse bookcase like Teri's? A photo frame? Give me some ideas!
(Hm… I just had an idea… use larger chipboard flourishes to add texture to a larger book cover or frame. Like the Layered Victoria Scroll Border, or Victorian Chipboard Scroll Corners?)
Don't forget to leave your (hello! correct) email address, too, so I can contact the winner; your email address does not need to be made public. Note: I'm offering free shipping, too, but only within the USA. International shipping will still apply.
Please be patient! Spammers try to post crap here a lot so comments are moderated. So if you don't see your post in the comments section, be patient and check back in a few hours before re-posting it, please!
After midnight, I'll randomly pick the winner (via Random.org). So check your mailbox on Thursday morning to see who won and for the next Giveaway and Newsletter!
Hey, who won Atlantis with a Steampunk Twist Giveaway? That would be Carol Slowik! Congratulations!
Posted by
Leslie
, July 24th, 2016