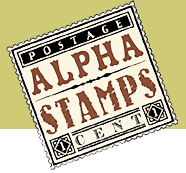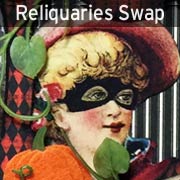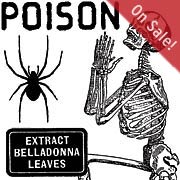 Yes! Even though there is already a sale on the ENTIRE Halloween Theme Section, I've just put ALL Halloween Rubber Stamps on sale for 25 to 50% off today thru Tuesday only! That's over 30 stamps and stamp sets (like the Something Wicked Clear Stamp Set shown at left)! Sale ends Tuesday night, September 13th.


Chipboard Reliquaries Swap!
A reminder about our current swap… and swap sample artwork at left by Design Team Coordinator Miz Bella (Kim Ayers)! I love that little skeleton man with his legs jutting out of the frame, and the creepy girl in front of the gothic fence!
Sign up by Monday, September 19th. And you could win $100 of Art Supplies from Alpha Stamps! Learn more.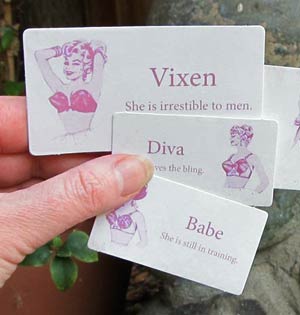 Next up: a new FREE Gift Kit! What? Sassy '50s vixen? You'll see why this is appropriate to (some of today's THREE featured artworks) below. So… a Flirt Flashcards FREE Gift Kit!
There are 16 cards featuring 8 different vintage-inspired (and smart!) images in the new Cest La Vie Flirt Flashcards. So I'm mixing them up to give you a set of 4 (2 large and 2 small cards)! These mini kits are FREE for ALL orders, now through MONDAY NIGHT, September 12, 2016!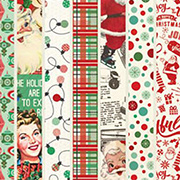 It's crazy but we are starting off with some CHRISTMAS artwork! And new papers! (Then we'll work backward (calendar-wise), and end up back at our favorite holiday: Halloween!)
Sweet Retro Christmas Cabinet by Teri Calia! I love what Teri made using the new Retro Christmas 6×6 Paper Pad! And that adorable scene inside the Arch Top Cabinet with Doors (these papers have teeny tiny prints, small enough even for wallpaper in a 1:12 scale project). Note the things I've highlight in the close-ups below:
- Tiny 10mm Resin Snowmen (hanging on the tree)
- Tiny Resin Teddy Bear sitting in a red chair
- Tiny Little Christmas Gifts, and…
- Tiny 8mm Diameter Glass Globe with Cap (how cute are those hanging glitter ornaments Teri made?!)
Good job, Teri! Read more, and see more photos on Teri's blog post, and see her full Supply List. Psst! Check below, too, 'cause EVERYTHING in Teri's supply list is included in today's GIVEAWAY!

Next up, Design Team Member Caroline Ouzts-Hay made the beautiful The Crow's Muse. I'll let Caroline explain the construction: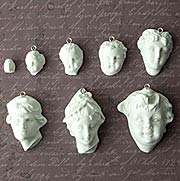 I started with a floral cone and a deconstructed barbie. I cut the floral cone to size and then hollowed it out so that the body of the barbie would slip inside. I decoupaged the cone with old newspaper. You can't put hot glue directly on the Styrofoam cone, it will melt it. And then I painted it black so you can't see any of the newspaper bits through her rather sheer skirt. (Oh the scandal!)
The barbie body is covered with book print (alas nothing by Poe, just some old scifi novel that fell apart on me). For a head I used a relic and artifacts cast – figurehead.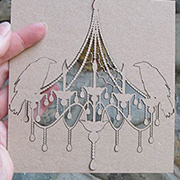 From the front it looks like these small feathered crows are single wings. From the back you can see that they are two separate crows. I like to think that they are holding her up as well as helping her fly.
Her bodice is black seam binding. The spot where her head meets her body is hidden with a black seam binding bow. Black roses in various sizes cascade down her skirt.
In the folds of her gown she conceals a fabulous chipboard chandelier complete with crows!
Even more info and photos are in Caroline's blog post. See everything Caroline used in her supply list.


It's true… we still have one more project to admire (or get a chuckle from)! This funny Bitch Book Box with ATCs by Teri Calia (again!) uses both sizes of the new Fabulous Paper Pads, along with an ATC Sized Faux Book Box to house a set of ATCs. See Teri's blog post for more info. See everything Teri used in her Supply List.


Hooray for the Sweet Retro Christmas Cabinet Giveaway!
Today's Giveaway includes everything in Teri's Sweet Retro Christmas Cabinet Supply List! I know… a crazy amount of supplies! Just the new items in Teri's list include:
- Retro Christmas 6×6 Paper Pad
- Tiny 8mm Diameter Glass Globe with Cap
- India Ink Stamp Pad
Just click on this Supply List link for photos and links to everything in Teri's artwork, which is also what's in the Giveaway!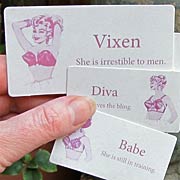 Bonus: One of the Flirt Flashcards FREE Gift Kits!
AND as I've just put them on Clearance Sale: One of the Haunted House Buttons!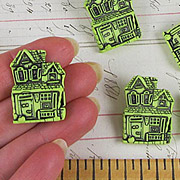 To enter the Sweet Retro Christmas Cabinet Giveaway drawing all you have to do is leave a comment BELOW on this blog post TODAY OR TOMORROW (the deadline is 11:59 pm PST, MONDAY NIGHT, September 12, 2016). And tell me: How will you decorate your Arch Top Cabinet with Doors?
Bonus: Teri left a spot open on the inside of her Bitch Book Box with ATCs… if you have an inspired idea what image to put there, get over to Teri's blog and leave a comment. I'll send an ATC Sized Faux Book Box to the best comment!
Don't forget to leave your (hello! correct) email address, too, so I can contact the winner; your email address does not need to be made public. Note: I'm offering free shipping, too, but only within the USA. International shipping will still apply.
Please be patient! Spammers try to post crap here a lot so comments are moderated. So if you don't see your post in the comments section, be patient and check back in a few hours before re-posting it, please!
After midnight, I'll randomly pick the winner (via Random.org). So check your mailbox on Thursday morning to see who won and for the next Giveaway and Newsletter!
Hey, who won Morticia's Dresser Giveaway? That would be Susan S! Congratulations! Check your email for more info.
Posted by
Leslie
, September 11th, 2016