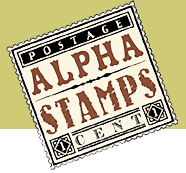 Design Team Member Kristin Batsel has created the most adorable little house you'd ever want to see: Holly Jolly Christmas House!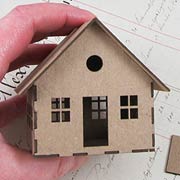 Kristin used the new House Ornament, and lots of the coordinating add-ons (like window trims, dormers, and shingles) — and that house is also in the new Chipboard House Ornament Kit, too (more info on that below).
I love the way Kristin's little house turned out! So cheery and inviting. Good thing she provided a tutorial, too! For things like how to apply that faux snow while leaving room to glue down all your little items (like the peppermint stepping stones).
And check out the middle photo in the bottom row: The house lights up! Kristin shows how she used tissue paper to cover the inside of the house "walls" to help diffuse the light from the tea light.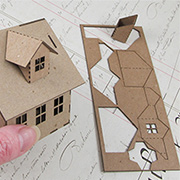 "This little house stands only about 3″ tall, not counting the base. It was made from a kit, and if you read on through to the bottom of my post, I'll talk about how it was put together. Meanwhile, here are some more photos. The tiny family who lives here sure did a good job of decorating the tallest tree! It's easy to attach those beads; I just dipped them in some tacky glue and stuck them into the branches.
"You can totally fence your house in, or you can use an xacto knife to cut a little gate. I think it looks nice to have an open gate with the pathway leading to the front door."
Learn more in Kristin's post and don't forget to come back as EVERYTHING from Kristin's Supply List is included in today's Giveaway!

Chipboard House Ornament Kit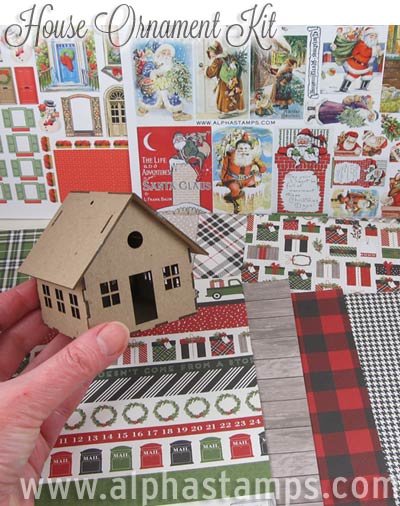 Time for some Christmas Ornaments?! Yay! Never too early to start on Christmas. This kit includes one of the new House Ornaments you've already seen from Kristin's artwork.
The houses are 2-3/4″ tall, and 2-1/2″ square at the base. Includes 2 holes in the roof for hanging, but you can just paper over the holes if not needed (like if you decide to make a little house on a platform to sit on your fireplace mantel).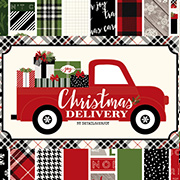 Next, the new Christmas Delivery 6×6 Paper Pad! Plaid is SO in this season! I love the rustic/classic Christmas colors in this set (and including black really sets off the green and red). A mix of teeny tiny to just "small" print sizes, too. The kit includes ONE sheet each of all 12 double-sided designs.
There are also 2 collage sheets:
- New Tiny House Trims Collage Sheet. Tons of festive doors and windows, sized for the House Ornament (which makes the doors about 1″ tall). Also includes a couple styles of brick pattern, large enough to cover the chimney from the House Ornament Chimney & Dormers set. And… snowmen? A bunch of snowmen and women showed up, too!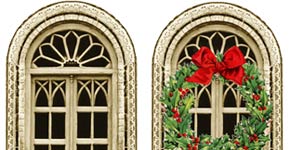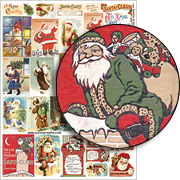 - Santa is Outside Collage Sheet. Includes some images of Santa ready to come down the chimney (and some mini versions sized for the chimney on the Glitter House Collage Sheet). Actually, all the images have mini versions sized for Glitter Houses or 3D House Ornaments or these new House Ornaments.
(And remember: all the collage sheets are on sale for 15% off (and the digital downloads are on sale for 40% off!), so those new collage sheets are on sale, too!)
More info, photos and artwork are on the Chipboard House Ornament Kit page.

Hooray for the Holly Jolly Christmas House Giveaway!
Yes, I said it! EVERYTHING in Kristin's Holly Jolly Christmas House Supply List is included in today's Giveaway!
Plus, the 2 Collage Sheets in THE NEW KIT: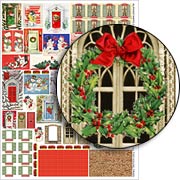 - Tiny House Trims Collage Sheet
- Santa is Outside Collage Sheet
(you'll already get the 2 other items in the kit: a house, and a full pad of the new Christmas Delivery 6×6 Paper Pad 'cause Kristin used those in her artwork)! Those little snow-speckled papers on the roof are from this pad. AND you'll also get the Classic Christmas 6×6 Paper Pad (the tiny brick pattern covering the rest of the house).

To enter the Holly Jolly Christmas House Giveaway drawing all you have to do is leave a comment BELOW on this blog post TODAY OR TOMORROW (the deadline is 11:59 pm PST, HALLOWEEN NIGHT, October 31, 2016). And tell me: How will you decorate your house?
Don't forget to leave your (hello! correct) email address, too, so I can contact the winner; your email address does not need to be made public. Note: I'm offering free shipping, too, but only within the USA. International shipping will still apply.
Please be patient! Spammers try to post crap here a lot so comments are moderated. So if you don't see your post in the comments section, be patient and check back in a few hours before re-posting it, please!
Hey, who won the Black & Orange for Halloween Giveaway? That would be Sheila AR! Congrats! Check your email for more info.
Posted by
Leslie
, October 30th, 2016