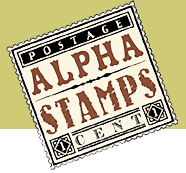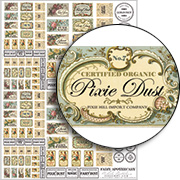 TWO new sales! EVERYTHING in the Fairies Collage Sheets section is on sale for 50% off!
The sale ends Monday night, July 31st!
30 to choose from (including the Fairy Apothecary Collage Sheet at left, also in today's artwork)!
PLUS the Doll Parts Charms (crowns, masks, wands, shoes, fans…) are also on sale (and timely, too, as Bella used a couple of these in today's artwork)! 35% off through Monday night, July 31st! Note: some of those items are in the clearance section so are on sale for 50% off!


Oh! I love the Fairy Magic Vanity that Design Team Coordinator Miz Bella (Kim Ayers) made with the new Matchbox Vanity Table! (A 1:12 scale vanity made to use 6 Diamond brand matchboxes as the drawers… and there's a related version for narrow matchboxes that's new today, too!)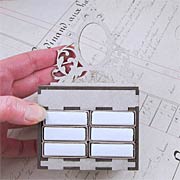 From the story on Bella's blog post:
There's an eccentric fairy who lives down the lane up around the fallen oak tree through the briars behind the mounds of moss between the rosemary bushes next to the stinging nettles on the island of Dunklebrook. Her name is Emdiella Humfridas and she is known for collecting odd items, shiny objects, old magical books and goblin whiskers, amongst other things.
This is her workstation and since it is so clean, I can only assume that there is company coming over to visit.
Edmeilla loves moss, roses, books and an assortment of her favorite ingredients that are right within reach.
When Emdiella knows that company is coming over she rushes around trying to clean everything up. Good thing her worktable has a secret compartment, it makes it so much easier to just throw everything in there lickety-split! (Psst! Check down in the Giveaway section for a photo with this compartment open.) Bottles, labels, Fairy Tea, pens, pencils, paper, stray ingredients, whiskerless goblins. Whatever fits usually gets thrown in there. Regardless of her less than stellar housekeeping skills, Emdiella is a very gracious hostess. Unless of course, you happen to make her angry…
Uh oh… better read more on Bella's blog post. Plus she's got some tips on how she colored the vanity and the jewelry box and trims.
Curious about some item you see in Bella's creation? Check out her supply list! And don't forget to enter the Giveaway to win lots of the supplies used!

NEW FREE Gift Kit!
Starter Kit for Matchbox Vanities (a mini drawer-fronts collage sheet plus a filigree set for the front of the vanity)!
Maybe you don't have the time to make a paperclay embellishment like Bella used on the front of her vanity… that's ok as I photographed a couple metal filigree options!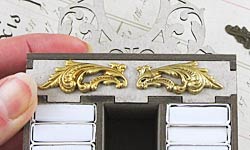 The brass filigree set at right is included in this FREE gift kit (and another option that fits nicely is shown on the Narrow Matchbox Vanity Table page). I've included some of the images from both the Matchbox Drawer Fronts Collage Sheet and Narrow Matchbox Drawer Fronts Collage Sheet so this can be used for either Vanity Table (and the filigree will fit either, too).
Free for ALL orders — through Monday night, July 31st!


Hooray for the Matchbox Vanity Giveaway!
I had to include another photo to show the top of the vanity open (and what an array of bottles Emdiella has hidden in there)!
I picked out a bunch of cool items that Bella used in her project (click here to see photos of her entire supply list, but only the ones listed below are in the Giveaway).
- Matchbox Vanity Table
- 12 Tiny Glass Bottles
- Even Tinier Bottles
- Fairy Apothecary Collage Sheet (on sale!)
- Matchbox Drawer Fronts Collage Sheet
- Silver Cateye Mask Charm (on sale!)
- Tiny Paper Roses – Pink Cream Variegated
- Tiny Metal Jewelry Box
To enter the Matchbox Vanity Giveaway drawing all you have to do is leave a comment BELOW on this blog post TODAY OR TOMORROW (the deadline is 11:59 pm PST, FRIDAY, July 28, 2017)!
And tell me: What will you make from your Matchbox Vanity Table?
Don't forget to leave your (hello! correct) email address, too, so I can contact the winner; your email address does not need to be made public. Note: I'm offering free shipping, too, but only within the USA. International shipping will still apply.
Please be patient! Spammers try to post crap here a lot so comments are moderated. So if you don't see your post in the comments section, be patient and check back in a few hours before re-posting it, please!
After midnight, I'll randomly pick the winner (via Random.org). So check your mailbox on Sunday morning to see who won and for the next Giveaway and Newsletter!
Hey, who won the Vintage Kitchen Cupboard Giveaway? Rebecca! Congratulations! Check your email for more info.
Posted by
Leslie
, July 27th, 2017