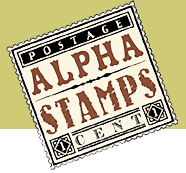 Before we dive into all the new Christmas goodies, artwork from TWO artists (and NEW kit): Continuing from Thursday and ENDS TOMORROW night, October 30th: Antiqued Anatomy Tags FREE Gift Kit!
I love Halloween (and I bet you do, too). I had some ideas for more gifts but we'll have to be content with this last Halloween-themed gift kit: Antiqued Anatomy Tags (plus a little glass bottle filled with glitter and a snip of tiny ribbon)!
The bottle is one of the 12 Tiny Glass Bottles, and the ribbon is from the new 1/16 Inch Black Satin Ribbon!
I designed the tags with illustrations from vintage anatomy books (over grungy parchment) to be used "as is" or to be the base for more arting. And the tags are in multiple sizes so you tie one on a gift or as a tag on a tiny bottle.
The new collage sheet (AND the filled bottle & ribbon) is Free for ALL orders — through Monday night, October 30th! Note: all-digital orders will receive the collage sheet as a pdf file!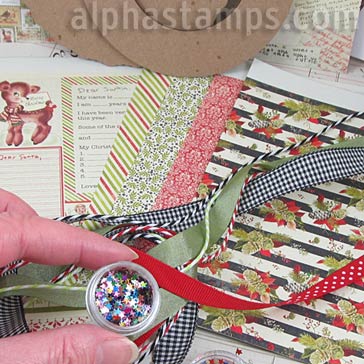 NEW Ornament Frame Set Kit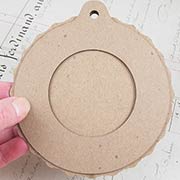 This kit includes a new chipboard ornament set (a simple set of a front piece with a window and a flat back with a scalloped edge — both with a hole for hanging). I designed this year's ornament to have space for decorating (around the edges of the main image you put in the center).
Plus 12 mini papers with zippy Christmas prints, star sequins, ribbons for decorating or hanging AND a new collage sheet with fun images for the center.
Beside the 2-layer, Round Ornament Frame Set (exclusive to this kit), this kit contains: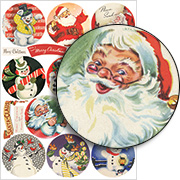 Collage Sheet:
- New! Retro Xmas Round Ornaments Collage Sheet (Wow! There is so much mid-century cute here you may faint!)
Scrapbook Paper:
- TWELVE 6″ x 6″ double-sided papers — one each of all the patterns in the New Vintage Christmas 6×6 Paper Pad.
Trims:
- SIX yards of ribbons (a subset of a new ribbon set linked below)
- 2.5mm Multicolor Star Sequins (A bunch of tiny stars in a cute little plastic "tin". The lid screws on so you (hopefully) won't end up with stars all over the floor.)

Introductory Sale! The four collage sheets with 2-1/2″ round designs (that fit all 3 of the new ornament frame sets) are on sale for 50% off through Monday night, October 30th! That includes the new collage sheet shown above at left!
Artwork! See the first wide photo below for an adorable snowman ornament by Teri Calia (with the central image coming from the Retro Xmas Round Ornaments Collage Sheet)! Teri used the Ornament Frame Set – Bauble as her starting point, added papers from the Tim Holtz Christmas 8×8 Paper Stash, tons of snowflake and star embellishments, and made some little drippy snowdrifts with a Dimensional Snow Writer. More info and photos in Teri's blog post, and here's a link to see all her supplies (that's for 2 ornaments… more on that 2nd one in a sec).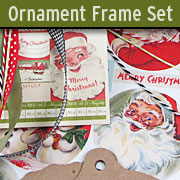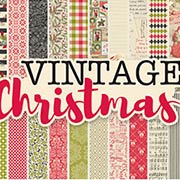 More info about the new kit is on the Ornament Frame Set Kit page. And remember to scroll down to the Giveaway on this page to see ANOTHER ornament by Teri using this kit!
More Artwork! Santa and Snowman Ornaments (see the second wide photo below) are by Design Team Member Kristin Batsel! So bright and cheery! Kristin used the Ornament Frame Set – Star and Ornament Frame Set – Round as the base of her projects, with lots of papers and ribbons from the kit. Plus she shows how to use Dresden border strips (straight) around a curve (like the turquoise scallops around the center of the snowman ornament). More info in the Kristin's blog post. Here's Kristin's supply list so you can see all the extra trims Kristin added.

Hooray for the Ornament Frame Set Kit Giveaway!
Wow! I love everything about this ornament by Teri Calia! Teri started with the new kit (for the chipboard frame set, the green ribbon, and the central Santa image (and the "Santa Claus" banner underneath) — so the kit is (of course!) in the Giveaway!
Here are a couple more things Teri added (that I'm also including in the Giveaway):
- Cream Ribbon with Velvet Polka Dots (so cute pleated around the ornament)
- Maidenhair Fern Pick – Platinum (a little snip of this will quickly add some sparkle to a lot of future ornaments)
- Rusty Star Ornament Set (a nice contrast with all the sparkle)
- Tim Holtz 8×8 Kraft Paper Stash – Christmas (that's a BIG pad… with all those red and white prints, you can go crazy with ornaments!)
- Tiny White Snowflake Buttons (bunches of snowflakes!)
- Holiday Disguises Collage Sheet (that Santa hat over on the right side of the ornament almost looks like a 3D felt hat!)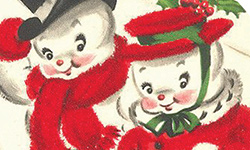 BONUS: I'm including a Silly Snowmen Ornaments Half Sheet, as those images fit the ornament sets, too!
To enter the Ornament Frame Set Kit Giveaway drawing all you have to do is leave a comment BELOW on this blog post TODAY or TOMORROW (the deadline is 11:59 pm PST, Monday Night, October 30, 2017).
AND tell me: Snowmen or Santa? Which image from the kit collage sheet or the extra snowmen collage sheet will you use first?
Don't forget to leave your (hello! correct) email address, too, so I can contact the winner; your email address does not need to be made public. Note: I'm offering free shipping, too, but only within the USA. International shipping will still apply.
Please be patient! Spammers try to post crap here a lot so comments are moderated. So if you don't see your post in the comments section, be patient and check back in a few hours before re-posting it, please!
After midnight, I'll randomly pick the winner (via Random.org). So check your mailbox on Thursday morning to see who won and for the next Giveaway and Newsletter!
Hey, who won the Ghoul Manor Giveaway from Thursday's newsletter? That would be Verna! Congrats! Check your email for info.
Posted by
Leslie
, October 29th, 2017