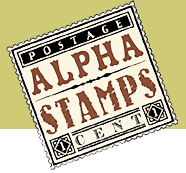 See below for info on the FREE gift ending tomorrow night, but first…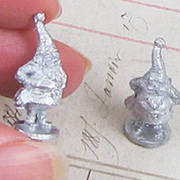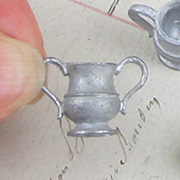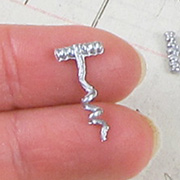 ALL Cast Metal Miniatures are on Sale — 35% to 50% off! That includes ELEVEN new designs! (Some shown at left and right (yes, that is a tiny corkscrew), and more highlighted in Thursday's newsletter). The sale ends MONDAY night, November 20th.
NINE (!) Christmas Ornaments by Nichola Battilana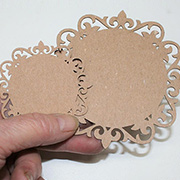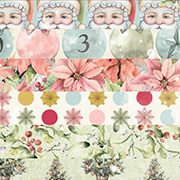 OMG. Nichola went wild and made separate ornaments from each of the 3 layers in each of the 3 Ornament Frame Sets! Fabulous! And each trio has a different color palette and theme… let's start with the pastel ones (I know… pink pastel for Christmas is so unique)!
Nichola used the new Carousel Christmas 6×6 Paper Pad as the paper for the first trio (just 2 are shown below, but you get the idea… and you can see all 3 and more photos of everything in Nichola's blog post). I love the sugary sweet pastels with Santa and the kids!
Note: though I adore the die set that Nichola used throughout, it is sold out at the manufacture. But I really like how the combo of a fancy border with the color scheme looks on a Christmas ornament, so I designed a new chipboard doily set! Note: My small doily is just small enough so it will fit inside the window cut outs in all 3 of the ornament sets.
There are also a couple of new round doily dies shown below (not quite the same design as the set Nichola used, but if you'd like to cut a fancy shape from the printed scrapbook papers, they are a fine alternative).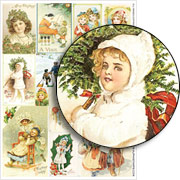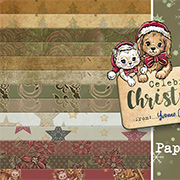 Moving on from pastel sweetness to a more rustic trio of ornaments (and no less sweet)! The contrast of the earthy palette with more glitter (Diamond Dust and sprigs of the silver glittered Juniper Pick) and those sweet Victorian postcard illustrations make these sooo nostalgic!
Nichola used the Celebrating Christmas 6×6 Paper Pad for the background of all 3 of this set of ornaments. I love the antiqued, darker palette in this pad (another nontraditional color scheme for Christmas).
The glitter applied to the bunch of berries from the Mixed Matte Red, White & Burgundy Berry Sprigs look like shiny cranberries (see the right side of the wide photo below).
Read more in Nichola's blog post and/or see everything from her supply list (and I'll have to agree with her about the prettiness AND the dangerousness of using Diamond Dust everywhere… I love the look but managed to cut myself with that same glass glitter this week). Be sure to come back and enter the Giveaway, to see ANOTHER ornament (and a chance to win tons of supplies from all of Nichola's ornaments)!


Hooray for the Sugary Sweet Glittered Ornaments Giveaway!
Yes, here's another option from Nichola: this time a bright and cheery retro look (with that popular snowman again)! Nichola used more of the papers from the Carousel Christmas 6×6 Paper Pad in this last trio of ornaments.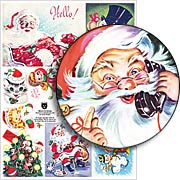 I think they're just adorable and would make a darling colourful addition to a swag of greenery or mantle boughs… although they'd look mighty sweet atop a brightly wrapped present or hanging from a wine bottle, too!
I agree!
See the other 2 retro ornaments from this third trio in Nichola's blog post.
EVERYTHING in Nichola's Supply List is included in today's Giveaway SAVE ONE: You choose which paper pad to include: Carousel Christmas 6×6 Paper Pad or Celebrating Christmas 6×6 Paper Pad!
Note: as there's a Ornament Frame Set Kit included in the supply list, if something is listed that's already included in the kit, I'll just include one set/item.
Plus a bonus: one of the new Chipboard Fleur Doily Sets.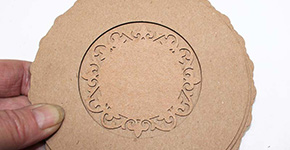 To enter the Sugary Sweet Glittered Ornaments Giveaway drawing all you have to do is leave a comment BELOW on this blog post TODAY or TOMORROW (the deadline is 11:59 pm PST, Monday Night, November 20, 2017).
AND tell me: Pink and pastel? Or Rustic? Do tell, so (if you're the prize winner) I'll know which pad to send you!
Don't forget to leave your (hello! correct) email address, too, so I can contact the winner; your email address does not need to be made public. Note: I'm offering free shipping, too, but only within the USA. International shipping will still apply.
Please be patient! Spammers try to post crap here a lot so comments are moderated. So if you don't see your post in the comments section, be patient and check back in a few hours before re-posting it, please!
After midnight, I'll randomly pick the winner (via Random.org).
Hey, who won the Jolly Old Elf Giveaway from Thursday's newsletter? That would be Noreen! Congrats! Check your email for info.
Note: as Thursday is Thanksgiving (here in the US) there won't be a normal newsletter. But stay tuned all next weekend for special sales and (dreamy!) freebies for the long weekend!
Posted by
Leslie
, November 19th, 2017