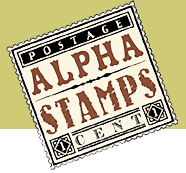 Although I dearly love the rain I hear outside (and 115 degrees last summer was beyond the pale for Northern California), Thanksgiving?! I am not ready. There are pies to be baked… But back to the subject at hand: Before I show off cute, mid-century-inspired Christmas ornaments (and a new sale!): a new FREE gift kit!
Fall Embellishments Mix FREE Gift Kit! As Thanksgiving is next week, I remembered these cute acrylic leaf & acorn cabochons I found, and added some mini pine cones, pine garland, and some of the new Sage Paper Bows Wired Ribbon (plus some of the sold out metallic copper wired ribbon with similar bows).
ALL ORDERS on Thursday through Monday, November 16-20 (2017) will receive one of the Fall Embellishments Mix Gift Kits FREE!

Retro Ornaments by Shannon Cooper
The Design Team have been so inspired with retro Christmas images this season! I love all the samples from the kit this month (psst… that's a link to the Pinterest board for the kit).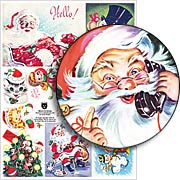 As always, Shannon
does a fab job paying attention to the details: like the flocked hat and collar on that (adorable) kitten below at left. And the 3D pom pom on the snowman's ear muffs makes me smile. (Did you notice Shannon swapped out the little bird that was sitting on the snowman's raised hand for a candy cane?)
My Christmas wishes were answered with this month's kit at Alpha Stamps, a kit that is chock full of mid century goodness and oodles of rosy cheeked Santas and snowmen. I'm in love with all of the vintage images like Frosty (below at right).
Read more in Shannon's blog post and/or see everything from her supply list. AND be sure to come back to see ANOTHER ornament by Shannon down in the Giveaway section!

(More) Retro Ornaments by Kim Ayers (aka Miz Bella)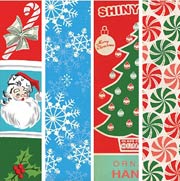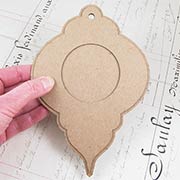 Wow! Look at that (slightly manic) snowman in the ornament below at right! And a shaker using Diamond Dust and one of the Clear Plastic Round Domes to boot! The snowman himself is an image from the Retro Xmas Round Ornaments Collage Sheet. And though I cropped the image to see a close-up, that's the Ornament Frame Set – Bauble as the base.
One of my all-time favorite Christmas (Holiday, December, Solstice, winter, whatever) themes is mid-century. What I really love and collect are the elves and pixies from that time period but snowmen and Santa are always a good choice for me as well.
Read more in Bella's blog post and/or see everything from her supply list (like that little green 3D tree wrapped into the garland frame on the ornament at left).

A New Sale!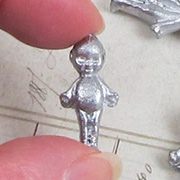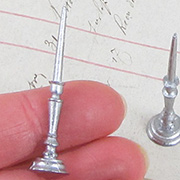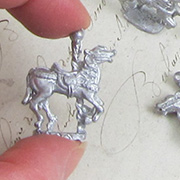 ALL Cast Metal Miniatures are on Sale — 35% to 50% off! That includes ELEVEN new designs! (Some shown at left and right, and some more below). The sale ends MONDAY night, November 20th. Over 60 items!
Hooray for the Jolly Old Elf Giveaway!
Wow! ANOTHER cool Christmas ornament by Shannon Cooper! This time with the classic Round chipboard base (and another image from the Retro Christmas Collage Sheet).
EVERYTHING in Shannon's Supply List is included in today's Giveaway! (And that includes supplies for ALL THREE of her ornaments!)
Note: as there's a Ornament Frame Set Kit included in the supply list, if something is listed that's already included in the kit, I'll just include one set/item.
To enter the Jolly Old Elf Giveaway drawing all you have to do is leave a comment BELOW on this blog post TODAY OR TOMORROW (the deadline is 11:59 pm PST, FRIDAY, November 17, 2017)!
And tell me: What will you make with all these supplies? And how far are you along in making Christmas cards or presents?
Don't forget to leave your (hello! correct) email address, too, so I can contact the winner; your email address does not need to be made public. Note: I'm offering free shipping, too, but only within the USA. International shipping will still apply.
Please be patient! Spammers try to post crap here a lot so comments are moderated. So if you don't see your post in the comments section, be patient and check back in a few hours before re-posting it, please!
After midnight, I'll randomly pick the winner (via Random.org). So check your mailbox on Sunday morning to see who won and for the next Giveaway and Newsletter!
Hey, who won the Tiny Diorama Box Giveaway? Cynthia Penney! Congratulations! Check your email for more info.
Posted by
Leslie
, November 16th, 2017