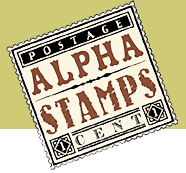 Design Team Member Kristin Batsel is back with another wonderful Halloween project! ("Back" cuz she made 3 little Halloween shrines featured in last Sunday's newsletter.)
I love this mash-up of the Double Explosion Box from the July kit with this month's Halloween theme!

Here's some text from Kristin's blog post:
I don't know about you, but if someone gave me a beautifully wrapped little gift that had a tag proclaiming it "haunted", I might think twice about opening it up. It's so tempting, though. I do love Halloween, and look how fun that bow is… [Psst.. see below for another photo showing the box all closed up.]
But beware! This is not an ordinary box, it's an exploding box straight from Alpha Stamps. Once you lift the lid, the sides of the box slowly open, and you see exactly what's doing the haunting.
Yikes! It appears to be a forgotten cemetery, and one of the grave's occupants seems to be clawing his way up from underground. I cut those hands off of an unfortunate plastic skeleton.
The chipboard tombstones were painted in mottled black, grey and white acrylic paints, and then embellishments were added: a silver medal flower on the cross, some rub on scrolly lines and a painted RIP on the rounded stone, and a silver skull charm, also painted, on the pointed headstone. Some tiny bats, cut out of a chipboard border, fly overhead. A spooky skull has also made an appearance.
Read more in Kristin's blog post. And/or see her supply list (plus check below in the Giveaway for another photo and a special drawing prize)!

New Halloween Goodies!
Tons of Dresden Trims Back in Stock!
Hooray for the Halloween Essentials Giveaway!
Here's that promised photo showing Kristin's Haunted Halloween Surprise Box all closed up (and decorated so fancy)!
There's a special Giveaway today: one of the Vintage Halloween Collector's Essential Kits! The 12×12 plaid scrapbook paper in it is very close to the plaid Kristin used on her box.
AND this kit is HUGE:

- 8 sheets of double-sided 12″ x 12″ cardstock paper plus 4 sheets of double-sided element pieces on cardstock (not pre-cut) (so 12 sheets of 12″ x 12″ cardstock),
- one roll of 15mm wide washi tape,
- one 12″ x 12″ sheet with 55 cardstock stickers,
- one set of "bits & pieces die cuts" (65 pieces) and
- one 6″ x 12″ sheet of chipboard stickers (37 pieces).

More photos are on the Vintage Halloween Collector's Essential Kit page.
BONUS: just cuz I love them so much: I'm also including one of the new Black Ouija Board Planchette Pendants!
To enter the Halloween Essentials Giveaway drawing all you have to do is leave a comment BELOW on this blog post TODAY or TOMORROW (the deadline is 11:59 pm PST, Monday Night, September 10, 2018).
Don't forget to leave your (hello!) correct email address, too, so I can contact the winner; your email address does not need to be made public. Note: I'm offering free shipping, too, but only within the USA. International shipping will still apply.
Please be patient! Spammers try to post crap here a lot so comments are moderated. So if you don't see your post in the comments section, be patient and check back in a few hours before re-posting it, please!
After midnight, I'll randomly pick the winner (via Random.org).
Hey, who won the Nature's Anthology Giveaway from Thursday's newsletter? That would be Rebecca R! Congrats! Check your email for info.

Posted by
Leslie
, September 9th, 2018