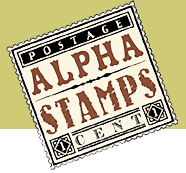 Wow! A fun Junk Journal by Bella, using the new 5×7 Vintage Spiral Book shown at right; lots of new items (including a lot of metal hardware that could be used on a journal) — and a 30% off sale on the Metal – Functional section!

Alice in Wonderland Junk Journal by Design Team Coordinator Miz Bella (Kimberly Ayers)

LOVE this new journal by Bella! She mixed Alice with pockets from the May kit… all in the new blank journal and it just came out great!
Here's an intro from Bella's blog post:
There are always two things that you can always count on finding at Alpha Stamps — Halloween and Alice in Wonderland!
Leslie asked me to create a junk journal and I didn't have to think twice about it — I love making them. If you don't know what a junk journal is — it's basically junk you put into a journal. There are no rules, no right or wrong way to make them. If you can cut and glue then you can make a junk journal!
This journal is much neater than what I normally come up with, but I love the way it came out all the same.
I love the way it came out, too! The pre-printed pages in the journal (that look like antique ledger paper) makes easy work of created a vintage-looking page. (And using the little holders meant for art coins as tea bag pockets is inspired!)
Beside the few photos shown here (and below in the Giveaway section), visit Bella's blog post for lots more info & photos! And here's a link to the full supply list.


New & Back in Stock Goodies! Lots of Metal Hardware!
Ooh! Just in time for a tea-party-themed journal: a new Fairy Tea Party Collage Sheet! So many new things to mention today, they're not all covered in the previews below! Click here to see all 16 of them!
Keep reading (too) as there's a FLASH SALE, related to all the new metal bits!


Metal Hardware ON SALE!
This is a 30% off sale on the Metal – Functional Section (from knobs to box feet to hinges)! Note: this is the metal hardware section in the Collage Supples section (large-ish scale items for books and shadowboxes).
Over 40 options… including the highlights below (and the new hardware already shown above)!
The sale ends at midnight on SATURDAY night, June 1st. Click: FLASH SALE to see everything!


Alice Junk Journal Giveaway!
And that promised second photo of Bella's artwork! I put together 3 photos of the same page: showing the Simple 3 Inch Square Folder closed, then open, then open with teabags inside!

Soooo many options for this Giveaway! I picked out these items from Bella's supply list:
- 5x7 Vintage Spiral Book - Ledger (new!)
- Alice Cards Scrapbook Paper
- Black & Ivory Harlequin Diamond Scrapbook Paper
- 3 Inch Simple Pockets - Set of 3 (like the one with the yellow Twinings teabag shown in the wide photo way up above)
- Simple 3 Inch Square Folder
- Alice Covers Collage Sheet
- Tin-Sized Alice Collage Sheet
- Tenniel's Alice Collage Sheet
- 1 Inch Playing Card Deck


Bonus: that new Fairy Tea Party Collage Sheet for extra teacups & teapots!

To enter the Alice Junk Journal Giveaway drawing all you have to do is leave a comment below on this blog post TODAY, TOMORROW or SATURDAY (the deadline is 11:59 pm PST, Saturday Night, June 1, 2019).

And what are you going to make? Psst: I couldn't resist including the work-in-progress photo below (and I think it helps show all the different pockets used inside the book).

Don't forget to leave your (hello!) correct email address, too, so I can contact the winner; your email address does not need to be made public. Note: I'm offering free shipping, too, but only within the USA. International shipping will still apply.

Please be patient! Spammers try to post crap here a lot so comments are moderated. So if you don't see your post in the comments section, be patient and check back in a few hours before re-posting it, please!

After midnight, I'll randomly pick the winner (via Random.org).

Hey, who won the Witchy Art Coins Giveaway from Sunday's newsletter? That would be Laura N! Congrats! Check your email for info.


Posted by

Leslie

, May 30th, 2019