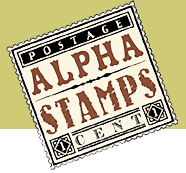 Join Alpha Stamps in celebrating our 5th Anniversary!
Alpha Stamps is turning 5 in November and we will be celebrating with a fun art contest (with Marie Antoinette-themed and gift certificate prizes). The theme for this contest is "Let Them Eat Cake!" (and there's nothing to mail in to be entered: all the submissions will be via posting jpegs). Please join us in our Yahoo Group for more information (and where we will have a gallery set up for your beautiful entries, due 11:59 pm PST on November 17th, 2009). Feel free to post the badge (at right) to your blog to publicize the contest (please keep the link intact).
I've collected (and designed) numerous papers, charms, collage sheets & rubber stamps that you could use to interpret "Let Them Eat Cake!":
Domestic Goddess Scrapbook Papers & Tags (shown above)
Five fun & beautiful 12″ x 12″, double-sided heavy sheets. And a die-cut sheet of matching tags in lots of small sizes (also double-sided, and on heavier cardstock). The little hole in each tag is also die-cut (for hanging on a string or other closure).
The vintage images include cookbooks, recipes, cherry pies (and cherries), baking contest award ribbons, sewing machines & patterns, silverware, teapots, gingham, women gardening (and flower seed packages), and a whole sheet of advertisements from early 20th-century women's magazines.
Chocolate Lover Embossed Paper & Dessert Dimensional Stickers
Embossed 12″ scrapbook paper and cardstock stickers (that are layered with little foam "risers" between the layers). The stickers also have glitter around the edges of the plates and glitter and rhinestones around the edges of the banners.
Pewter Measuring Spoon, Muffin Tin & Teapot Charms
All are antiqued, cast pewter. The spoons have a loop/ring through the holes in the spoon handles so they move on the ring. The teapots have tiny little hinged lids.
Plus another paper: Gypsy Journey Die-Cut Scrapbook Paper (at right). Beautiful paper with die-cut edges with a trompe l'oeil design that looks like layered papers and pearls.

Fan Stickers
Embossed fan seals with Victorian scenes. 3 sheets per package. Each sheet is 3-1/4 x 7-1/4″ and has 10 different stickers (each sheet has the same 10 stickers).
3 New Floral & Fan Scraps Sheets
All are 12″ x 9″ sheets, die-cut and embossed, and imported from England.

Rubber Stamps & Collage Sheets

A Little Late to the Party (or Swap)
These sets of tags arrived a bit late for the
Clear Acrylic Tag/Ornament Swap
announcement in the
last newsletter
.
Clear Acrylic Shrine Tags
Pointy-top tags in clear acrylic. 15 pieces in 3 sizes (they're pretty small… the entire sheet is just over 5″ long). (21 pieces if you count the tiny little doors… see the tiny shrine pendant that Design Team Member
Nicole Merkens
made using tape-hinged doors).
Marie Antoinette Jumping Jack Rubber Stamp Set

Marie Antoinette Jumping Jack set with extras like a bouquet of flowers, a plate of cupcakes and a crown. The props are sized so they can be held. The entire sheet is 9″ x 6″ (just a few elements are shown here). Licensed from the fabulous Teri Calia.
2 Cake Rubber Stamps
In keeping with our anniversary party theme (and note the 5 candles!) there are 2 cake stamps available.
Giant Crown Rubber Stamp
Approx 2-1/4″ x 1-1/4″. Definitely a French feel.
5 New Collage Sheets for the Contest
A New Marie Antoinette Page

Beautiful 18th c paintings (and fans) and, for our contest, a sheet of cupcakes and another of 5s (and "fives") from signage and found objects.

Plus another Collage Sheet (not so much for the contest, but good for last-minute Halloween crafts):
Dolly's Costume
Reproduction of an antique paper doll from my collection (plus some extra black cat borders). As children in the early 20th c seem to have been very clever, I've also included a scan of the instructions (which use fabulously verbose language: "Cut the dolly very carefully, close to the edge of her bow, curls, outstretched arms and then outside the flaps and fold that are going to make her stand up as if she were alive. Bend her pink silk skirt back, slip each flap in its corresponding slit and your paper dolly stands, wonderfully, before you, saying in her sweet, thin little paper voice: 'Please come to my party!'").
Beautiful Artwork by Guest Designer Julie Zarate
The amazing and inspiring Julie Zarate is the October Guest Designer for Alpha Stamps. Julie took matchbox blanks and created stunning shrines out of them and we are very excited to share her creations with you!

3 New Tim Holtz Stamps on Cling Foam

Spooky Stuff
Happy Halloween text with a spider web, a black cat, a blood splatter, a scratchy crow and a poison label. Five separate cling-mounted stamps. Comes on a plastic sheet (for storage). Overall size is 7″ x 8-1/2″. Hey, and they're
Skull
ATC-sized stamp from a collage by Tim Holtz. A good background for some Halloween ATCs.

Artful Flight
A bird cage, a nest with eggs, a bird silhouette, a larger bird with a music overlay and a floral flourish. Five separate cling-mounted stamps. Comes on a plastic sheet (for storage). Overall size is 7″ x 8-1/2″. And they're

Miscellaneous
Oval Settings, Clear Cabochons & Paper Punch
18mm x 25mm oval settings in 2 designs (each in antiqued gold- or silver-plated brass) plus clear acrylic (domed) cabochons and a matching paper punch.
Oxidized Black Chains & Findings
Chain in two weights plus sets of head pins (in 2 lengths), flattened hooks or lobster claw sets (in 3 sizes).
New 3/8″ Iridescent Ribbon Colors
Contrasting edge stitching. Now in 6 colors. 3 new colors are: Fuchsia (shown), Red with green edge-stitiching and Sage Green with black edge-stitching.
Vintage Patina Filigree Teardrop
Patinaed brass. Use "as is" or open it flat (to use flat or wrap around a cabochon or other 3D object). 19mm long.
Posted by
Leslie
, October 14th, 2009