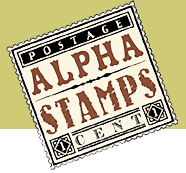 I've expanded the Bird theme of our final Giveaway (from early January). If you'd like to see all the Giveaway bird links on one page, click the photo at right (but remember, some new bird-themed things have been added since that Giveaway, so come back to this page to find the new links, some of which are on sale).
New Birds …
2 Bird Clear Stamp Sets w/Rhinestones
Sweet sets with a bonus row of self-adhesive rhinestones. The colors shown in the photos aren't on the stamps (the stamps are clear; the acetate index sheet is printed in color). Overall size is 4 x 6″.
Birdcage Scrapbook Paper and Transparency Sheet

The paper sheet is silkscreened with brown ink on patterned paper (a tiny little print of lime on cream paper… such a tiny pattern that it doesn't look lime green but does give the sheet a rich, golden appearance). The pattern is on the back side, too.
The transparency sheet is metallic gold (screenprinted ink) on clear acetate transparency (heavyweight… won't curl). Nice stuff. 12″ x 12″
Nest Stickers
A variety of shapes, words and phrases. 5-7/8″ X 12-1/4″ (The individual stickers vary from 1″ diameter to 2-3/4″ x 3-3/4″).
Little Folding House Chipboard Set
On Sale! Make a 3D house with a gingerbread roof, a folding door, shuttered windows and a bluebird (to sit on the roof or put anywhere you'd like). Packaged set of 3 die-cut (white) chipboard sheets (each sheet is 6″ x 12″) with shapes that easily punch out from the surrounding area.
Diving Swallow Vintage Brass Pendant
Beautiful, antique patinaed brass stamping based on a vintage piece. The wings touching the tail feathers create loops. 21mm x 41mm.
… And Bees
The beautiful bracelet at right is by Design Team Member Frieda Oxenham. Click on any of the following links for a full list of items used; the following are new items:
Bee 3-Ring Connectors
Beautiful bee connectors with 2 loops at the top and one at the bottom. 18mm x 20mm. Antique gold-plated brass, antique silver-plated brass or vintage patinaed brass.
White Bone Flowers
Beautiful, hand-carved white bone flower beads. 22mm diameter.
Violet Filigree Flower
Beautiful, vintage patinaed brass filigree, with delicate details. 35mm diameter

Sunflower Charms
Vintage patinaed brass. 11mm without loop.

Settings with Cabochons
Large Decorated Pebbles
Pre-decorated, self-adhesive acrylic "pebbles" (clear cabochons). 2 designs (each with 8 pebbles per package): Vintage Toys (that includes a kitten and some '50s-era robots) & Butterlies. 8 different images per set. 1″ diameter. Shown with a 1″ Brass Pendant (raw brass) but the 25mm Plain Edge Round Settings also fit these pebbles.
Plain Edge Round Settings – 25mm
Antique-gold or -silver plated brass. Inside diameter is 25mm (1″). Shown with matching clear acrylic cabochons.
Small Decorated Pebbles
2 designs (with twelve 5/8″ diameter pebbles per package; these fit the 16mm Bail Plates, see below):
- Nouveau Garden (A mix of women, birds & flowers: $3.49 per set) &
- Paris (From coffee cups to maps and the Eiffel Tower: $3.49 per set)
And 1 design (with 8 pebbles per package: 4 in 9/16″ diameter & 4 in just-under-3/4″ diameter):
- Shabby Chic ($2.49 per set; the larger of the 2 sizes in this package fit the 18mm Plain-Edged Round Settings, see below)
Bail Plates
16mm diameter with a large bail. Gold-plated brass or antiqued copper-plated brass.
Plain Edge Round Settings – 18mm
Antiqued gold-plated brass or vintage patinaed brass. Sorry, the 3/4″ clear cabochons are slightly too large for these settings, but the larger cabs in the Shabby Chic Decorated Pebbles fit (shown in the bird sample).
Miscellaneous
Archway Pendants
Beautiful, little archway/niche pendants to frame a small collage. Antiqued gun metal, silver, copper or brass (plated over cast pewter). 1″ tall without the loop; inner dimension is 11/32″ wide x 1/2″ tall.
3D Rose Charms
Lovely antique brass flower charms with an attached loop. 1/2″ wide.
Black Vintage Motifs Rub-Ons
8-1/2″ x 11″ black rub-ons with lots of scrolls and filigree that would be a nice flourish on a collage, even if just using a small portion of one of the designs (like the little "wings" flying off the ankles of the flapper on Design Team Member Teri Calia's fan, at right).
Wood Fern Scrapbook Paper
12″ x 12″ sheet with pretty fiddlehead ferns in yellow and green.
2 Chandelier Clear Stamp Sets
(and an Art Nouveau Woman w/Wings set) w/Rhinestones
Beautiful set with chandeliers, damask ornaments and borders, and with a bonus row of self-adhesive rhinestones.
Antique Gold Lightweight Keys
A new color for these double-sided charms.
Tim Holtz Ball Chain Sets
36″ of chain in each of 3 colors (with an antique finish: nickel, brass, and copper) and 18 coordinating connectors. 3mm.

Cherub & Filigree Angel Pendants
2 ornate, antique-silver finished, round-framed pendants, covered by a clear "epoxy dome." Frames have a flat back, with texture, and a loop at the top. Measure approximately 48mm in diameter, without loops.
9 New Postcards
Strange, vintage images.
Vintage Bronze Wire
10 yard spools of 20 gauge. Warmer color than the gun metal wire, but both work beautifully with the Patinaed Brass Findings, Chain, Charms and Filigrees.

Silver Baroque Heart Charms
Antique silver-colored metal with etched details. 1-1/16″ wide. Indented on the back side (but these are heavier than a brass stamping, so the back side is a smooth heart shape).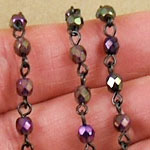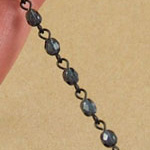 Montana Blue & Purple Iris Rosary Chains
Gorgeous rosary chain (with imported Czech faceted glass beads). Sold by the yard or by the foot. (Plus Black/Garnet & Black/Amber are back in stock!)
Posted by
Leslie
, February 27th, 2010