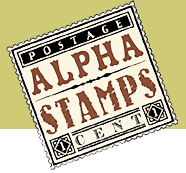 It's day FOUR of this holiday weekend sale… and before I show you the fun new KITS, here's a recap of the current FREE gift and FREE shipping!
Note: as this is a holiday weekend: FREE shipping on orders over $50 (for orders shipping to USA) now through Tuesday, July 5th (that's tomorrow night at midnight, Pacific Standard Time)!
Psst… check the blog for sweet, under-the-sea artwork posted on the last three days, including an Under the Sea Matchbox Shrine by Nichola from yesterday's newsletter, that inspired…
The Matchbox Nautical Clock FREE Gift Kit includes an exclusive collage sheet, graciously provided by Laura Carson, plus goodies to make a mini clock from a matchbox! These kits are FREE for ALL orders placed TODAY ONLY (July 3, 2016)! See more photos.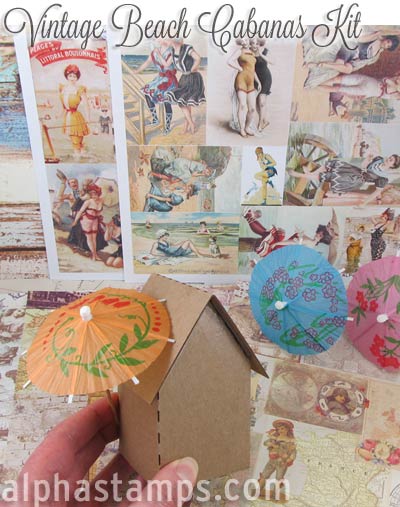 As a follow-up to our June Beneath the Sea kit, we've travelled up to the shore with ladies in those adorably quaint woolen bathing costumes from about 100 years ago. Plus a chipboard cabana to put together, three colorful paper umbrellas, and romantic images from the new French Riviera 8×8 Paper Pad (one sheet each of all 6 doubled-sided sheets).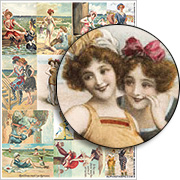 This kit includes three collage sheets:
- New Vintage Beach Babes Collage Sheet (Aw… look at those cute bathing costumes! These images are sized for the Cabana Row Houses.)
- Beach Cabana Collage Sheet (You know this one had to be included because of the name! Beside more lovely ladies in their vintage bathing attire, there are some images of bathing machines.)
- Bathing Beauties #3 Collage Sheet (with a mix of images from real photo postcards and illustrations… all in nice, small sizes that also fit the little cabana houses.)
And, of course: a new chipboard cabana to fold together. Note: this is the smallest house from the related new Cabana Row House Set. Also note: see below for a quick photo from Kristin Batsel's blog post showing how easily these pre-cut and scored houses are to put together.
More info, photos and artwork are on the Vintage Beach Cabanas Kit page.

To get you inspired to play with the Vintage Beach Cabanas Kit and associated supplies, we have samples created by two Design Team Members: Kristin Batsel and Laura Carson! Beside the info below, more photos of both of the projects are in the Gallery.

Kristin Batsel's Mini Beach Cabanas
Sweet! At left are the back sides (the side without the doors) of Kristin's cabanas, made from the new Cabana Row House Set. But they are so festive and bright with palm trees and chipboard umbrellas that I chose to show that side first. Note: those new umbrellas include 2 sets of umbrellas can be overlaid over each other.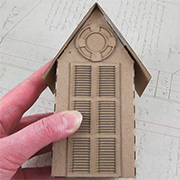 The next photo show the front side of one cabana at far left (with a bathing beauty faintly seen through the slats on the door) and that promised photo of how easily the houses are to make.
See the Mini Beach Cabanas Supply List.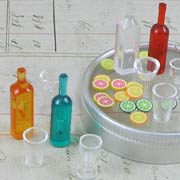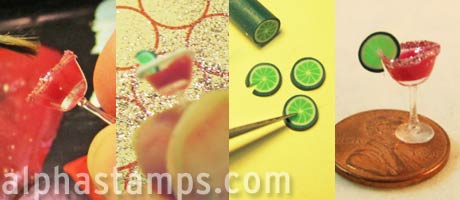 Did I say cocktails? As a preview of a future beach scene, Kristin also provides a super easy tutorial for making a Cosmopolitan with one of the glasses from the new Mini Cocktails Kit!!
Visit Kristin's Blog for more details and photos.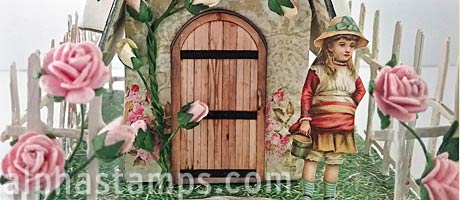 THREE Cottages by Laura Carson!
Of course she made 3 different cottages… it's Laura Carson!! Starting with that sweet Rose Cottage at top, Laura used the new Seaside Victorian Children Collage Sheet (not in the kit but coordinates perfectly with that vintage seaside theme).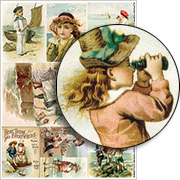 And that tiny white fence: painted matches! I know, she in ingenious!

Next up is a Shell Cottage with a taller cabana house papered with those pretty papers from the new French Riviera 8×8 Paper Pad.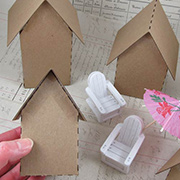 And those new palm trees and chairs! And new paper umbrellas! So easy to get a beachy scene together with tips by Laura and all these new goodies.
Lots more info (and that third cottage!) in Laura's blog. And see all of Laura's supplies here.




Highlights of Today's New Goodies - ALL on Sale! View All (lots more to see!)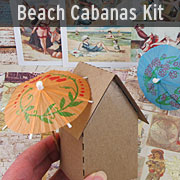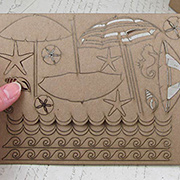 Hooray for the Beach Cabanas Kit Giveaway!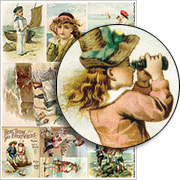 Today's Giveaway starts with… THE NEW KIT:
Vintage Beach Cabanas!
And then I added a flurry of new chipboard shapes:
- Palm Trees Silhouettes
- Seaside Decor & Beach Umbrellas
-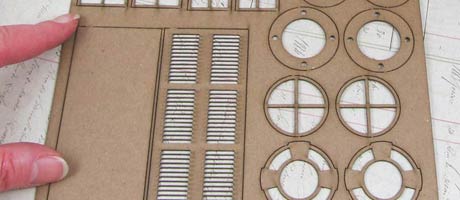 Seaside Doors & Windows Set
And new collage sheets (beside the 3 sheets in the kit!):
- Seaside Victorian Children Collage Sheet
- Rum Bottles, Labels & Posters Collage Sheet (now there's a contrast!)
And one of the Matchbox Nautical Clock FREE Gift Kit! Whew!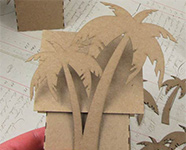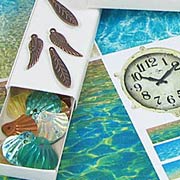 To enter the Beach Cabanas Kit Giveaway drawing all you have to do is leave a comment BELOW on this blog post TODAY, TOMORROW or TUESDAY (the deadline is 11:59 pm PST, TUESDAY NIGHT, July 5, 2016). And tell me: What will you make with the Vintage Beach Cabanas Kit?
Don't forget to leave your (hello! correct) email address, too, so I can contact the winner; your email address does not need to be made public. Note: I'm offering free shipping, too, but only within the USA. International shipping will still apply.
Please be patient! Spammers try to post crap here a lot so comments are moderated. So if you don't see your post in the comments section, be patient and check back in a few hours before re-posting it, please!
After midnight, I'll randomly pick the winner (via Random.org). So check your mailbox on Thursday morning to see who won and for the next Giveaway and Newsletter!
Hey, who won the Sea of Wonders Treasure Chest Giveaway? That would be Jackie! Congratulations! Check your email for more info.
Posted by
Leslie
, July 3rd, 2016