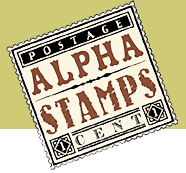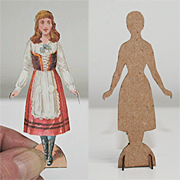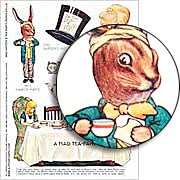 NEW Mini Paper Doll FREE Gift Kit! In honor of Miz Bella's adorable Cinderella's Room (see below — and the related new sale) I put together a mini chipboard paper doll (with stand) AND a collage sheet with costumes to fit her!
ALL ORDERS on Thursday through Sunday, March 30th through April 2nd (2017) will receive one of these collage sheets and the mini chipboard paper doll set FREE!
More info

A BIG NEW SALE: I don't think this section has ever been on sale (!): ALL Paper Dolls & Models (& Mechanical Toys) Collage Sheets are 50% off! Over 60 sheets! The sale ends MONDAY night, April 3rd at midnight PST (April 3, 2017). See below for a few more highlights!


Wow! I love the rich colors and patterns in Design Team Member Rhonda Secrist Thomas's Music Makers Masquerade!
My favorite quote is, "We are the Music Makers & We are the Dreamers of Dreams". And of course I give credit to Willie Wonka even though the true poet is Arthur O'Shaughnessy. It's magical and can take the imagination to so many wonderful places. This is true with this month's Beauty and the Beast Kit as well.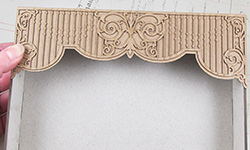 Imagine being the little boy from the movie, that gets shrunk down inside of a television. His poor mother dropping him into her purse. Now imagine being shrunk down into my Shadowbox, a magical theater of vivid colors, music, dancing, and magical wonder.
The Wrought Iron Shadowbox Header fits perfectly across the shadowbox horizontally (see the small photo above), but I decided to use it vertically, with a curve that fit nicely within the box, which before attaching, I created with the wonderful new papers from the Midnight Masquerade 12×12 Patterns & Solids Pad.
My own 2 cents: Rhonda also used the fan and quote stamps from the Midnight Masquerade Cling Stamp Sets beautifully. More info (and more beautiful photos!) in Rhonda's blog and/or see her supply list.


On to more artwork! Design Team Coordinator Miz Bella (Kim Ayers) has created a tiny Cinderella theatre inside a Half Scale Window Room Box!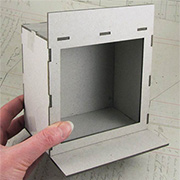 The metal border at the top of the room box is actually molten solder that has been rubber stamped. There are a lot of tutorials on Youtube to show you how to rubber stamp onto solder (which is how I learned) and once you get the hang of it, it is really fun to do! The tips that I can offer are to:
- Do a section at a time.
- Pool your solder in each section. That means to use a lot of solder because if you don't you will not get a good impression and you will say a lot of naughty words.
- Only use RED rubber stamps. If you use the clear silicone stamps they will melt.
- Have fun with it!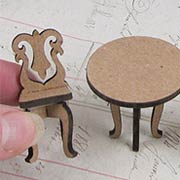 The "cobbled" floor is actually just painted bubble wrap! Paint the bubble wrap white, then while it's still wet add some black to it to get some gray (but still leave some white as is). After it's dry you can then just touch it up with some black spots here and there, and more white if needed. The best part is after it's completely dry, then pop the bubbles.
(See the photo below in the Giveaway section for a better view of her cobbled floor.) Here's a link to Bella's Supply List. Plus check below for a chance to win lots of goodies from her project in the Giveaway!


Next up: not another art project, but I love this new section of Architextures! Most of these are dimensional, adhesive-backed embellishments with a realistic appearance (they are flexible stickers that are slightly raised and have a paintable surface).


This Parlour set at left is includes 8 different textured, dimensional designs, including wallpaper, wicker and wood textures, 3 ornate frames and a whitewashed vintage door.
More highlights are below, or see them all now (19 new items… so many more than shown here).


Hooray for the Cinderella's Room Giveaway!

All of these items from Bella's artwork are in the Giveaway package:
- Half Scale Window Room Box
- 1:24 Round Table & 2 Chairs
- Sheet Moss
- Small Cinderella Paper Dolls Collage Sheet
- Small Once Upon a Time Book Charm
- Gold Mini Rosette Dresden Borders
- Thin Looped Dresden Borders – Pink
- Serendipity Anticipation Scrapbook Paper
- Attic Charm Foyer Scrapbook Paper
- 1/2 Inch Pale Pink Paper Roses
Here is Bella's Cinderella's Room supply list (Psst! That link is to the supply list, with photos and links to all of the goodies used, including the subset in this Giveaway.)
AND one of the Mini Paper Doll FREE Gift Kits!

To enter the Cinderella's Room Giveaway drawing all you have to do is leave a comment BELOW on this blog post TODAY OR TOMORROW (the deadline is 11:59 pm PST, FRIDAY, March 31, 2017)!
And tell me: What inspires you most today? Rich colors? Architextures? Paper dolls? New shadowbox with Wrought Iron facade?
Don't forget to leave your (hello! correct) email address, too, so I can contact the winner; your email address does not need to be made public. Note: I'm offering free shipping, too, but only within the USA. International shipping will still apply.
After midnight, I'll randomly pick the winner (via Random.org). So check your mailbox on Sunday morning to see who won and for the next Giveaway and Newsletter!
Hey, who won A Sweet Shabby Chic Giveaway? That would be Lorna E! Congratulations! Check your email for more info.
Posted by
Leslie
, March 30th, 2017