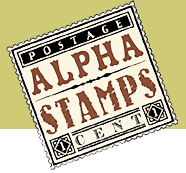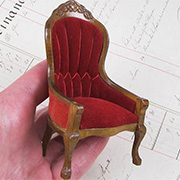 A new sale! EVERYTHING in the 1:12 Scale Dollhouse Furniture section is on sale for 25% off!
The sale ends MONDAY night, June 26th!
Over 70 to choose from! Like the Red Victorian Armchair shown.
And the sale also includes the new Chaise Lounge used by Shannon Cooper in today's artwork!)
Some are being discontinued, so get 'em while you can, and while on sale! View all


How cute it that?! When I suggested this new 1:12 scale Chaise Lounge to Design Team Member Shannon Cooper, she knew immediately how she wanted to decorate it. I, on the other hand, did not immediately think "Halloween"… sure glad I have the best Design Team in the world!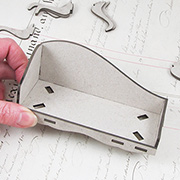 From Shannon's blog post:
The miniature Wrought Iron Table (psst! also part of the furniture sale!) looked nice along side the chaise, especially after it was given a furry edged table cover. The accessories like the Large Amber Onion Jar of roses, a pewter candlestick, a set of keys, and a few other things helped too.
The chaise is a cinch to assemble and decorate as it comes, but it is equally simple to upholster it, making it soft and squishy like a chaise should be.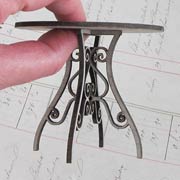 The first thing you do is trace around the seat, back, and side pieces onto lightweight cardboard. I did this twice for two reasons. 1. In case I screwed up. 2. I wasn't sure if I also wanted to lightly upholster additional pieces to add on the outside of the chaise, covering the entire thing in fabric. Can never be too prepared.
Read more of Shannon's step-by-step tutorial (and to see lots more photos).
And here's a link to Shannon's supply list (with all those cool & creepy things on the table top).
AND everything in that supply list is included in today's Giveaway!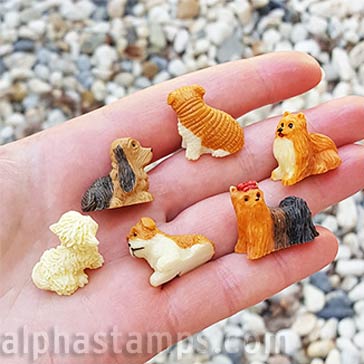 Hooray for the Witchy Little Chaise Giveaway!
Yep, I've already spilled the beans on what is in the Giveaway (see highlights of the items up by the photos of Shannon's artwork, or click here to see photos of all of them).
BUT… I haven't told you yet what is the New FREE GIFT (free with ALL ORDERS through Monday, June 26th)!
FREE Mini Clay Pot or Tiny Dog? Your choice or we'll pick!
I just couldn't decide between these 2 new miniatures… each of which could be used on/near the new chaise or another 1:12 scale chair. Maybe you're not a dog fan? Then pick a clay pot (maybe leave the pot bare in a potting shed? Or add some foliage for a garden scene).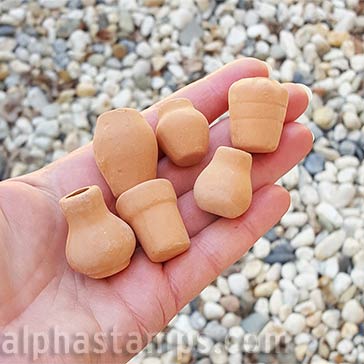 And orders over $50.00 can pick TWO (your choice… 2 dogs? 2 pots? 1 of each?)
Just leave your choice in the comments section when you check out. If you don't leave a comment, we'll pick one for you.
FREE with All Orders through Monday, June 26th! (And one of each choice is included in the Giveaway, too!)
Note: I'm giving away single dogs and single pots… not a whole set of 6 pots as they're normally packaged.

To enter the Witchy Little Chaise Giveaway drawing all you have to do is leave a comment BELOW on this blog post TODAY OR TOMORROW (the deadline is 11:59 pm PST, FRIDAY, June 23, 2017)!
And tell me: How will you decorate your Chaise? Will you upholster it with fabric like Shannon's? Or maybe decorate with paper and paint? What style? Color?
Don't forget to leave your (hello! correct) email address, too, so I can contact the winner; your email address does not need to be made public. Note: I'm offering free shipping, too, but only within the USA. International shipping will still apply.
Please be patient! Spammers try to post crap here a lot so comments are moderated. So if you don't see your post in the comments section, be patient and check back in a few hours before re-posting it, please!
After midnight, I'll randomly pick the winner (via Random.org). So check your mailbox on Sunday morning to see who won and for the next Giveaway and Newsletter!

Hey, who won the Mermaid Garden Shrine Giveaway? That would be Denise Bryant! Congratulations! Check your email for more info.
Posted by
Leslie
, June 22nd, 2017